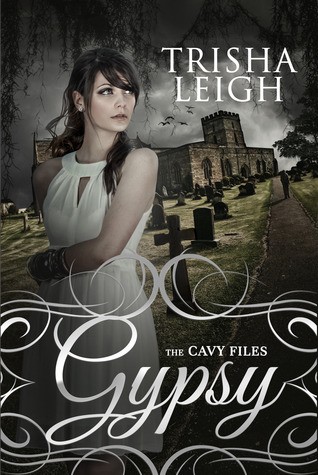 Gypsy (The Cavy Files #1),
by Trisha Leigh
Genre: Young Adult Fiction, Contemporary, Paranormal, Romance
Rating: 4/5 stars
Publication: May 13, 2014, by Createspace
Format: Paperback Edition
Goodreads Summary:
Inconsequential: not important or significant.
Synonyms: insignificant, unimportant, nonessential, irrelevant
In the world of genetic mutation, Gypsy's talent of knowing a person's age of death is considered a failure. Her peers, the other Cavies, have powers that range from curdling a blood still in the vein to being able to overhear a conversation taking place three miles away, but when they're taken from the sanctuary where they grew up and forced into the real world, Gypsy, with her all-but-invisible gift, is the one with the advantage.
The only one who's safe, if the world finds out what they can do.
When the Cavies are attacked and inoculated with an unidentified virus, that illusion is shattered. Whatever was attached to the virus causes their abilities to change. Grow. In some cases, to escape their control.
Gypsy dreamed of normal high school, normal friends, a normal life, for years. Instead, the Cavies are sucked under a sea of government intrigue, weaponized genetic mutation, and crushing secrets that will reframe everything they've ever been told about how their "talents" came to be in the first place.
When they find out one of their own has been appropriated by the government, mistreated and forced to run dangerous missions, their desire for information becomes a pressing need. With only a series of guesses about their origins, the path to the truth becomes quickly littered with friends, enemies, and in the end, the Cavies ability to trust anyone at all.
Review:
*Copy provided by author via Xpresso Book Tours in exchange for an honest review*
"They spend their days wishing they were more powerful, more different. I spend mine daydreaming about what life would be like had I never come here."
You may think books like this will probably be set in the dystopian world. If you believe that this book is—you're wrong. This is a contemporary read with paranormal aspects and inquiries inside. It's a paranormal contemporary romance, nothing more or less. And while I was surprised at the fact of that, I enjoyed this even more for being unique and rare.
Trisha Leigh is an amazing author. *gushes* Gypsy is the first book I've read of hers, and it certainly won't be the last. It was rich, lush and everything I was looking for in a good paranormal sci-fi adventure. There are serious thrills and plot twists that will leave you going mad. And it all begins with the Cavies... and a seriously messed up adoption.
Gypsy has a talent—a talent of knowing the age of when someone is going to die. Sure, it has its perks, but Gypsy usually sees it as a worthless ability that really won't do anything. She's grown up with her kind—the other Cavies, in a sanctuary that she's been in for a long period of her life. One day, all of her kind at the moment are brought into the real world, where Gypsy, really known as Norah, meets her father for the first time in her life. She finds out that her mother is dead, and the reason why Gypsy was sent to the sanctuary was because her mother was secretly pregnant and her parents didn't want her mother to keep Gypsy. For time she thinks her life is becoming normal, things get even crazier, when the government begins to unlock secrets about her kind.
That's basically the largest message of the book. Who can Gypsy trust when her life is spinning out of control? I guess the only people can be her kind. Her dad? Uh, no. Jude? No way. Her new friends? Absolutely not. But everyone makes mistakes at times, and things get screwed up. That's just the way life comes and goes. And at the same time, this book had that mentality inside of it. I loved the idea, but it wasn't as strong as I imagined it'd be. Sure, the author took it to different lengths, but I wish that it would've went somewhere bigger. Hopefully we'll get to see that in the sequel.
The plot was very well drawn together. It was thick, and didn't leave me with any questions, except obviously at the end where that huge plot twist/cliffhanger came up. I was squealing with joy to get the sequel! And that, my friends, really shows that the author, Trisha Leigh, is a fantastic writer because I'm everything BUT disappointed.
Gypsy/Norah was a strong protagonist, but I wish that we'd get more out of her. She wasn't as confident and independent as I wish she'd be. Protagonists in a book like this need to be the kick-butt superhero that you dream about at night. She needs to give everything her all and stun us readers for handling everything so smoothly. The whole time, I felt like the book was tipping with her unconfined personality.
At the same time, I really liked the romance. It didn't play a huge role in the book, which wasn't wanted for me, and at the same time, both Jude and Gypsy had a beautiful character relationship and friendship unlike many others. So, cheers to them!
This was a great novel that left butterflies in my stomach and left me wanting more. Absolutely recommended to the paranormal-scifi-romance community!
Giveaway: US AND CANADA ONLY.
a Rafflecopter giveaway