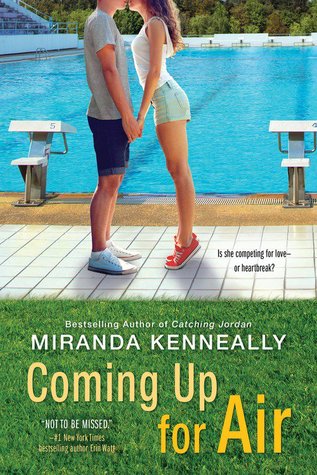 Coming Up for Air (Hundred Oaks),
by
Miranda Kenneally
Publication:
July 4, 2017, by Sourcebooks Fire
Genre:
Young Adult Fiction, Contemporary, Romance
Pages:
320
Format:
Paperback
Source:
Purchased
Rating:
All of Maggie's focus and free time is spent swimming. She's not only striving to earn scholarships—she's training to qualify for the Olympics. It helps that her best friend, Levi, is also on the team and cheers her on. But Levi's already earned an Olympic tryout, so Maggie feels even more pressure to succeed. And it's not until Maggie's away on a college visit that she realizes how much of the "typical" high school experience she's missed by being in the pool.
Not one to shy away from a challenge, Maggie decides to squeeze the most out of her senior year. First up? Making out with a guy. And Levi could be the perfect candidate. After all, they already spend a lot of time together. But as Maggie slowly starts to uncover new feelings for Levi, how much is she willing to sacrifice in the water to win at love?
My Thoughts:
I have really, really avoided writing this review. Why, you may ask? Why be so lazy? *giggles* Because I didn't want to let this series go. Miranda Kenneally's Thousand Oaks series has been with me since the start - the start of my obsession with reading and all things YA fiction. Coming Up For Air was just as good as the others in this series, and I am so obsessed with it. I cannot wait to see what the future has in store for the author's writing and what is yet to come!
I feel that this series HAD to end because Kenneally ran out of sports to write about — we have been through them all: soccer, football, baseball, running, swimming, you name it! Haha - but in an honest sense, I must say that what I loved most about this book was the fact that romance was incorporated in a realistic way. Maggie and Levi had the most passionate relationship ever (!! seriously!), and I cannot get them out of my head.
This could've been bad—real bad. You see, I'm used to a lot of those cheesy fluffy contemporaries with a lot of unrealism in them. I could spend hours naming them all, but I'd rather not since contemporary is probably my favourite genre.
I feel like books in this genre could either go one way or the other.
The characters in this one seemed more mature and relatable than the others of the author, and that surely shone a light onto this all, just like a little topping or sprinkle of something onto your ice cream sundae. Like really, it was the magical touch and new-thing to this series. It was what we needed to get this to a whole other level.
Buy, loan, grab, steal (just kidding) this book IMMEDIATELY. I promise you will adore it, and if you (somehow) don't, I'll kindly (or forcefully) ask you to pick up the first books of the series and devour them. There is literally no way that you will not find this book enjoyable. Now, go ahead and go for it!

What was the best final book of a series you recently read?