Summer in the Invisible City,
by
Juliana Romano
Publication:
June 21, 2016, by Dial Books
Genre:
Young Adult Fiction, Contemporary, Romance
Pages:
336
Format:
Hardcover
Source:
Purchased
Rating:
Seventeen-year-old Sadie Bell has this summer all figured out: She's going to befriend the cool girls at her school. She's going to bond with her absentee father, a famous artist, and impress him with her photography skills. And she's finally going to get over Noah, the swoony older guy who was her very first mistake.
Sadie wasn't counting on meeting Sam, a funny and free-thinking boy who makes her question all of her goals. But even after a summer of talking, touching, and sharing secrets, Sam says he just wants to be friends. And when those Sadie cares about most hurt her, Sam's friendship may not be enough. Sadie can see the world through her camera, but can she see the people who have loved and supported her all along?
My Thoughts:
SO. I was the biggest fan of Juliana Romano's First There Was Forever. After completing it and closing the book's spine, I wanted more. I then went onto Goodreads and saw that this pretty, Summer in the Invisible City, would be releasing. I COULDN'T WAIT to fall back into the world of Romano's contemporary romance writing, and I knew that these kinds of books only come around once in a lifetime. Two days ago, I picked up this book, hoping that it would be as good as it appeared to be, and I was not disappointed. This is absolutely the best book I've read this year (so far, at least, but it'll be difficult to beat). It's a book that's both light and easy to read (based on the fact that it is so addicting that you can even read it in the loudest setting possible without losing concentration), but dark and meaningful, as it focuses a lot on family, friendship, and love, in an absolute realistic manner.
I absolutely feel as if this story was real, and that Sadie's character exists in New York City.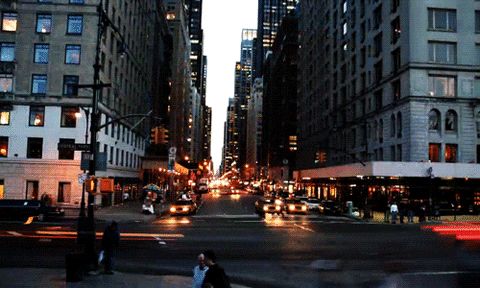 Summer in the Invisible City evidently takes place in New York City, where we have our kickass protagonist, Sadie, who is dealing with a bunch of conflicts in her life. For one, she has been in a state of heartbreak for a while after a guy named Noah took advantage of her while she thought that they had 'something.' Her father, a famous photographer, is also out of the picture, occasionally visiting Sadie, but the situation itself is quite awkward. She is also trying to fit in with the cooler kids at her school, and is attempting to decide what her future holds for her after high school. Things get more complicated when she meets Sam, who is from New Hampshire, and is beginning to learn about NYC life. However, he just states that he and Sadie are 'friends,' giving her mixed feelings as she sees something more in their relationship.
THE FEELS. THE EMOTIONS. THE LOVE. I am just so obsessed with the romance in this novel that I feel that I can tell you that I haven't seen anything like it. Romano just takes such a real approach to her writing that many other chick-lit writers should look to. Sam and Sadie just had that SPECIAL SOMETHING that I will never forget about. I'm obsessed!
Let's cut to the chase: there wasn't anything wrong with this book! IT WAS JUST AMAZING. I'm telling you that you must pick it up when you can; do not listen to the negative reviews.
What is the best book you've read this year?