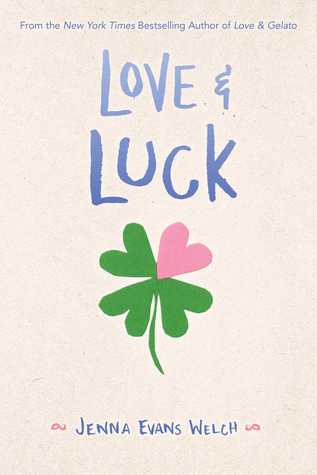 Love and Luck,
by
Jenna Evans Welch
Publication:
May 8, 2018, by Simon Pulse
Genre:
Young Adult Fiction, Contemporary, Romance
Pages:
303
Format:
Hardcover
Source:
Purchased
Rating:
Addie is visiting Ireland for her aunt's over-the-top destination wedding, and hoping she can stop thinking about the one horrible thing she did that left her miserable and heartbroken—and threatens her future. But her brother, Ian, isn't about to let her forget, and his constant needling leads to arguments and even a fistfight between the two once inseparable siblings. Miserable, Addie can't wait to visit her friend in Italy and leave her brother—and her problems—behind.
So when Addie discovers an unusual guidebook, Ireland for the Heartbroken, hidden in the dusty shelves of the hotel library, she's able to finally escape her anxious mind and Ian's criticism.
And then their travel plans change. Suddenly Addie finds herself on a whirlwind tour of the Emerald Isle, trapped in the world's smallest vehicle with Ian and his admittedly cute, Irish-accented friend Rowan. As the trio journeys over breathtaking green hills, past countless castles, and through a number of fairy-tale forests, Addie hopes her guidebook will heal not only her broken heart, but also her shattered relationship with her brother.
That is if they don't get completely lost along the way.
My Thoughts:
Love and Luck is a book I have been anticipating for over a year. After practically devouring Love and Gelato, I instantly sought more from Jenna Evans Welch, queen and master of writing chick-lit books that stem away from the rest and just leave readers feeling all giddy inside. This was such an entertaining read that I cannot stop thinking about to this day. The author's choice of writing this book in the setting of Ireland was honestly so smart; I do not know much about the country and its culture aside from pubs, greenery and four-leaf clovers, however, this book just opened my wanderlust and made me discover that I want to head on a similar road-trip that the characters went on.
What made this book so special is the fact that it was not about the romance. It was more than that; it was about family and forming relationships that will last a lifetime, and learning about who we are, instead of kissing and making the 'most of the summer' in that way. Love and Luck was beautiful, and the best part was the relationship between Addie, our protagonist, and her brother, Ian, and the fact that the two of them had severe issues with each other, but spent the summer attempting to work it out in the best way possible: a good old-fashioned road trip across a foreign country, not knowing anything about the path that they are on. And of course, this was also a book about dealing with heartbreak and moving on after someone you once trusted broke that trust.
I also loved seeing an appearance by Leena and Ren, and the fact that this book did not take place during the same time as the first book. This was just a burst of entertainment and happiness for me. I am praying deep down inside that this series will continue; imagine if Addie's brothers will have their own stories coming up really soon!
Love and Luck
was such a lovely read. There was just the right amount of drama, bits of romance, and moments that created a lovely story that every teen should pick up.
What books have the best settings around the world?