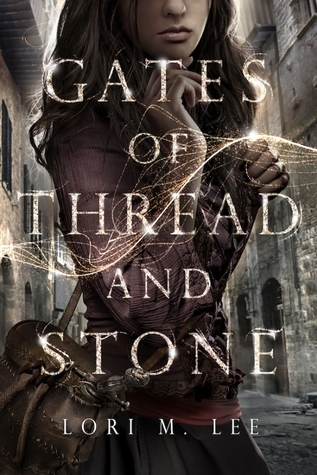 Gates of Thread and Stone (Gates of Thread and Stone #1),
by Lori M. Lee
Genre: Young Adult Fiction, Fantasy, Romance, Mystery
Rating: 3/5 stars
Publication: August 5, 2014, by Skyscape
Format: eARC
Goodreads Summary:
In the Labyrinth, we had a saying: keep silent, keep still, keep safe.
In a city of walls and secrets, where only one man is supposed to possess magic, seventeen-year-old Kai struggles to keep hidden her own secret—she can manipulate the threads of time. When Kai was eight, she was found by Reev on the riverbank, and her "brother" has taken care of her ever since. Kai doesn't know where her ability comes from—or where she came from. All that matters is that she and Reev stay together, and maybe one day move out of the freight container they call home, away from the metal walls of the Labyrinth. Kai's only friend is Avan, the shopkeeper's son with the scandalous reputation that both frightens and intrigues her.
Then Reev disappears. When keeping silent and safe means losing him forever, Kai vows to do whatever it takes to find him. She will leave the only home she's ever known and risk getting caught up in a revolution centuries in the making. But to save Reev, Kai must unravel the threads of her past and face shocking truths about her brother, her friendship with Avan, and her unique power.
Review:
*Review copy provided by publisher in exchange for an honest review. Thank you so much!*
I sadly expected more from this book—I wanted more. But thankfully, by the end, we received a pretty great fantasy novel that at some points knocked my socks off. That's really what mattered in the end, no?
NOPE. Because if the concept was the best and most important thing here, then I'd at least give this a 4 star rating. A 3 star for me is okay, or a "meh" feel to the story. In between the rating, but more good than bad. Gates of Thread and Stone could've had a lot more in store for me, but I didn't feel the power of it as it should have had.
The Labyrinth seemed like such a cool and destructive place and concept to read about. And the main idea happening is that Kai is keeping a secret that can basically destruct everyone around her. She has an ability—she's able to manipulate time threads. Sounds crazy, but it's true and real.
But this all began for a reason... and her best friend Reev might have to do with it, since he found Kai on the streets when she was eight and helped her and was her caregiver ever since. But isn't there some romance in between?
OF COURSE. And that's what partially ruined this book. Instalove? Absolutely. This dude had a crush on an eight year old at one point. Creepy much? And his love for her never left and he took care of her and gave her a home. Sure, in some perspectives that sounds cute and all, but I saw it as more "creepy" than you can ever imagine.
So, there's instalove. There's a bad plot at times. There's a lot of craziness going on at the same time. The characters had their problems, but by the end, their personalities fairly impressed me and I had a few ships, if you must ask and I must admit.
A lot of people I know really disliked this, but I ended up having to keep my hopes up. But at the same time, there were an average of mixed reviews, and I didn't know what to expect, so therefore I decided to forget.
Concept... Genre... ? I wouldn't ask me that question if I were you. What is the genre? Fantasy? Dystopia? All I know that this is a messed-up romance for sure. The fantasy aspect was done really well—I totally enjoyed the immortality and ways that the author went through different stages.
This, from the looks, looked like a Victorian, something Cassandra Clare would approve. I'm sitting here, not knowing what my feelings are presenting me. A pretty boring-at-times plot, good characters, a good mystery.
In conclusion, this was a disappointment compared to my expectations. But I know that some will enjoy it—beware of instalove and sibling romance.