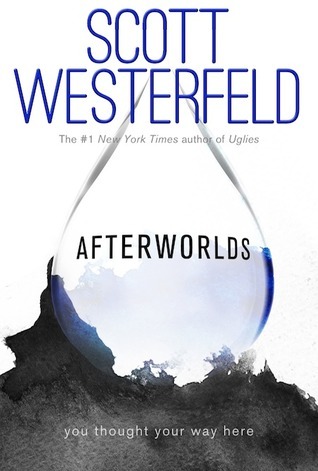 Afterworlds,
by Scott Westerfeld
Genre: Young Adult Fiction, Dystopia, Contemporary, Fantasy
Rating: 4/5 stars
Publication: September 23, 2014, by Simon Pulse
Format: ARC
Goodreads Summary: Darcy Patel has put college and everything else on hold to publish her teen novel, Afterworlds. Arriving in New York with no apartment or friends she wonders whether she's made the right decision until she falls in with a crowd of other seasoned and fledgling writers who take her under their wings…
Told in alternating chapters is Darcy's novel, a suspenseful thriller about Lizzie, a teen who slips into the 'Afterworld' to survive a terrorist attack. But the Afterworld is a place between the living and the dead and as Lizzie drifts between our world and that of the Afterworld, she discovers that many unsolved - and terrifying - stories need to be reconciled. And when a new threat resurfaces, Lizzie learns her special gifts may not be enough to protect those she loves and cares about most.
Review:
Thank you so much to Simon & Schuster for sending me a review copy in exchange for an honest review!
SCOTT WESTERFIELD IS GENIUS—if you didn't know that already. Afterworlds was fantastic. Scott Westerfield truly captured the image of two point of views; what it's like to be a writer and what it's like to be written about. What YA book can you think of that brings you through a young author's experience of writing a YA novel? It's basically a book inside a book, and by the end, I was truly mind-blown with the stellar ending.
Darcy Patel is a young aspiring author who deferred college for a year and moved to New York City to broadcast and change her entire life to something new. Her novel that she wrote in a month, Afterworlds, is soon to be published and as it's becoming edited and all, she's spending her time meeting new people and learning the ways of authors and the whole lifestyle. As soon as she's got everything figured out, other feelings such as her sexuality and confidence begin to come out..
At the same time, we're reading another point-of-view of Lizzie—the protagonist in Darcy's novel. Lizzie survived a terrorist attack in an airport, and is brought into the 'Afterworld.' The Afterworld is a world between the living and the dead, and Lizzie soon finds out that she can switch between worlds whenever she'd like. All it takes is a calling, and she'll end up in a world where aging is not possible. Of course, she meets new people and everything changes as she begins to find more about the unbelievable world that she's caught in.
As this book was basically split into two, I preferred reading from Darcy's POV. Since Westerfeld is the master of publicity and being popular, he really provided some awesome insight on how everything works and the datelines. It was more fascinating than Lizzie's POV, probably because of even her character. He just did it perfectly. DARCY EVEN WENT TO BEA!
But there were some things that I didn't catch well. The overall beginning was fantastic, but as I surpassed page 100, the story got slow and I was wanting something that didn't look like it was going to happen.
I guess it was mainly Lizzie's story's fault. The actual story of Afterworlds wasn't everything that I hoped it'd be. Tweaks were missing and as a whole, compared to Darcy's, it was lacking of. The idea was unique (I've never read about a terrorist attack before), and it seemed inspirational coming from the reason Darcy wrote it and all.
THIS BOOK WAS DIVERSE, which was another reason why this book was so unique and consisting of everything I want in a contemporary-dystopia. This man totally knows how to mix it up for readers. ;)
And the romance? SQUEEE. It was amazing and totally surprising—in both POVs. Darcy and Imogen had such an amazing chemistry and had so much alike—I love the same-sex romance, because Westerfeld just creates it on-point.
Now that I think about it, I wish there were some quotes I can share with you… The writing was believable and alluring. I was captivated from page 1.
Darn it. THIS IS A STANDALONE! *cries to self* Although this was a chunky book of 600 pages, I WANTED MORE. That's how I felt with Uglies by Westerfield, and now that the time is here, I'm grieving. If you love contemporary, fantasy, and a little sci-fi mixed together with diversity and uniqueness (really, who doesn't?) then this book will come to you like a literature masterpiece. There were a few tweaks needed here and there, but it overall was very enjoyable and recommended to others!