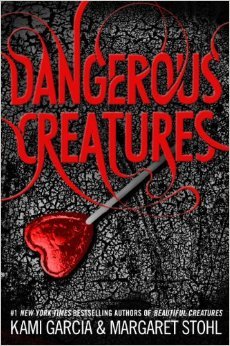 Dangerous Creatures (Dangerous Creatures #1),
by Kami Garcia & Margaret Stohl
Genre: Young Adult Fiction, Romance, Fantasy, Paranormal
Rating: 2/5 stars
Publication: May 20, 2014, by Little Brown Books
Format: Hardcover Edition (borrowed)
Goodreads Summary:
A new series returns to the world of Beautiful Creatures. Some loves are cursed...others are dangerous.
Ridley Duchannes will be the first to tell you that she's a bad girl. She's Dark. She's a Siren. You can never trust her, or even yourself when she's around. Lucky for her, Wesley "Link" Lincoln can never seem to remember that; quarter Incubus or not, his heart is Mortal when it comes to Ridley. When Link heads to New York City to start a music career, Ridley goes along for the ride-and she has her own reasons. As if leaving small-town Gatlin for the big city, trying to form a band, and surviving life with a partially reformed Siren isn't hard enough already, Link soon learns he has a price on his head that no Caster or Mortal can ever pay.
Kami Garcia and Margaret Stohl, the #1 New York Times bestselling coauthors of Beautiful Creatures, are back and casting another magical spell. Their signature mixture of mystery, suspense, and romance, along with a dash of fun and danger, will pull fans in and leave them begging for more.
Review:
"What's a Caster fairy-tale ending? I don't know, because Casters don't get to have fairy tales, especially not Dark Casters. Forget the sunset—the whole castle burns to the ground, taking Prince Charming down with it. Then the seven dwarves go all ninja and drop-kick your butt straight out of the kingdom."
:'( The reminiscences of Beautiful Creatures are coming back to me... And I'm frowning. Why am I frowning? Because Dangerous Creatures was a joke. It wasn't needed. It was a story that came after, but if you want my opinion, I'd say to stay away from this—run away from it, even. Don't even try to think about it.
Beautiful Creatures was one of the first series that brought me into the YA-atmosphere. A friend recommended it to me, and as I made my way through the first book, I fell in love. I fell in love with the characters, the storyline, and the world of Casters. Kami Garcia and Margaret Stohl brought me and threw me into a world of fantasy and truly, beautiful creatures. Now, do I really need dangerous creatures?
I've always strongly shipped Link and Ridley. I loved their flirtation, their mysterious personalities, and how well they fit each other. They went well even somehow better than Ethan and Lena did—the majestic couple of them all in modern YA literature. But when I found out that two of my favourite authors were releasing a somehow spin-off series to the one that changed my life, I wasn't too excited.
Beautiful Creatures had four books. Four books that were crazy thrill-rides that moved me and intrigued me and made me cry. The ending fit perfectly well and although it somewhat disappointed me, I was fine with it. The authors ended the series off perfectly and wonderfully, and this we received this, which was unfortunately not needed to accomplish an "amazing book award."
This book was basically all about the boring events that followed to the previous "final novel." It's taken in Ridley's POV, who's thoughts I very much looked forward to hear.
But I guess you can say that Ridley and Link's relationship was the only thing that I had high hopes and expectations for. The rest of the book...? I definitely didn't expect to get a 5 star book, but at the same time, I didn't expect to get a 2 star either.
Kami and Margaret tried their very best (we can all tell) to make Ridley the most badass person you've ever met/read about. Okay, she was... But it didn't suit the situation very well. You see, this is a very Sinner-by Maggie Stiefvater situation. A couple from a past loved series reunited in a book of their own, in a new city and atmosphere, facing ANGST AND JEALOUSY.
This time around, Ridley and Link are brought to NYC to form a new life and to cover the secrets from their old past. That's totally fine. But when you have a formula mixing angst, a sloppy unformed plot, and some crazy stuff, it all goes out of control and us readers get frustrated and are unable to handle anything coming at them.
"What can I say? Payback's a bitch. But here's the thing. So am I."
Ridley's never gotten so smart until now, haha.
This situation was fairly worse than Sinner's. Ridley's obviously our Isabel and Link's our Cole. I found that Isabel was more likeable to me than Ridley came to be in this book, since her angst didn't get to her as much as Rid's did. Link was just your average country-boy going after his mega-hot girlfriend, sucking up to her.
The only good thing? It was a drama ride, and that kept me busy, despite the sloppiness and messed-up characters. This book was like an episode of The Bachelor or Jersey Shore—not likeable, but still fun to read/watch.