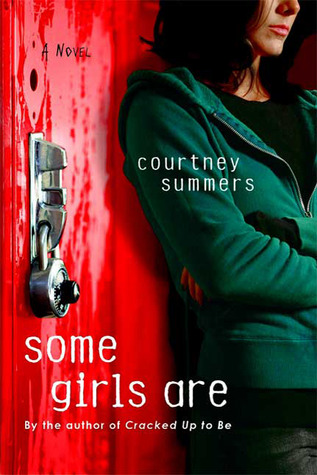 Some Girls Are,
by Courtney Summers
Genre: Young Adult Fiction, Contemporary, Drama
Rating: 4/5 stars
Publication: January 5, 2010, by St. Martin's Griffin
Format: Paperback Edition (borrowed)
Goodreads Summary: Climbing to the top of the social ladder is hard—falling from it is even harder. Regina Afton used to be a member of the Fearsome Fivesome, an all-girl clique both feared and revered by the students at Hallowell High... until vicious rumors about her and her best friend's boyfriend start going around. Now Regina's been "frozen out" and her ex-best friends are out for revenge. If Regina was guilty, it would be one thing, but the rumors are far from the terrifying truth and the bullying is getting more intense by the day. She takes solace in the company of Michael Hayden, a misfit with a tragic past who she herself used to bully. Friendship doesn't come easily for these onetime enemies, and as Regina works hard to make amends for her past, she realizes Michael could be more than just a friend... if threats from the Fearsome Foursome don't break them both first.
Tensions grow and the abuse worsens as the final days of senior year march toward an explosive conclusion in this dark new tale from the author of Cracked Up To Be.
Review:

"Write it out today, put it away, make sense of it tomorrow."
Bullying is horrible. But then again, it sometimes happens because of karma and craziness and drama that happened in the past, and in this story, you'll probably be hating the protagonist, Regina, in the beginning.
This girl was a bully herself. I first felt like she deserved what she got. (I know, I'm a very mean person.) The amount and craziness of things that she did to people was unforgivable, but her friends did the same things, and they eventually got onto picking on Regina.
And this all began because of a rumour.
Regina was known to have done something horrible with her best friend's boyfriend.. but it really isn't true. Now, her best friends are against her, and she's not part of the clique that everyone feared of anymore. The whole school is against her, and she's beginning to get bullied and abused by the people she once trusted. As she gets more down and depressed day by day, the only person who really is there for her is Michael, a guy she used to bully herself. Hey, but love might not be strong as hurting.
I actually didn't expect to love this book as much as I did. The idea was strong, it was there, and it stayed. The idea was powerful and Courtney Summers did a fantastic job at keeping it real and believable. She showed a point of view of a subject that is very common and crazy in our reality and world today.
So here you're sitting, wondering, "Will I cry and will my feels explode?" Possibly. I teared up a little because of sympathy and sadness. Who wouldn't feel sad for a girl in this situation? She got molested and was pushed and locked in a closet. She got the word, "whore" sprayed on her locker. There was a hate page of her on the internet. It was so horrible, but beautiful at the same time because it was amazingly touching. The writing was perfect.
What wasn't as "perfect" were the characters. Regina was okay, obviously. Dumb in the beginning, but strong as the story went on. I sadly didn't like Michael and his romance with Regina at the same time. Something was missing between them, and the author made it seem like the romance was a big part and chunk of the book. I didn't really see that as well and clear as others seemed to have.
Otherwise and on the other hand, Courtney Summers has really written an enjoyable novel that really gives us another view on a horrifying subject. She's given us a whole other experience.