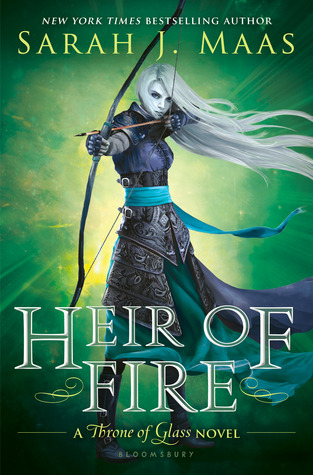 Heir of Fire (Throne of Glass #3),
by Sarah J. Maas
Genre: Young Adult Fiction, High Fantasy, Romance, Action
Rating: 4/5 stars
Publication: September 2, 2014, by Bloomsbury USA Childrens
Format: Hardcover Edition
Goodreads Summary:
Lost and broken, Celaena Sardothien's only thought is to avenge the savage death of her dearest friend:
as the King of Adarlan's Assassin, she is bound to serve this tyrant, but he will pay for what he did. Any hope Celaena has of destroying the king lies in answers to be found in Wendlyn. Sacrificing his future, Chaol, the Captain of the King's Guard, has sent Celaena there to protect her, but her darkest demons lay in that same place. If she can overcome them, she will be Adarlan's biggest threat – and his own toughest enemy.
While Celaena learns of her true destiny, and the eyes of Erilea are on Wendlyn, a brutal and beastly force is preparing to take to the skies. Will Celaena find the strength not only to win her own battles, but to fight a war that could pit her loyalties to her own people against those she has grown to love?
Review:
Beware of spoilers below. Just warning ya. ;)
"It was like being underwater again. Like charging into Nehemia's room and finding that beautiful body mutilated on the bed. Like seeing Galan Ashryver, beloved and brave, riding off into the sunset to the cheers of his people."
WOW. WOW. WOW.

I'm sitting here, speechless and unable to put my thoughts together after this one hell of a thrill-ride. *takes 5 deep breaths* I don't know what to say, think, act, or be after reading this book. 600 pages of awesomeness? Yes, you've got it right here.
As you may or may not have known, this series has SO MANY FANS. There's only a few authors who can grab a reader and intrigue them so easily, and that's what Sarah J. Maas simply does to me, and to thousands of other people. Almost every single review I've read on a book from this series is strictly a rave and fangirled. 4-5 stars, usually. Thankfully I began reading this series a little late, so the Crown of Midnight cliffhanger and book-hangover was worth it to wait for another couple of weeks. But now, I'm dying here. *joins the club of crying, bawling, and angry people*
Eh. I can't believe it's all over—for now, at least. I spent only a few hours tearing through this novel (at once in one sitting) because I loved it too much. I felt that Sarah's writing is so coincidental (in a good way) and she purposely creates such horrifying cliffhangers because she wants us to be in mutual pain. Either way, I still love and heart you, Sarah, Celaena, Chaol, Dorian, and Rowan. :)
So really, *thinks hard* where does this book began. As Part One, Heir of Ash comes into, Celaena is now at her destination, Wendlyn. Crown of Midnight left off with a crazy cliffhanger and suspenseful ending that we couldn't let go, and we're fast-forwarded into a little off into the future from the past's events. This chick, as we'd expect her to be, has been alone, but strong during this time although the truth behind her and her destiny is boggling her mind to this day. Once she arrives, she meets Rowan, fae prince and warrior, and he hates her immediately. The rumours behind her "assassin past" lies beneath her, and there are some people who know, which can possibly change everything.
Although romance wasn't a large aspect of this book, Maas of course had to add it in because we all love Chaol, Dorian, and now ROWAN. Damn. Who'd expect another bunch of awesome characters to be added in?
"For the better part of half an hour, the creatures fought in the rainy dark, until those wretched shrieks, turned victorious, and the unearthly roars sounded no more. Celaena and Rowan held tight to each other and did not dare close their eyes for the entirety of the night."
Okay. I ship them a little, but I'm still Team CHAOL AND DORIAN. No doubt about it. But finally, Celaena has someone who is so similar and alike to her that she can confide and confess anything to them without some secrets and love mysteries. There were the romance moments between them, though, but I found that it didn't change anything between her and the other men.
Just like the other books, the feels came back. And they hit me HARD. I have to admit that I wasn't crying or anything, but I went through such jittery mood swings and anger and frustration and basically all the feels that you have been hit with in the previous books times TEN.
So that does make me think... *twirls moustache* Do feels get me to give the book a higher rating? Absolutely, and the feels in this one probably gave this book a point five better as well.
I felt like I was on fire for more than half of the time while reading this. I DESERVED THE HEIR. *laughs to self* Get it, heir of fire? I'm on fire? xD
This book was huge, no lies. Not everyone can go through a 600-paged book so easily, but I just had to because my love for this series is undying. It almost had everything I was looking for from a sequel to CoM. Character-development—ten thousand checkmarks, perfect plot—almost, action—YESYESYES!
Sarah introduced us to two main new characters, with a couple side ones. But really, both Rowan and Manon has their own POVs as well as Celaena and Chaol. Rowan was kick-ass, but sweet and sympathetic at the same time. He suited Celaena perfectly, but I cannot see anything possibly more than just a strong bond and friendship. *twiddles fingers together* Manon was a little too sensible, but you know, she added some sass into the novel—not that we didn't have enough of it beforehand.
Celaena was Celaena—perfection and my role model, Chaol was hot, steamy, and wanting, but I wish we had more Dorian. Damn, he was only mentioned a few times, and there were no large scenes incorporated with him. Does this mean that there will never be anything between him and Celaena?
"Aedion began roaring—roaring and cursing at the king, thrashing against his chains, but the guards hauled him away, and Chaol was too stunned to do anything other than watch the rest of Sorscha's body topple to the ground. And then Dorian, still screaming, was scrambling through the blood toward it—toward her head, as if he could put it back. As if he could piece her together."
I think my love for Dorian is crazy and there's a tiny chance that I might love him more than I adore Chaol, and maybe that's why this went to a four star rating?
In the end, this series is #1 and beyond for me. Sarah J. Maas is my favourite author—she stuns me during every chapter, page, sentence, and word that she writes. I guess that's the magic of writing a book that makes you want to fight for a heir of fire.