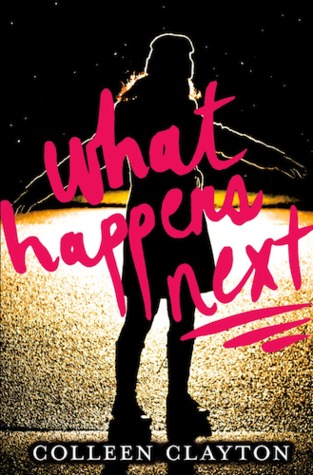 What Happens Next,
by Colleen Clayton
Genre: Young Adult Fiction, Contemporary, Abuse/Rape, Romance
Rating: 4/5 stars
Publication: October 9, 2012, by Poppy
Format: Paperback Edition (borrowed)
Goodreads Summary:
How can you talk about something you can't remember?
Before the ski trip, sixteen-year-old Cassidy "Sid" Murphy was a cheerleader (at the bottom of the pyramid, but still...), a straight-A student, and a member of a solid trio of best friends. When she ends up on a ski lift next to handsome local college boy, Dax Windsor, she's thrilled; but Dax takes everything from Sid—including a lock of her perfect red curls—and she can't remember any of it.
Back home and unable to relate to her old friends, Sid drops her college prep classes and takes up residence in the A/V room with only Corey "The Living Stoner" Livingston for company. But as she gets to know Corey (slacker, baker, total dreamboat), Sid finds someone who truly makes her happy. Now, if she can just shake the nightmares and those few extra pounds, everything will be perfect... or so she thinks.
Witty and poignant, Colleen Clayton's stunning debut is a story about moving on after the unthinkable happens.
Review:
"It took losing something wonderful and amazing to see them. It took losing something that, once it's gone, you can never get it back. Peace. The irony of this stings me with a sorrow so painful that I have to bite into my fist to keep my heart from ripping in two."
After reading this book, I've come to realize that ratings aren't everything. Sure, I can give a book a 3 star rating, but really, it can also mean that it was powerful but it didn't live up to my expectations and hopes. That's the case of this book.
In reality, I would've given this book a whopping 5 star rating. But in the end, it deserved the powerful 4 star rating that I've given it. 4 stars equals great, and I'm ready and wanting to read more from this author. This was more than the average 4 star rating, and for me, the more in this book is its strength and powerful message that it gave out by the end. At least, I saw it.
Cassidy was manipulated and taken over in the first thirty pages of this book. She was used, controlled over, and left behind, like a piece of scattering garbage on the street. Obviously, she didn't deserve that, but her inner thoughts are blaming herself by waking up in a strange person's bed. Cassidy doesn't remember anything that happened that night on a ski trip, except for the fact that she met Dax Windsor, an attractive older guy (supposedly 18?) who had some sort of interest in Sid. He brought her to his condo/house and they fell asleep watching a movie... right? She wakes up and everyone is frightened to death, thinking that Sid went missing. Once she arrives back home, she is suspended from school and is grounded. Sooner than she knows it, the memories begin to flood back and her feelings and inner confidence begin to flood out as well...
I have to admit that this wasn't the best book that I've read that dealt with this subject. But as a debut, and as an enjoyable read, I have to say that it was pretty great in that matter. Simply not the best.
As a debut, Colleen Clayton captured me and the rest of this book's audience for sure, and it was hard to let go without shattering our minds. This is a book that you'll need to read in one sitting—or you won't be able to survive in this longing world of ours. You'll want to be there, on Cassidy's side, you'll want to be there trying to find out the truth about everything. And most of all, you'll want to experience what it's like to be in the mind of a weak but strong at-the-same-time protagonist. We're in her mind for 100% of the book, anyways.
"Anyhow," she says, looking at me hard, "point is, I came here to tell you that I get it now. How it feels to want someone. To want them to want you back. And how you'll do just about anything to get them to want you back."
As it truly is possible, love saves people. Corey saved Sid. Okay, she wasn't 100% okay, but knowing him, there was no fear. He protected her, loved her, and was the strong person that he was, to help her become strong again. He loved her with all his heart, and I truly longed for that. It teared me up, too.
"Open your eyes," he whispers.
I open them. He looks right into them, with the crescent
moon and stars overtop of me.
"I knew it," he says.
"What?" I say, looking up at the stars while he kisses my face.
"...You're the girl..." he says.
"...from the song..."
"...the girl with kaleidoscope eyes."
*squeals* In reality, we can all wish for our own personal Corey. Someone who is there for us 24/7 and someone who loves us with all of their dear hearts, right? And here I'm sitting, thinking about the what-ifs. What if Sid didn't have Corey?
And hey—did you know that this book not only dealt with rape and abuse, but with anxiety and bulimia? Sid wasn't strong, but she wasn't weak, either. She was somewhere in between, but the mixing of Corey's love and knowing that she's safe made her better. But after her tragic experience, the inner unconfident thoughts kept on coming and put her down. The thoughts tried to lay her, but by the end, we all knew that she wouldn't let them push her to the ground. She got up, and kept going.
*takes a deep breath* In conclusion, this book was fantastic. It was one of the most character-driven books I've ever read. But something else was missing. Was it the unclear misty ending? Was it the fact that no one else cared except for Corey and it was ironic and dumb to only have 1 guy care for you and that's it? Possibly, but what can we do to change it? Not much, so let's just go with the fact that this book was powerful and you will love it.