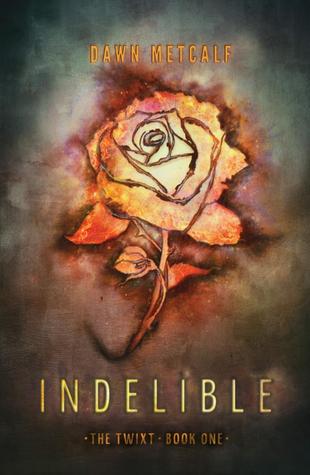 Indelible (The Twixt #1),
by
Dawn Metcalf
Published On:
July 30, 2013, by Harlequin Teen
Genre:
Young Adult Fiction, Contemporary, Paranormal
Pages:
384
Format:
Paperback
Source:
Borrowed
Rating:
½
Some things are permanent.




Indelible.




And they cannot be changed back.




Joy Malone learns this the night she sees a stranger with all-black eyes across a crowded room—right before the mystery boy tries to cut out her eye. Instead, the wound accidentally marks her as property of Indelible Ink, and this dangerous mistake thrusts Joy into an incomprehensible world—a world of monsters at the window, glowing girls on the doorstep, and a life that will never be the same.




Now, Joy must pretend to be Ink's chosen one—his helper, his love, his something for the foreseeable future...and failure to be convincing means a painful death for them both. Swept into a world of monsters, illusion, immortal honor and revenge, Joy discovers that sometimes, there are no mistakes.




Somewhere between reality and myth lies…
DNF @ 230-260 pages?
Meh. Bum bum bummmm. Bleh. I don't know any other words on how to explain my feelings towards this book.
Another DNF?
Ugh I don't really feel like getting there.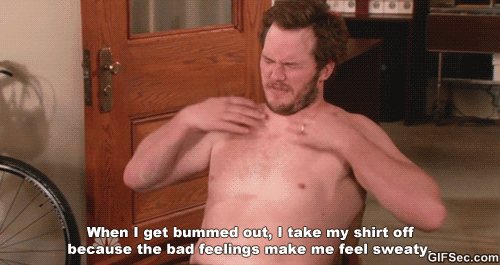 Okay, I don't really get sweaty or those kind of things when I'm bummed. But hey—this did thoroughly ruin my mood for a couple of hours... days. And I know that I'm not the only one who thought of this.
Indelible was something that I really wanted to like and enjoy, honestly. I was waiting to finally read that perfect paranormal romance, and then it all collapsed. The world was confusing, annoying, and just typically strange. It was like a trihard version of City of Bones, one of my favourite books of all-time.
The surprising way that I discovered this novel was through its sequel, Invisible. One day during the summer, I was on Netgalley (obviously requesting books) when I came upon the sequel. I didn't request it since it had a book before it, and then I decided to find this book and check it out. Thank goodness that I didn't request the sequel—or else I'd seriously lose my mind.
WHAT WAS THIS BOOK EVEN ABOUT? The Sight? The Twixt? Ink? What the heck are these things? Even after reading more than 200 pages, I still haven't caught on any of these things and their purposes. This book's "world" was probably one of the most disorganized settings and concepts that I've ever read to this date. The only thing I can say is that Joy was depressed and trying to feel free in her life and reality, and then she saw a stranger in her room which changed her life.
For more than half of the time while I read this, I was struggling. I couldn't keep my patience going. I felt like I was sitting there, on my couch, reading for five years. Now I've realized what it takes to read a book for a long time, since I'm not really used to that stuff.
I've been confused and abused with this book. I'm sorry, but the only way I can describe the plot to you is through my anger, haha. Like—I feel that this book was such a knockoff and a mix of so many of my favourites. Now you're probably thinking: Wouldn't and shouldn't you be happy to read something of your past liking? NO. I'm not, haha. Tiger's Curse, City of Bones, this book is like a copy. And those came out way before this one.
As I was confused for 75% of the time during the time that I was reading this, I don't even want to comment on the concept, except for the matter: What is this theory that is so frequently revolved about over and over again? What does this world have to do with Joy? I feel like I'm either too dumb, or that this was just mumbo jumbo the whole time.

As for the plot, it was lacking depth and detail. Those two elements probably would've gotten us to understand what was happening and why. The only good thing about this book was that it was really good for 85 pages, let's say. After that, it lost its contact with me, and I felt like the whole book disappeared, in that matter.
Was that the only positive thing? Probably, as well as Joy. Joy was a great heroine who had a lot of potential to become strong and a perfect character for a lot of paranormal/dystopian stories. She could've been that perfect role model, but as the book got even more boring and confusing by the second, I guess you can say that I lost my interest in her and her life. And really, let's not even get started with the romance stuff.
You know, I really hoped for so many more amazing things to happen with this book. I decided to go against most reviews and go for it, but hey, let me just join the "Indelible Hate Club" right now as we're at it. The book was so confusing, and an absolute bore for most of the time. Come on people, there are many better paranormal books out there!