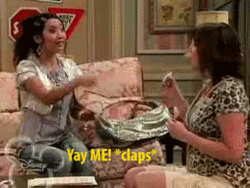 Let's give a HUGE round of applause for every person who has completed the A-Z Challenge. It was absolutely tough to handle, but we did it, guys!
I first learned about the A-Z Challenge in March 2013, thanks to my dear friend,
Marta Szemik
. I decided to do it to give my blog a more public appeal and to make new bookworm friends. I loved doing the challenge last year, and when the linky list for this year's popped up on the A-Z Challenge page, I signed up right away, hoping to make even more friends and to handle it more easily and with less hassle than last year's, and guess what? I made it and I feel that I did even better than last year. So, yay for me!
My goal for this year was to be and stay more organized the challenge, writing the post for the next day the day before, and releasing every post at midnight the next day. I can tell you, my posts have improved and so has my writing from 2013- this very day, and writing a post for the next day felt like a piece of cake. I made sure that I knew what book I was going to feature/talk about the next day, and I used Goodreads to help me with this. Surprisingly, I didn't even do one author post (used the first or last name of an author to help me out) and talked about books that I've read from 2013-April 2014. I read a total of 350 books in 2013, so finding a book to talk about for every letter was so simple.
The day before the challenge started, March 31, I was very anxious and nervous to see what this year's challenge would hold. Will I get many more followers? What about page views? Will I make new friends? What about comments? So many things were flying around in my mind, and before I knew it, the challenge was over and done with. It went by so fast and I seriously had a blast, because I had much more experience with the whole franchise. It will get easier every year, so never give up.
I posted every day, right at midnight that day. I wrote every post the night before, and edited and reviewed every post before it went up for the whole world to see. I used a variety of formats and ideas, and included gifs to make the audience laugh, enjoy, and visualize what the book was like every time.
Since a challenge requirement is to comment on at least five people's blogs everyday, I made it 10. I found that there aren't many book bloggers who participated in the challenge this year, but I found many writer blogs, who I also interacted and communicated with. I made a lot of new friends, who commented on my blog, while I commented my thoughts on theirs! My Goodreads friend list is still growing to this day, expanding with friends I've met through the challenge from commenting on my blog, or from me commenting on theirs. If you don't comment, you won't get any followers and your blog won't be very open to the public as much as it is if you do. Try to comment on at least eight blogs a day, you'll see the difference, and then compare to your old stats!
I really enjoyed this year's challenge, it was even better than last year's! My only recommendation to the hosts is if they can try to visit more blogs and give suggestions to blog hosts while the challenge is still going on. If they do that, blogs will appreciate it very much and will get more followers and fans!
What I could've done better? Hmm... that would have to be follow more blogs. I'll have to do that now since the sign-up list is still up and I'll go back to my favourite blogs. ;)
Thanks to the A-Z hosts and moderators for a great challenge this year! Off to next year!