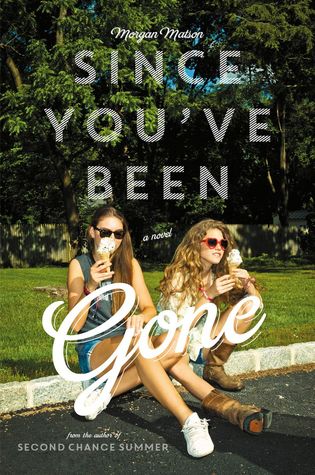 Since You've Been Gone,
by Morgan Matson
Genre: Young Adult Fiction, Contemporary, Romance, Chick-lit
Rating: 3.5/5 stars
Goodreads Summary:
The Pre-Sloane Emily didn't go to parties, she barely talked to guys, she didn't do anything crazy. Enter Sloane, social tornado and the best kind of best friend—the one who yanks you out of your shell.But right before what should have been an epic summer, Sloane just... disappears. No note. No calls. No texts. No Sloane. There's just a random to-do list. On it, thirteen Sloane-selected-definitely-bizarre-tasks that Emily would never try... unless they could lead back to her best friend. Apple Picking at Night? Ok, easy enough.Dance until Dawn? Sure. Why not? Kiss a Stranger? Wait... what?
Getting through Sloane's list would mean a lot of firsts. But Emily has this whole unexpected summer ahead of her, and the help of Frank Porter (totally unexpected) to check things off. Who knows what she'll find?
Go Skinny Dipping? Um...
This is the image that haunted me throughout the whole four hours I spent reading this book. It was all about the heart-shaped sunglasses, right? ;) But anyways, this was a real cutesy summer bittersweet novel, and I didn't see anything interesting about it. It was average and plain, with a few nice things.
Emily is nothing without her best friend, (for two years) Sloane. When Sloane suddenly leaves with her family in the beginning of the summer without saying where or why she's going, Emily is worried and doesn't know what she'll do without her best and only friend. One day, Emily receives a letter in the mail- and it's from Sloane. It's a list (like a bucket list) that gives her thirteen things that she's probably supposed to do. These are thirteen things that Emily would never do and is somewhat afraid to do, but she knows that she might find Sloane by doing these things. Emily meets new friends, takes risks and learns more about herself than she's ever known.
This was one of my most anticipated books of 2014. After reading Morgan's Amy and Roger's Epic Detour, I needed more from this amazing contemporary-romance author. And I admit that there's a lot of hype for this book, and of course, the cover is absolutely gorgeous. Who wouldn't want to read it- or even pick it up at the store?
Please note that this a very long book, and it feels even longer than it actually is. Morgan Matson tended to write with a very slow pace here and the whole book itself felt endless. For a lot of it, nothing was happening and I was a little bored, in and out of the book. I could easily do something in between, and then decide to go back to the book. I wasn't glued to it at all, despite my feelings for wanting to know what would happen in the end, we all saw a good ending coming, right?
I really love this idea and I'd totally say it's the perfect summer read, just like all of Morgan's books. She adds that special something that just makes you want to go out and jump into a pool or find a summer fling or do whatever her characters are doing in the book. It's just "POOF, I need to do these fun things they are doing in the book." Inside, I have a soft side for books that deal with bucket lists. Don't ask me why, because I don't know, but I just love them and I always want to see what dope things the protagonists want to do. And I have to say that Sloane has good ideas for Emily to do. I only did like 2/13 things (Why would I go to 55 S. Ave and ask for Mona in reality.) but watching a girly witty character do this was exciting and interesting to read about.
Next... the characters!
Okay, I just found this photo of the models for Sloane and Emily and I'm in love, this is so CUTE! *fangirls*
I really loved these characters, and the whole message that they portrayed behind the story. Although Emily could've looked a little wimpy and afraid, I really liked her and related to her because- I'm also wimpy and proud. Don't ever call me a daredevil, because I'm not. But my the end of this book, Em overgrew her shell and knew who she was supposed to be and I really loved everything about her.
And I also loved Sloane. This girl was the kick-ass of the duo. She was risky and wild and fearless and fun. She was somewhat the opposite of Emily, but they had a connection and perfected each other. I love their strong bond and I'm totally jelly of their friendship. *grumpy cat face*
The side characters were awesome. Dawn really reminded me of Sloane in so many ways, and I sometimes forgot who was who because they were so alike! Both chatty and fearless. :') I also loved Collins, who was nerdy-turned-cool.
I love how Morgan Matson didn't focus this all on the romance. I mean, it was absolutely there, but the whole story wasn't about it- it was about a girl finding her best friend and doing things she'd never done before. Frank's and Em's romance was cute. I liked the connection they had and their love for each other that has always been there from the start even though they both didn't see it clearly, but I didn't like Frank as a character. He was too... meh. He was dorky and awkward. I didn't like him too much but I saw his love for Em all the time. I had mixed feelings with this guy. :/
So the thing is, friendship is special and is to keepsake forever. The friendship Em and Sloane had is brilliant and in someways, I was totally jealous. They has the most beautiful and important friendship that I've read about. Morgan Matson has created a first. :)
Would I recommend this? Absolutely, despite the few mishaps.