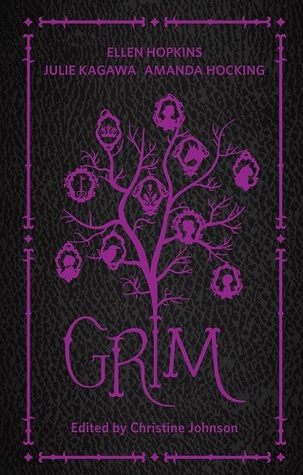 Title: Grim
Author: Several Young Adult Authors
Genre: Young Adult Fiction, Supernatural-Paranormal, Romance, Demons, Magic
Rating: 3.5/5 stars
Book #: Standalone
Publication: Feburary 25, 2014, by Harlequin Teen
Pages: 474
Format: Hardcover
Goodreads Summary:
Inspired by classic fairy tales, but with a dark and sinister twist, Grim contains short stories from some of the best voices in young adult literature today:
Ellen Hopkins
Amanda Hocking
Julie Kagawa
Claudia Gray
Rachel Hawkins
Kimberly Derting
Myra McEntire
Malinda Lo
Sarah Rees-Brennan
Jackson Pearce
Christine Johnson
Jeri Smith Ready
Shaun David Hutchinson
Saundra Mitchell
Sonia Gensler
Tessa Gratton
Jon Skrovon
I usually really dislike anthologies, but something about Grim just caught my attention. Maybe it was the authors involved with writing the short stories, because some of them have written favourite novels of mine, such as Rachel Hawkins, Amanda Hocking, and Malinda Lo. Or maybe it was the kind of anthology written, that captivated me. But overall, I was very pleased with the outcome.
From the moment I started this, I was in love. The way the stories flowed and were written were beautifully and quick, and I wished that the story would continue on forever as a regular book, not a story. This happened until The Raven Princess. After that, I was like "Meh" then "Yay!" then "Meh" again. I didn't know what to expect with each story. I felt like I was scarred for life.
What was I supposed to do? Go on and act like nothing happened? Nope. I wasn't going to go on and pretend that all of the stories were amazing. Nope, no way. I have to admit that I skipped two stories- The Raven Princess and The Brothers Piggett. Those two were so boring and dull I just couldn't stand them- most likely because they had a hint and a touch of historical stuff in there. I got info-dumped in forty pages. =_=
My favourite stories? The Key, Figment, The Twelfth Girl, Beast/Beast and Untethered. The others were okay, but those really made a difference to me. If you just want to read the goods one, then read those five, they were absolutely astonishing out of the total of eleven mini-stories all combined in one.
I definitely think that if you love paranormal-supernatural stories and books, then this will definitely please you and give you a break from longer stories. These are short stories that are still loved by everyone.
"High school is hard enough without having a psychic as a mom."