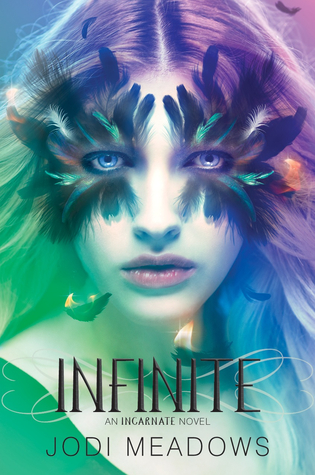 Infinite (Newsoul #3),
by Jodi Meadows
Genre: Young Adult Fiction, Dystopia, Romance, Paranormal, Dragons, Fantasy, Sci-fi
Rating: 3.5/5 stars
Book #: 3
Publication: January 28, 2014, by Katherine Tegen Books
Format: ebook
Goodreads Summary:
DESTRUCTION
The Year of Souls begins with an earthquake—an alarming rumble from deep within the earth—and it's only the first of greater dangers to come. The Range caldera is preparing to erupt. Ana knows that as Soul Night approaches, everything near Heart will be at risk.
FLIGHT
Ana's exile is frightening, but it may also be fortuitous, especially if she can convince her friends to flee Heart and Range with her. They'll go north, seeking answers and allies to stop Janan's ascension. And with any luck, the newsouls will be safe from harm's reach.
CHOICE
The oldsouls might have forgotten the choice they made to give themselves limitless lifetimes, but Ana knows the true cost of reincarnation. What she doesn't know is whether she'll have the chance to finish this one sweet life with Sam, especially if she returns to Heart to stop Janan once and for all.
With gorgeous romance and thrilling action, the final book in the Incarnate trilogy offers a brilliant conclusion to the compelling questions of this fascinating world, where one new girl is the key to the lives of millions.
What a fabulous ending to the Newsoul trilogy! I mean, this trilogy has been amazing the whole ride through- its idea is so fresh and new and beautiful, and I've been waiting for an epic conclusion like this for a long time,
and I think I just got it.
Jodi Meadows is one fantastic author.
Keep that in mind.
So here's the deal- this trilogy was the type of trilogy that just gives you the feels. Whatever the characters are going through in the book, you will feel like you're going through the same thing- and it can be from a mega passionate kiss (I'm emphasizing that) or crying, it's just everything that Ana and Sam were going through. So you know, I'd recommend that you should be ready.
So this is the conclusion- so we're all awaiting a fantastic ending and we're all waiting to see the prejudice between the oldsouls and the newsouls break up. Of course, the book ends one way or another, right? So basically Ana wants to return to Heart with Sam so they can defeat Janan once and for all and she also wants to see their relationship build up and find Sam's love for her.
It sounds really short and sweet, but it's totally more than that. At 5%, it was already action-packed and full of those heart-melting kisses, if you know what I mean. *wink wink* Jodi Meadows totally knows the succeeding power to captivate readers right from the start, and leaves them hanging to discover what will occur in the end.
I have to say that this wasn't the best book out of the trilogy. I also have to say that it was boring at times, what could I do? If I really loved it and was going crazy about it, I think I would've finished it much faster than I did, but during some moments, I didn't see the "WOW" at all. I think it really depends on people's attention spans, that's all.
I had mixed feelings with the plot. It went up and down, side to side, and I still don't really know what to say about it. Some points were totally action-packed craziness, and others weren't needed. (See above) But it still was, bearable to read.
Ana has really grown up in these three books, or one year, in the setting's time span. She's a total fighter now, and totally kick-ass. I was really afraid to see who she'd become by the end, but I'm really glad to see that she's matured, despite my problems with her in the previous novel. So, yay for Ana!
Okay, and then we have Sam, who I absolutely adore. I think I insert gifs for every hot fictional real guy out there. Oh well, here's another one to describe my new boy.
*heart eyes* Well, that explains my feelings for Sam. <3
The romance was just absolutely beautiful. No other words.
"I just want you. I want you forever, and I'm afraid-" His hands closed over mine. "I want a life with you. I'd give anything to go back and start this one over, to be reborn into this lifetime. I wouldn't waste it. I'd find you sooner. I'd take you somewhere safe. I'd show you music and love and life every day so you were never alone, never afraid. If I could start over knowing what I know now-"
LOOK AT THIS. JUST PLEASE, LOOK AT THIS QUOTE. IT SERIOUSLY BRINGS TEARS INTO MY SAPPY EYES. OMG. *dies inside*
I loved the ending. OMG. It was so unexpected, and I loved it. Is it okay if I sat there smiling like a weirdo after finishing the book? I don't know, to tell you the truth, but that's what I did for ten minutes. *grins*
Well, that's it, sadly. The Newsoul trilogy is over! But I'm glad that it was short and sweet, and still amazing. It finally wasn't a sad ending that killed me and made me tear up- it was an ending that meant a lot to me and warmed my heart. Just plain awesomeness, despite mixed feelings.
Mini-Review:
-Not the best book in the trilogy, but it was so good and the characters made me feel what they feel.
-The plot was boring at times, not really liked.
-Ana has grown up so much and she's a great character.
-Sam is my baby, I love him too much.
-The romance was beautiful, of course and I adored the ending!
-Awesome book overall, despite the mixed feelings at times.