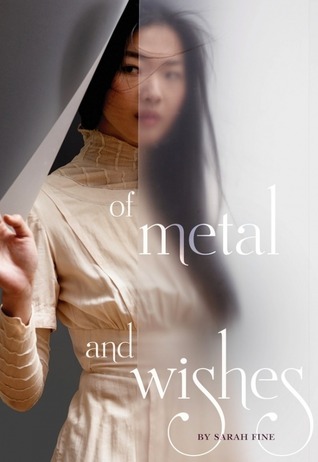 Of Metal and Wishes (Of Metal and Wishes #1),
by Sarah Fine
Genre: Young Adult Fiction, Romance, Dystopian, Ghosts, Gothic
Rating: 4.5/5 stars
Book #: 1
Publication: August 5, 2014, by Margaret K. McElderry Books
Format: ARC
Goodreads Summary:
There are whispers of a ghost in the slaughterhouse where sixteen-year-old Wen assists her father in his medical clinic—a ghost who grants wishes to those who need them most. When one of the Noor, men hired as cheap factory labor, humiliates Wen, she makes an impulsive wish of her own, and the Ghost grants it. Brutally.
Guilt-ridden, Wen befriends the Noor, including their outspoken leader, a young man named Melik. At the same time, she is lured by the mystery of the Ghost and learns he has been watching her … for a very long time.
As deadly accidents fuel tensions within the factory, Wen must confront her growing feelings for Melik, who is enraged at the sadistic factory bosses and the prejudice faced by his people at the hand of Wen's, and her need to appease the Ghost, who is determined to protect her against any threat—real or imagined. She must decide whom she can trust, because as her heart is torn, the factory is exploding around her … and she might go down with it.
Review:
*Thank you to Simon and Schuster for providing me with an ARC of this book, in exchange for a honest review.*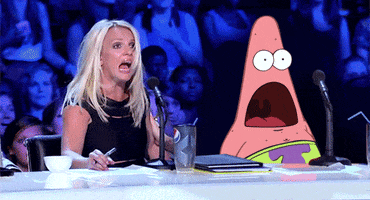 What can I say? This book was amazing. Colour me surprised!
This idea and summary just captivated me from the start, but I actually didn't expect this to be so good. It's now definitely one of my favourites of 2014, and I'm so glad to have an ARC and to have read it before anyone else. (Not to be cruel or anything.)
One thing before we get into the review.
Is there going to be a sequel for this?
I know that this isn't out yet (or isn't even close to releasing), and there isn't any title or any word about a sequel, but then you go on this book's
page
and you see 'Of Metal and Wishes' #1. There has to be a sequel coming from the amazing ending that we were so lucky to have here.
To sum it up, there has to be a sequel, it's just too good and I will honestly fangirl-die if I don't get to see what happens.
Wen lives a lonely life with her father in Gochan One, where she helps him in his medical clinic. There's also words about some Ghost who grants wishes, but Wen doesn't believe it until she actually makes one and it comes true. When she becomes friends with Melik, a Noor, her life is taken to a whole other level. Adding to that, there's the flu going around, and Wen needs to save the people she loves.
This book was such a pleasure to read. I was utterly enjoyed by it!
Mmm, yes birdy.
Can we just get to the only negative part of this? The only flaw was the world development. I wish that we could've found out more about the unjust dystopian world that Wen lives in. If we found out more about the past, then everything would flow together and would be a teensy more perfect than it already is. But just don't even read this paragraph, because it's not really needed if you don't care about worlds.
For a 316 paged book, I read this very quickly- and remember that you need time to read this because you won't be able to put this down or even grab a sip of water in between. It's just that good. Back to the pleasure thing.
Don't you just love the idea of this? I actually didn't know that this was a retelling of The Phantom of the Opera until I read some reviews afterwards, is that bad? But now, it's all coming back to me and makes sense, crystal clearly. Adding to that retelling thing, we have an Asian protagonist (which rarely occurs), a prejudicial world and so much more. It was so unique and killed me to read because it was just too good and unforgettable. I think I'm going to be laying down in bed for hours thinking about the ending and everything about this book. Who knows, maybe I'll re-read it again tomorrow.
I know, I fascinate people all the time. :')
The characters just make me speechless. I. Just. Loved. Them. All! I keep wanting to say "colour me surprised" every two words because I just surprisingly loved them despite them complaints about Wen's attitude and such. Nope. Forget the bad thoughts. Wen was just kick-ass awesomeness. She was fun and witty even though she never tried to be. I loved her monotone self, and I totally get it because her world is just so unjust. How is she supposed to react when everything's going wrong and she has a turbulent relationship with her dad? She's pretty strong, let me tell you that.
Malik... Oh Malik. *sings sugar by the Archies song in head*
You are my candy boy. *grins in a weird way* No seriously, you're sweet as candy and I absolutely love you. Reading "Wen always has medicine" just made me go like:
Puhleeze. You always have medicine, my darling. <3 Okay, but honestly, their romantic relationship was just enchanting. It's so beautiful, and I am still left beyond words! Oh, and those passionate kisses just made me go mad.
The ending was just amazing, just like I mentioned above. It was beautiful, and deep, and made me just long for more. What else can I say about this amazing book? Three words. Deep, enchanting, brilliant. SEQUEL, PLEASE!
Mini-Review:
-The world is unclear to me, but everything else is amazing.
-I love the characters, oh em gee.
-The romance is just enchanting and I absolutely adored Melik.
-SEQUEL, PLEASE!