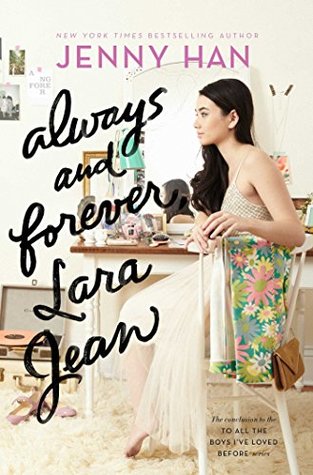 Always and Forever, Lara Jean (To All the Boys I've Loved Before #3),
by
Jenny Han
Publication:
May 2, 2017, by Simon and Schuster BFYR
Genre:
Young Adult Fiction, Contemporary, Romance
Pages:
325
Format:
Hardcover
Source:
Purchased
Rating:
Lara Jean is having the best senior year. And there's still so much to look forward to: a class trip to New York City, prom with her boyfriend Peter, Beach Week after graduation, and her dad's wedding to Ms. Rothschild. Then she'll be off to college with Peter, at a school close enough for her to come home and bake chocolate chip cookies on the weekends.
Life couldn't be more perfect!
At least, that's what Lara Jean thinks…until she gets some unexpected news.
Now the girl who dreads change must rethink all her plans—but when your heart and your head are saying two different things, which one should you listen to?
My Thoughts:
I've been dreading to write this review, mostly because I am physically unable to let go of it all. I cannot, cannot, CANNOT leave Lara Jean and all of her glory behind in my bookshelf for someone else to explore. I mean, YEAH, I'll recommend this trilogy to my friends, explaining that I have almost given all of Jenny Han's books a five star rating, but my emotions are currently all over the place, thanks to this gorgeous finale. Always and Forever, Lara Jean is a book that wasn't supposed to exist, according to the lovely Ms. Han, but she kept feeling that something was missing, that we Lara Jean fans needed more closure. And I'm telling you, this provided lots of closure. *But not nearly enough for my poor, broken heart!*
"Peter is my cocoa in a cup, my red mittens, my Christmas morning feeling."
THIS BOOK IS MY CHRISTMAS MORNING FEELING. I honestly do not remember the last time a book made me feel this way, made me obsess continuously to the point that I could identify myself as a freaked-out fangirl. This finale means so much to me because I could relate to it; I am currently approaching similar events that Lara Jean, in this story, was dealing with, like university applications and discovering what we would like to do with our lives. I grew up with this series, and so many things have occurred in my life in between the releases of all of the novels, and the ending was extra special because of that.
This finale is about Lara Jean basically trying to configure what is going to happen to her relationship with the amazing Peter. Everything seems perfect, and her life is progressing in the way she wants it to, but suddenly, so many surprises pop up in her life, and Han just writes about it all in the best way ever. I feel that she knows her character and protagonist, Lara Jean, so well, that this seems so valid… so true. Lara Jean begins to rethink about wear she belongs, how she and Peter will be able to be together amidst all of the drama that surrounds them.
And let's just talk about how Lara Jean and her sisters' relationships bloom here. As if they couldn't progress and bloom even more, right? They all begin to understand each other as they are growing older, dealing with new situations, seeing that their father is moving on after their mother's death. My heart just fluttered throughout the whole journey. I LOVE, NO ADORE, KITTY AND MARGOT.
"I've heard people say you meet your best friends in college, and they're the ones you'll know your whole life, but I'm certain that I'll know Chris my whole life too. I'm a person who saves things. I'll hold on forever."
NOW — I guess you've figured out that I love Lara Jean and Peter's relationship SINCE I fangirl too much about this series as a whole. I wasn't too much of the BIGGEST fan of Peter's in the past two novels, but because of his caring for Lara Jean and how MUCH their relationship has progressed in this novel, I am officially in love with him. PLEASE FIND PETER FOR ME. NOT ANY PETER, BUT THIS PETER. Thank you very much. *winks* But jokes aside, the two's chemistry is unbelievable. I love how their relationship is not JUST about the physical aspects of falling in love, but about emotions and talking to each other like important individuals. Sometimes, books tend to get a little too much about sexuality instead of the real aspects of romance, and this was it.
BUY THIS WHOLE SERIES AND SIT ON A COMFY COUCH AND READ ALL OF THE BOOKS. You won't regret it. Even if you're the last person who would read a contemporary romance, DON'T HESITATE TO PICK THIS UP. It's absolutely gorgeous.
What is your favourite book finale?