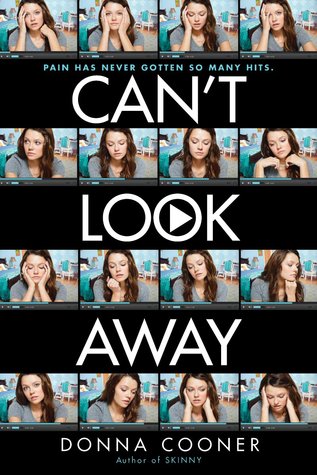 Can't Look Away,
by Donna Cooner
Genre: Young Adult Fiction, Contemporary, Tragedy, Romance
Rating: 3/5 stars
Publication: August 26, 2014, by Point
Format: Hardcover Edition (borrowed
)
Goodreads Summary:
Donna Cooner establishes herself as our own Jodi Picoult in this timely tale of sisters, loss, and redemption.
Torrey Grey is famous. At least, on the internet. Thousands of people watch her popular videos on fashion and beauty. But when Torrey's sister is killed in an accident -- maybe because of Torrey and her videos -- Torrey's perfect world implodes.
Now, strangers online are bashing Torrey. And at her new school, she doesn't know who to trust. Is queen bee Blair only being sweet because of Torrey's internet infamy? What about Raylene, who is decidedly unpopular, but seems accepts Torrey for who she is? And then there's Luis, with his brooding dark eyes, whose family runs the local funeral home. Torrey finds herself drawn to Luis, and his fascinating stories about El dio de los Muertos, the Day of the Dead.
As the Day of the Dead draws near, Torrey will have to really look at her own feelings about death, and life, and everything in between. Can she learn to mourn her sister out of the public eye?
Review:
For a long time, I felt like I've been prompted to read this book. Maybe it has to do with the fact that I love watching beauty gurus on YouTube, such as Bethany Mota. The feeling of having young teenagers helping you out with beauty has always been a fascination to me, and probably to millions of other people as well. I never saw a book like this coming at me, and even though it didn't live up to my expectations and was rather dull, it definitely was a masterpiece in terms of a great concept.
Having heard much about Donna Cooner's Skinny, I've always been intrigued to pick up a book of hers one day. I guess you can never get too much contemporary, right? And really, that is what this book was. Surprisingly, this was a dark-contemporary. It was short, but a difficult read to concur at the same time. It dealt with so many subjects, all combined in one. And the most important thing? It felt real.
Torrey Grey has moved from the place-she's-ever-known in Colorado to a whole new atmosphere in Texas after her younger sister's tragic death. And all in all, Torrey feels like it's all her fault. The last words she's ever said to her sister was to grow up after she made a stupid decision to make her sister film a video of Torrey and her best friend at the mall. Did I mention that Torrey is a super-famous beauty guru YouTuber? A video of Torrey blasting out at her sister's final moments of living is leaked, and the general public bashes out on her, blaming her for her sister's death. But really, it was a drunk driver's fault. Now she's at her new school, not knowing how to act when people can possibly know who she is and what happened.
The main message that this book let out was that you can't look away from your past and troubles. In those terms, I guess you can say that this book's title makes sense with this whole concept.
Torrey actually reminded me a lot of Bethany Mota. Her attitude wasn't as cheerful and caring as Beth's is, but if you read this, you'll probably see the resemblance. But the thing is, Torrey is really bitchy at times. You possibly might be trying to tell me, "Michelle, this girl's sister just died in front of her eyes. How is she supposed to act?" but then at the same time, she doesn't have a right to block everything out around her and crouch into a shell away from the rest of the world. And that's exactly what she did. She played stupid. She acted like nothing was real—which possibly might be the way she was supposed to deal with tragedy. She was the factor that made this book seem unrealistic. I felt like I was screaming "DON'T WORRY ABOUT ANYTHING!" at her for three-quarters of the story until she smartened up.
The story started off well with a pretty great beginning, and I felt like I was sitting there, reading on to find out what really happened and what made Torrey become this way. Cooner did a fantastic job at trying to get us to realize the who, the what, and the why.
Full of grief, trouble, and a realistic story, Can't Look Away was a pretty good story, but I felt like I couldn't find the relation to the characters. I was left with many "meh" moments. With this book, you'll probably have to be trying to choose your way through the story.