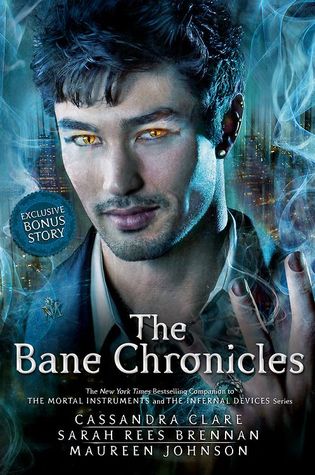 The Bane Chronicles (The Bane Chronicles #1-10), by Cassandra Clare, Sarah Rees Brennan, and Maureen Johnson
Genre: Young Adult Fiction, Paranormal, Fantasy, Short Stories
Rating: 4/5 stars
Publication: November 11, 2014, by Margaret K. McElderry Books
Format: ARC
Goodreads Summary: A Collection of Ten Short Stories centred around Magnus Bane. Each short story is going to be published as an ebook followed by a Full Single Print Coming 2014
Ever wondered about the enigmatic, mysterious warlock Magnus Bane? The only character to appear in every Shadowhunter book, Magnus has a past even more shrouded in mystery than his present. I've teamed up with acclaimed YA writers Maureen Johnson and Sarah Rees Brennan to create the Bane Chronicles, the back (and front) story of Magnus told in ten linked tales.
Look for short stories like Vampires, Scones and Edmund Herondale; The Rise and Fall of the Hotel Dumort; Saving Raphael Santiago and What To Buy The Shadowhunter Who Has Everything (And Who You're Not Officially Dating Anyway). Each story will be available as an ebook on a monthly basis starting April 16 with the tale of What Happened In Peru.
Each story will be released monthly online for the next ten months — and then for those who don't read e-books, the full print collection will be available in bookstores and wherever else books are sold after the Chronicles have been finished.
Review:
*Review copy provided by publisher in exchange for an honest review. No compensation was given or taken.*
For my awesome review! (I know many of you are anxious to read this gorgeous set of short stories featuring the one and only warlock that began it all!)
Magnus Bane has always shared a special place in my heart alongside many of my other favourite male (and female) characters. But something about Magnus is different than most. Magnus is the most kick-ass, hilarious, but loving warlock that you'll ever read about. Reading about him in TMI and TID was awesome, but we've always been questioning his awesomeness more than anyone else's. Here, we get to read ten full awesome stories from his POV written by some of the best YA authors living.
This is a collection of ten short stories that regard Magnus's past, present and future, including some of the events that we've been questioning since the start of Cassandra Clare's magnificent writing. Valentine's fall, Magnus's romance with Camille, why he was banned from Peru, everything with the French Revolution, his first date with Alec... This book has it all in one physical compartment.
I know that you guys want me to give you some snippets of the book.. But I'm afraid I can't give you that. ;)
This book was racing from the start. What Happened in Peru was one of the most anticipated stories for me, and it really was fantastic. From that story on, each story built me with more anticipation for the next and so on. I never wanted this collection to end. Cassie, Maureen, and Sarah are really all talented writers, and you could see everything shine in this beauty.
Ew, ew Cassandra Clare releasing another--
I'm sorry to say this, but you people who think that Cassandra Clare is a bad person for writing more Shadowhunter books are darn WRONG. Don't like what she's doing? Don't pay attention. No one's paying you for putting your anger and comments into the public. THANK YOU. *calms down*
:'( This book was phenomenal. It wasn't perfect, but it was great and enjoyable and kept me lost in Magnus's world for 505 pages. (Yes, 20 pages added into the hardcover because of sizing and stuff.)
Some stories were weak, and there were moments when I could've yawned, but the introduction of new characters that interacted with Magnus that we never met before in the main series is awesome, and so is seeing some action and mystery in one bundle of excellence.
Magnus was... beautiful. Geez, I love him so much. (Wins award for #FavouriteWarlock) This guy excites me so much that I can probably pee myself. x) When I found out that I was getting an ARC of this, I literally began to cry because... it's Magnus and Cassie Clare. Getting an ARC before you mundanes the rest of the world reads it? *CANNONBALL*
And yes, we did meet many new characters. Axel, Edmund, Lilly, Dolly, JAMES HERONDALE are just some to name a few. PLUS, WE ALSO HAD AN ENCOUNTER WITH TESSA AND WILL AND JEM.
OH! AND JACE, ALEC, ISABELLE, AND CLARY! WOOT WOOT!
I can't even tell you the number of times I ended up squealing while reading this book. I can't wait for you mundanes the rest of the world to read it! You mundanes You will love it! So maybe... get part 1? *grins sheepishly* Magnus, pretend I'm Camille and let's get married, kay?