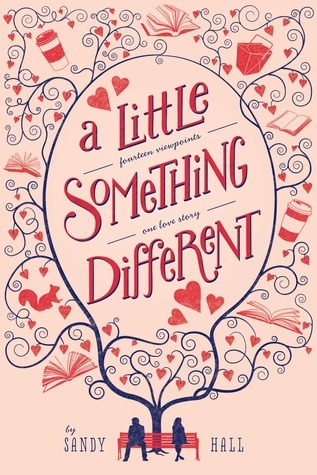 A Little Something Different,
by Sandy Hall
Genre: Young Adult Fiction, Contemporary, Romance
Rating: 4.5/5 stars
Publication: August 26, 2014, by Swoon Reads
Format: Paperback Edition (borrowed) & eARC
Goodreads Summary:
The creative writing teacher, the delivery guy, the local Starbucks baristas, his best friend, her roommate, and the squirrel in the park all have one thing in common—they believe that Gabe and Lea should get together. Lea and Gabe are in the same creative writing class. They get the same pop culture references, order the same Chinese food, and hang out in the same places. Unfortunately, Lea is reserved, Gabe has issues, and despite their initial mutual crush, it looks like they are never going to work things out.
But somehow even when nothing is going on, something is happening between them, and everyone can see it. Their creative writing teacher pushes them together. The baristas at Starbucks watch their relationship like a TV show. Their bus driver tells his wife about them. The waitress at the diner automatically seats them together. Even the squirrel who lives on the college green believes in their relationship.
Surely Gabe and Lea will figure out that they are meant to be together....
Review:
*Review copy provided by the publisher via Netgalley in exchange for an honest review. Thank you so much!*
"They have a story. I'm telling you, there's no way they don't have a story. They have this chemistry that's impossible to ignore. I don't even know what it is. But I'm going to do whatever I can to get them together."
You love romance stories. I KNOW YOU DO, BECAUSE WHO DOESN'T? But you hate sappy and cheesy stories. I get that. *pats you on the shoulder* This is the book for you. ALL OF YOU WONDERFUL PEOPLE WHO ARE CAPABLE OF SHEDDING A TEAR, OR TWO. Sandy Hall has surely written a swoon-ful story that will make you cry your eyes out... If you have the guts to.
I really don't even know how to begin fangirling here because there's so many parts of the book that I can begin with. But really, let's rewind back into the future of this book, where page 1 began and we were just clueless noobs that decided to pick up a love story with a gorgeous cover.
This is actually the book that has the most POVs for me that I've ever read. I usually don't do major-amount-of-POV books, but after all of the positive reviews and sappy gifs, I just couldn't handle NOT buying or requesting this book off of Netgalley. *wipes tears*
And actually, the POVs expressed in this book are of the craziest but most beautiful things. A bench (YES A BENCH), a squirrel, a Starbucks barista, Lea's roommate, Gabe's brother, the peeps' creative writing classmate who really doesn't care about anyone or anything, a bus driver, Gabe's guy friend, Lea's guy friend, their creative writing teacher, their teacher's wife, a girl who is secretly obsessed with Gabe but isn't Lea, a Chinese food delivery guy, and a waitress. These people/things may be the most oddest and random POVs you've ever heard/thought about, but they seriously make this book extra-special than IT ALREADY WAS AND HAS BEEN. *swoons*
"The boy and girl are walking toward each other but don't see each other yet and I hope they smile. I think they're going to smile. I wonder if they know where all of my acorns went."
And what is this book about? Lea and Gabe falling in love. It may seem like a simple concept and subject, but the way Sandy Hall has portrayed this story has made it perfect. And the amazing thing is that everyone in this book sees their true love and tries to make 'it' happen.
So the story was perfect. The POVs and concept was perfect. What else was perfect? The characters except the one and only Gabe.
*sighs* I didn't feel the real "magic" that everyone else and everything else did. Maybe it was that I wasn't in the moment to fall in love with another male fictional character like I do: EVERY SINGLE TIME? But it also seems like others have had problems with him too, so I know that I'm not alone. *says confidently*
But Lea? I found Lea charming, and in many ways, like me. Maybe it's because she's a bookworm that is pretty anti-social? *grins* Hmm.
"The girl is a different story. I always notice the readers on the bus. I can't read when a bus or car is moving. I get motion sick. But she's always reading. And he's always holding on like it hurts his arm. And I'm sitting up here thinking about them."
All in all, I'm so happy and cheerful that this book went amazing, just as I expected it to. It was mega-hilarious, and warming. Perfect read for the winter/Christmas season. I guess you now know what you'd like for Christmas this year...