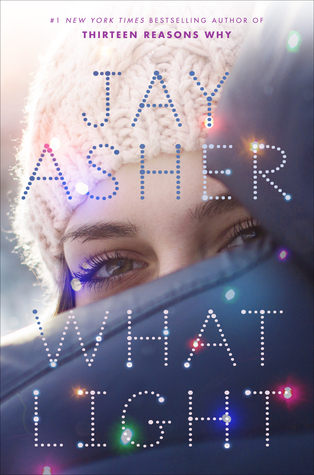 What Light,
by
Jay Asher
Publication:
October 18, 2016, by Razorbill
Genre:
Young Adult Fiction, Contemporary, Romance
Pages:
251
Format:
ARC
Source:
BEA/Publisher
Rating:
Sierra's family runs a Christmas tree farm in Oregon—it's a bucolic setting for a girl to grow up in, except that every year, they pack up and move to California to set up their Christmas tree lot for the season. So Sierra lives two lives: her life in Oregon and her life at Christmas. And leaving one always means missing the other.
Until this particular Christmas, when Sierra meets Caleb, and one life eclipses the other.
By reputation, Caleb is not your perfect guy: years ago, he made an enormous mistake and has been paying for it ever since. But Sierra sees beyond Caleb's past and becomes determined to help him find forgiveness and, maybe, redemption. As disapproval, misconceptions, and suspicions swirl around them, Caleb and Sierra discover the one thing that transcends all else: true love.
What Light is a love story that's moving and life-affirming and completely unforgettable.
My Thoughts:
J
ay Asher is the king of YA literature. THE KING. ALL HAIL JAY ASHER. And I bet you all can completely agree with me because of the success of Thirteen Reasons Why, one of the best books ever. I think the show has just boosted the readership of the novel SO MUCH so I'm hoping that people might feel a little more interested in this because of the movie. What Light is a lovely Christmas-y story that made me squeal and freak out over the one emotion that every human being has felt at one point of their life: LOVE
I am really impressed with this story because it's not JUST about the cutesy lovey stuff. It's more than that; it's the usual Jay Asher fluff. He adds so many more topics that we never really aware about into his gorgeous stories. What Light basically showed us that hey: HOLIDAY BOOKS ARE FOR THE SUMMER. They can be read in the spring, fall—whenever. When I began reading it, I didn't expect that this would be entertaining, but it definitely was. Asher's writing was (almost) as good as ever, and I really appreciated the storyline.
This is one of those feel-good stories that makes you want to appreciate life a little more. Caleb and Sierra are the power couple of them all. I fell in love with their romance as well and just pined for them to be together. IT WAS MAGICAL. I felt a real connection to the book because I wanted the best for the characters if you know what I mean. The plot, on the other hand, was quite slow-paced which was the reason why I had to stick with a lower rating for this one. Unlike Asher's other books, it lacked something. Something life-changing. How did Thirteen Reasons Why accomplish this? I really don't know. Let's just say that it was a nice story.
Want a pleasing, adorable story? Read this. That's all I can say.
*A review copy was provided by the publisher via BookExpo America in exchange for a honest review. Thank you so much!*
What is the best holiday book you have read?