How It Ends,
by
Catherine Lo
Publication:
June 7, 2016, by HMH BFYR
Genre:
Young Adult Fiction, Contemporary, Romance
Pages:
304
Format:
ARC
Source:
Publisher
Rating:
There are two sides to every story.
It's friends-at-first-sight for Jessie and Annie, proving the old adage that opposites attract. Shy, anxious Jessie would give anything to have Annie's beauty and confidence. And Annie thinks Jessie has the perfect life, with her close-knit family and killer grades. They're BFFs…until suddenly they're not.

Told through alternating points of view, How It Ends is a wildly fast but deeply moving read about a friendship in crisis. Set against a tumultuous sophomore year of bullying, boys and backstabbing, the novel shows what can happen when friends choose assumptions and fear over each other.
My Thoughts:
Catherine Lo's How It Ends is a story that yes, incorporates two foil perspectives, blended into a whole where readers, from the first page, are immediately persuaded into understanding this gorgeous story of friendship from two points of view, but it is also a story that I will never forget when looking through the glass (that was NOT an Alice in Wonderland film title reference—okay, maybe a little) at stories that feature two girls who are friends. Lo adds just the right bit of everything that makes this so utter glorious and satisfying to read that I just wish that it wasn't over. It is one of the most relatable books of the year for me, although I, as a sophomore soon junior in high school, have not experienced nearly anything that both Annie and Jessie have in a matter of a year. This just shows how two people can be put into each other's lives without knowing, or even expecting it. And by the way, before you get your hopes up: This is not based on the romance. Not even closely.
I loved reading this novel for many reasons, but the fact that this was based on the friendship between Annie and Jessie itself, and that the two clicked immediately and that this was based on a parabola (ugh, math) of their friendship makes things so interesting. We readers spend an equal amount of time reading the story of Annie and Jessie, both being similar but different events happening from time to time. Annie is the newbie to Jessie's school, and she hits it off instantly with Jessie, alongside Jessie's mortal enemies, who bullied her all through middle and high school. Jessie deals with anxiety and depression from the outcome of this bullying. Lo, through these two girls, expresses a increase and deterioration of the friendship between these two girls, and how every set of friends have their highs and their lows.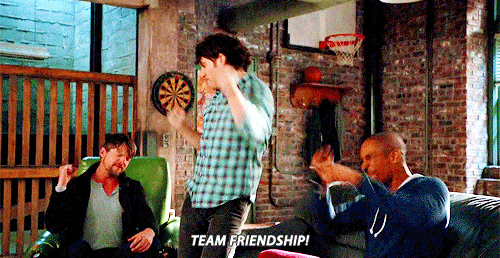 This book expresses friendship and all of its matters in the most honest way: being real. Annie and Jessie are the realest characters of real; just like Jessie's mom calls them, they are puzzle pieces. After reading, I can only look at my group of friends and think about how we are perfect for each other, and how we are our own puzzle. Puzzles are difficult to put together, but once one finds the right match, it is absolutely perfect. That is such a gorgeous comparison to friendship. Afterwards, I could only hope that a future edition of this novel would have a cover with puzzle pieces on it. That would add that extra fluff. This book was nowhere near fluffy, though. This is not your fluffy contemporary that you decide to read on a boring summer day and you just find yourself flipping through the pages for the reason that you want hot, blazing, steamy romance. Romance with all of the aggressively sexy adjectives placed before them. No. Catherine Lo's writing is strictly for teens or readers who are lurking for a special read. This was a special, satisfying read that I would recommend to everyone.
Age is a big factor when it comes to how relatable book protagonists seem to be. I found myself relating to both Annie and Jessie, not completely, but with certain aspects. These girls are both fifteen, and seem to have so much more maturity in their characters that makes this story even easier to believe in. I loved the play on actual fiction through the story, and how Annie and Jessie's friendship is like a story. I never let that aspect leave my mind.
How It Ends is a read for everyone, any time of the year, and we could just experience any type of emotion while doing so. I endured anger, tears, happiness... whatever you could possibly imagine. It's one of the truest stories that every single person has experienced at one time or another, but to different extremes.
How It Ends expresses the lives of modern day teenagers, whipped with friendship, struggles and looking at the bright side of things when life gets too difficult. Because who ever said that teenagers do not have difficult lives?
*A big thanks to the publisher for providing me with a review copy in exchange for a honest review!*
I was also very fortunate to take part in this blog tour thanks to Raincoast Books, and was fortunate to ask Catherine Lo one question!
WHAT IS YOUR ADVICE FOR YOUNG ASPIRING WRITERS?
Read widely and often! I used to think of reading as "cheating" on my writing time. I

love to read so much that it didn't feel like work – it felt like an indulgence that

I should be setting aside to get my writing done. I've come to see things differently

now, and I read constantly while writing. I find that while I'm reading, I get

inspired, and I find myself analyzing what works and what doesn't work in a story, how

believable characters are created, how pacing and plotting work, and how authors draw

readers in to the story and get them invested. When I'm struggling with one of my own

stories, I find that letting go and immersing myself in another book is sometimes the

perfect way to clear my head and find inspiration for how to solve the problem.
What are some YA contemporaries that are focused simply on friendship?