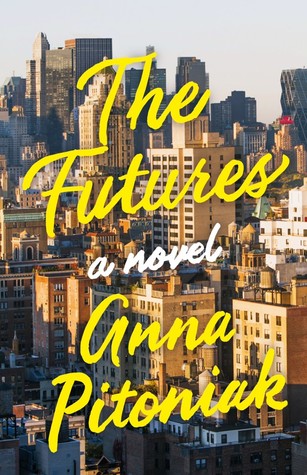 The Futures,
by
Anna Pitoniak
Publication:
January 17, 2017, by Little Brown
Genre:
Adult, Contemporary, Romance
Pages:
320
Format:
ARC
Source:
Publisher
Rating:
Julia and Evan falls in love as undergraduates at Yale. For Evan, a scholarship student from a Canadian logging town, Yale is a whole new world, and Julia—blonde, beautiful and rich—fits perfectly into the future he's envisioned for himself. After graduation, and on the eve of the great financial meltdown of 2008, they move together to New York City, where Evan takes a job at a hedge fund. But Julia, who has only known a life of privilege, feels unmoored and increasingly shut out of Evan's secretive world.
With the market crashing and banks failing, Evan becomes involved in an increasingly high-stakes deal at work—a deal that, despite the assurance of his Machiavellian boss, begins to feel more than slightly suspicious. Meanwhile, Julia reconnects with someone from her past who offers a glimpse of a different kind of life. As Evan and Julia spin apart into their separate orbits, they each find that they are capable of much more—good and bad—that they'd ever dreamed, and that betrayal is easier than they ever imagined.
Rich with suspense and insight, Pitoniak's thrilling debut reveals the fragile yet enduring nature of our connections to one another and to ourselves. THE FUTURES is a glittering story of a couple coming of age and a tender, searing portrait of what it's like to be young and full of hope in a city that often seems determined to break us down—but ultimately may be the very thing that saves us.
My Thoughts:
I feel SO SO SO embarrassed that I am writing a review for this beautiful, amazing, gorgeous book (I CAN'T HELP BUT RAVE ABOUT IT) right now, but I guess better late than never, right? Anna Pitoniak's The Futures is a memorable book that I urge so many overachievers like myself to purchase. Why overachievers, you ask? BECAUSE THIS IS AN ADULT BOOK ABOUT A COUPLE WHO ARE IN LOVE BUT ARE TRYING TO GET THEIR LIVES TOGETHER. This book is my dream book and life: I desire to live in New York City, to attend an Ivy League college, to make myself proud and fall in love. This book basically is the remnants of that. We have two characters who are partially similar and partially different. Julia and Evan both hold qualities that I can personally relate to, and I loved reading their two perspectives, sneaking peeks on what they think of each other.
The amazing thing about this book is that it is so damn real. It expresses the problems of growing up so well (even though I have personally never experienced these troubles yet). As I hold this book in my hands right now, I slowly am dying inside because I want to live all of those emotions again. I felt so much sadness, happiness, frustration—literally the hugest mix of emotions possible while reading. I literally want all of the writing pieces that Anna Pitoniak has produced in my hands. NOW. She made this whole story so descriptive and lively that I felt that I was actually living in New York City. I have visited the city of dreams twice and it IS the city of my dreams. It was described so elegantly, making me want to catch a plane and fly there instantly.
"What kept everyone going was the dream: store windows on Madison Avenue, brownstones lit golden in the night, town cars gliding across the park. Imagining what it would be like when you got there, someday. Manhattan felt like a dazzling life-size diorama. A motivation to work harder, stay later, wake earlier" (4).
This amazing piece of art (this is a hundred percent artistic work) is all about a couple who fell in love at Yale—Julia and Evan. Julia is from a rich family and has dreams that are immediately decided for her when her husband, Evan, decides to move them to New York City so he could work for a hedge fund. Immediately, his once-calm life is taken away from him and he has to live with long days and short amounts of time at home with Julia.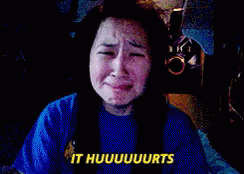 THIS BOOK HURT ME SO MUCH BECAUSE I FELT SO BAD FOR JULIA. She had such a boring life for the majority of the book and she was BOUND to be happy again. Thankfully, I must say that the ending was pretty fabulous if you ask me. THIS WHOLE BOOK WAS PRETTY FABULOUS. I loved the pacing, plot, setting, romance—EVERYTHING. This does contain adult subject matter, but any YA contemporary lover would surely fall in love with Evan and all of this.
The Futures is the perfect read for a millennial. Reading about a couple's life in New York City really makes us appreciate the beauty of the city, though it also makes us become scared of the future. Many of us constantly wish for our lives to 'get together' faster, but in this case, moving on is quite scary as hey—WE'RE ALL ALONE. I'm in love with this beautiful read, and I'm sure everyone else will too.
*A review copy was provided by the publisher in exchange for a honest review. Thanks so much!*
What are some "millennial" style reads? What are some other books set in New York City?