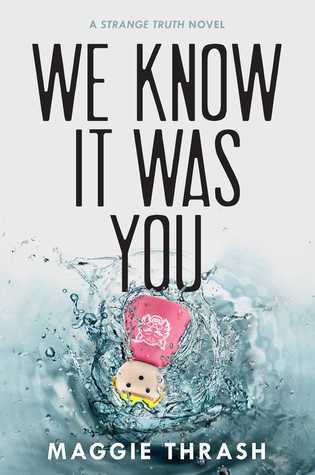 We Know It Was You (Strange Truth #1),
by
Maggie Thrash
Publication:
October 4, 2016, by Simon Pulse
Genre:
Young Adult Fiction, Contemporary, Mystery
Pages:
352
Format:
ARC
Source:
Publisher
Rating:
Halfway through Friday night's football game, beautiful cheerleader Brittany Montague—dressed as the giant Winship Wildcat mascot—hurls herself off a bridge into Atlanta's surging Chattahoochee River.
Just like that, she's gone.
Eight days later, Benny Flax and Virginia Leeds will be the only ones who know why.
My Thoughts:
DNF @ 200 pages
This review is going to be short and (bitter) sweet because I was completely disappointed with the outcome of We Know It Was You. This was supposed to be an overwhelmingly pleasing book that reminded me of other things that Maggie Thrash has written. But sadly, it was not pleasing, but more overwhelming on the negative side of things. I cannot even tell you what this novel is all about because it was completely scattered, and I sadly do not recommend it.
I think this is the longest it took me to read a book. If I had finished it, I would have gone into a huge reading slump and my life would've turned completely, right there. MY LOVE OF READING WOULD FALL IN A DRAIN, JUST LIKE THE SALT SHAKER ON THE COVER OF THIS BOOK. There were too many characters, too many things to remember that honestly? It just progressed into a boring, dull read. Read other reviews about this novel on Goodreads and you will find the same reactions. This was a pretty-hyped read and I couldn't wait to fall in love with it because everyone called it the new Pretty Little Liars. That was completely false. :(
This novel was nothing special and in fact, completely disappointing. That's the verdict and complete truth. I would say that instead, we should all read Maggie Thrash's memoir. That was written gorgeously.
*A review copy was provided by the publisher in exchange for a honest review. Thank you so much!*
What is the recent most disappointing book you read?