The Forbidden Wish,
by
Jessica Khoury
Publication: February 23, 2016, by Razorbill
Genre: Young Adult Fiction, Fantasy, Romance
Pages: 352
Format: ARC
Source: Publisher
Rating:
When Aladdin discovers Zahra's jinni lamp, Zahra is thrust back into a world she hasn't seen in hundreds of years -- a world where magic is forbidden and Zahra's very existence is illegal. She must disguise herself to stay alive, using ancient shape-shifting magic, until her new master has selected his three wishes.




But when the King of the Jinn offers Zahra a chance to be free of her lamp forever, she seizes the opportunity—only to discover she is falling in love with Aladdin. When saving herself means betraying him, Zahra must decide once and for all: is winning her freedom worth losing her heart?




As time unravels and her enemies close in, Zahra finds herself suspended between danger and desire in this dazzling retelling of Aladdin from acclaimed author Jessica Khoury.
My Thoughts:
That was honestly a beautiful retelling that I could never have imagined that I would end up reading. Jessica Khoury's novels have stayed with me since the start of the my blogging career and when I began reading YA. Her novels, Origin and Vitro both stuck with me since the start with their unique, dystopian flairs. THIS BOOK HAD ALL OF THE GENIE THINGS THAT I HAVE ALWAYS WANTED TO READ ABOUT AGAIN SINCE I LET GO OF ALADDIN BACK IN THE DAY. As you may have already figured out, I am the BIGGEST fan of Disney flicks. Without them, I cannot imagine what kind of person I would have turned into. Minus Jasmine (for whatever reason), the fabulous Jessica Khoury placed together a new romance and story to tell from the perspective of the hottest fictional character I have read about in a long time.
"'This,' I say, gesturing at myself, 'this isn't me. This isn't what I look like. This body you see belonged to someone else, long, long ago, and like the monster I am, I stole it. It is a mask. A lie." (189)
50 Reasons Why You'll Adore The Forbidden Wish (and why it is calling out to you):
Jokes.
This cannot be fifty reasons or you all would have left after reason number five. So, in that sense, let us just keep it at five.
•The cover, duh. I think that it is self-explanatory, but I am sure that you see the beauty in it from first sight. My ARC has the different, more pastel cover that has not been published, which I also love, but the colours and design on this one have that extra touch that just conveys readers.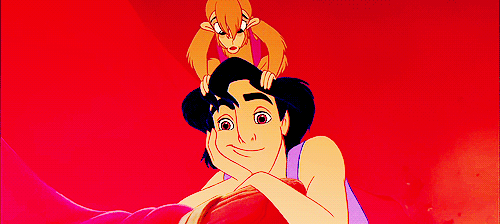 •The nice take on Aladdin.
I always dreamt of Aladdin flying up to my balcony or doorstep with his magical carpet and making me be Jasmine. I honestly think that was every little girl's dream. Now, for the first time ever, I suppose, readers are brought into the world of Aladdin once more. THIS STORY HAS A TWIST AND IT IS PRACTICALLY THE BEST RETELLING EVER. Aladdin actually falls in love with a genie named Zahra who gives Aladdin three wishes, and the novel is about him deciding what to do with the wishes and realizes what is happening with his life as he falls in love with Zahra, possibly making him choose the forbidden wish, letting her free of her being a genie. Instead of the blue genie we watched in the animated feature, readers gain a deep, mystical love story that shines. It is different from the rest and in those kind of books, that's what readers remember the most later on. It is nothing like the movie, which charms me even more.
"Part of me feels shriveled and rejected. I am the weed cast out of the rose garden. I am the crow chased out of the dovecote. I am where I belong, and shouldn't that be enough? Doesn't that merit some sense of happiness or at least, fulfillment? Haven't I won the more important prize—freedom?" (237)
•How fast-paced this became.
This is not your average retelling. Readers are honestly taken on their dream magic carpet ride through the streets of Agrabah. This time around, Aladdin is basically treated as royalty. It is an interesting twist, though we do see the accusations of him being a thief, which is really noted in the movie and makes his romance with Jasmine really shine. Anywho, I would say that this is extremely worth it to read. The plot moves quickly for the most part, and I expected that, coming from Jessica Khoury. Her books always have and I bet always will have that dash action-movie-like feeling that makes readers' hearts beat extra quicker.
•Zahra.
She's a jinni, and not the blue guy who somehow fits his way through the magical gold lamp. Zahra takes different figures and is very self-conscious about herself and her identity. I like her unsure-personality. If we had a confident jinni who overused her powers, I do not suspect that this novel would have been as good as it was. Zahra struggled with who she was and I somehow felt like she had the most best personality that I have read about in a while. She was fabulous.
•The wishes and ending.
Aladdin continued to make good choices throughout the whole book... and all of this basically made the ending great too, since his decisions affected his fate with Zahra and all of that. I especially loved the take on the ultra-glamorous wedding at the end of the novel that Aladdin is interestingly part of. One thing I forgot to mention—Jessica Khoury added rivalry and evil characters who made the story ten times better.

So my point here is that this book is unforgettable. Y'all need to pick it up as soon as possible or as soon as your car moves you to the bookstore. YES.
Have you ever read a book that retells a movie? I think that Jessica Khoury has done a first! Does this book captivate you somehow?