Sweet Madness,
by
Trisha Leaver
Publication:
September 15, 2015, by Merit Press
Genre:
Young Adult Fiction, Historical, Mystery
Pages:
223
Format:
Hardcover
Source:
Publisher
Rating:
Seventeen-year-old Bridget Sullivan is alone in Fall River, a city that sees Irish immigrants as nothing more than a drunken drain on society. To make matters worse, she's taken employment with the city's most peculiar and gossip-laden family—the Bordens. But Bridget can't afford to be picky—the pay surpasses any other job Bridget could ever secure and she desperately needs the money to buy her little sister, Cara, passage to the states. It doesn't hurt that the job location is also close to her beau, Liam. As she enters the disturbing inner workings of the Borden household, Bridget clings to these advantages.
However, what seemed like a straightforward situation soon turns into one that is untenable. Of course Bridget has heard the gossip around town about the Bordens, but what she encounters is far more unsettling. The erratic, paranoid behavior of Mr. Borden, the fearful silence of his wife, and worse still…the nightly whisperings Bridget hears that seem to come from the walls themselves.
The unexpected bright spot of the position is that Lizzie Borden is so friendly. At first, Bridget is surprised at how Lizzie seems to look out for her, how she takes a strong interest in Bridget's life. Over time, a friendship grows between them. But when Mr. Borden's behavior goes from paranoid to cruel, and the eerie occurrences in the house seem to be building momentum, Bridget makes the tough decision that she must leave the house—even if it means leaving behind Lizzie, her closest friend, alone with the madness. Something she swore she would not do.
But when Bridget makes a horrifying discovery in the home, all that she thought she knew about the Bordens is called into question…including if Lizzie is dangerous. And the choice she must make about Lizzie's character could mean Bridget's life or death.
SWEET MADNESS is a retelling of the infamous Borden murders from the point of view of Lizzie's Irish maid, Bridget Sullivan.
My Thoughts:
DNF @ 150 pages
I like to be a nice person when I read books. I like to read historical novels, especially those that are mixed with romance and mystery. Speaking of historical-romance, I recently read Jennifer Donnelly's These Shallow Graves, and that is actually the best book I have read (so far) this year. I had high hopes for Trisha Leaver and Lindsay Currie's new YA novel that has been constantly raved about. I sadly had to DNF it, and that kind of broke my heart because I was 100% sure that I would give this at least a 3.5 star rating. I was prepping myself to write a nice, positive review, and make the whole world happy with my review. I was so wrong. The two authors have written a nice novel, I'm sure, for some people, but this was focused on a mystery that I couldn't care less about. It seemed like I had to have had some kind of background information on the Borden murders, and I didn't know anything about it. It was extremely boring and bland, and eerie.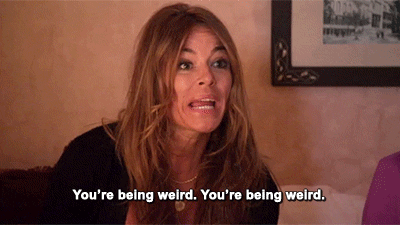 I get that mystery novels are supposed to have that eerie, mystic feel in them when readers are reading and are trying to figure out the secret behind all of the murders. This was just too weird. I like novels that are well-researched if the author(s) is/are exploring a subject matter that many do not know about. I can tell that Leaver and Currie certainly did do their research on Fall River and everything that occurred in it back in the day. I just wasn't interested.
I was stuck with this book for an entire day, and it felt like a chore to read. There was no enjoyment whatsoever. This reminds me of a similar situation with Leigh Bardugo's Six of Crows, another really-loved-and-admired story, but not my type. I just cannot appreciate these two authors' writing style.
I like that the story is written from the perspective of Lizzie Borden's maid, Bridget. We readers usually get to read the first-hand perspective of a victim of a family murder (someone who lost their whole family or some members). This was an unique take on that stereotypical formatting of YA historical murder mysteries. This story is very old-fashioned, and I just didn't like the time-frame that this was set in.
I DNFed this because I was too bored. I didn't want to waste my time, you know? I feel like I'm DNFing and hating too many books lately. Meh.
You see, I could have kept reading this one until it was over, but I wouldn't enjoy it anyway, and I sadly didn't really want to know the ending. Sweet Madness wasn't really sweet, from my viewpoint, but it sure was mad.
*A review copy was provided by the publisher in exchange for a honest review. Thank you so much!*
What is your favourite historical novel? Have you read The Secrets We Keep by Trisha? What were your thoughts?