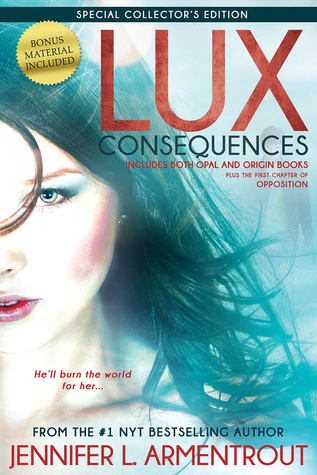 Consequences (Opal and Origin),
by
Jennifer L. Armentrout
Publication:
June 3, 2014, by Entangled Teen
Genre:
Young Adult Fiction, Romance, Contemporary, Aliens
Pages:
800
Format:
Paperback
Source:
Purchased
Rating:
½
Opal:
After everything, I'm no longer the same Katy. I'm different…and I'm not sure what that will mean in the end. When each step we take in discovering the truth puts us in the path of the secret organization responsible for torturing and testing hybrids, the more I realize there is no end to what I'm capable of. The death of someone close still lingers, help comes from the most unlikely source, and friends will become the deadliest of enemies, but we won't turn back. Even if the outcome will shatter our worlds forever.
Origin:
Daemon will do anything to get Katy back. After the successful but disastrous raid on Mount Weather, he's facing the impossible. Katy is gone. Taken. Everything becomes about finding her. But the most dangerous foe has been there all along, and when the truths are exposed and the lies come crumbling down, which side will Daemon and Katy be standing on? And will they even be together?
My Thoughts:
Consequences is truly an interesting mix of two different novels that show a great character development that I wouldn't change for the world. JLA has seriously done it again, though I definitely think that the first two novels in this Lux series were better than these two. Maybe it's because I've moved on with the genre of aliens and all of that, or maybe it is because I outgrew the fun and games that Daemon and Katy produced and how unrealistic this series actually is. Although, although, although, there was a ton of action that is memorable and hot.
From my whole experience of reading Opal and Origin, I can't even commemorate what I thought of each, but I knew that Opal was definitely better. Katy got more annoying, more reliant on Daemon and his family, and things basically turned upside down by Origin. I'm not a big fan of this series anymore as things came out to be, and I wish that I still loved it as much as I did about a year ago when the first books came out.
"It always felt good typing up a review on a book I enjoyed and I went all out, finding bizarre pictures to emphasize the wow factor. I preferred ones with cute kittens and llamas. And Dean Winchester. Hitting 'publish post' cracked a smile. One down, three more to go." (38)
The books are pretty slow-paced, as they're both about 400 pages each and don't have a lot happening in them. I got bored easily, finding myself rolling my eyes and wondering if there will be some kind of plot twist. The writing got less descriptive, more bland and wishy-washy. I just expected a big piece of intrigue to fly at me and make me want to read the last book in the series and discover what will happen to Katy and Daemon.
Daemon and Katy's relationship should have been stronger than ever, I must say. I expected an intense relationship, but this was more about the outside story where Daemon's brother and sister have their own issues. Daemon, although I love him, did go a little nuts when the whole Vegas, desperation fiasco happened, but I kind of expected more, you know?
"I want to spend every second, every minute, every hour with you. [...] I want a year's worth of seconds and minutes with you. I want a decade's worth of hours, so many that I can't add them up." (695)
What am I thinking now after it's all over? I'm wondering if I seriously love Daemon as much as I did before. This is a powerful, passionate story about love and action, but nothing much more. It's definitely not a story that I'll be thinking about for years and years, but it is something that did make me smile here and there.
Consequences was an interesting bundle of two stories that people were obsessed so strongly that the fan club is real. Daemon's hot, Katy's annoying, and although the stories are pretty slow, they are enjoyable. If you are a die-hard fan of everything JLA has ever written, then these books will totally be for you. Eh.
Do you like bundles of books? Do you enjoy JLA's writing?