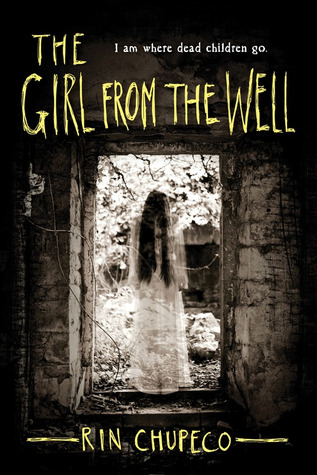 The Girl From the Well (The Girl From the Well #1),
by
Rin Chupeco
Publication:
May 1, 2015, by Sourcebooks Fire
Genre:
Young Adult Fiction, Horror, Fantasy
Pages:
304
Format:
Paperback
Source:
Borrowed
Rating:
A dead girl walks the streets.
She hunts murderers. Child killers, much like the man who threw her body down a well three hundred years ago.
And when a strange boy bearing stranger tattoos moves into the neighborhood so, she discovers, does something else. And soon both will be drawn into the world of eerie doll rituals and dark Shinto exorcisms that will take them from American suburbia to the remote valleys and shrines of Aomori, Japan.
Because the boy has a terrifying secret - one that would just killto get out.
My Thoughts:
The only thought that comes to mind when I look at the cover is an endless amount of sighs. Horror/thrillers are my favourite genre of YA, because so many authors could just slam books and make them so intense that one could not sleep at night. The Girl From the Well unfortunately was not intense or scary. Instead, it was pretty mythological, with Japanese ghost tales incorporated into a somewhat modern tale of exorcisms (but not the scary kind), poor descriptions and a lack of heroic characters to save the day. This was so much more fantasy than real or like some kind of thriller. I expected more, let's just say that.
I immediately jumped into this book when I received the sequel for review. I requested it from the library, and was aching to read it ever since. (Let's just remember that my library pile was forty books wide.) I have been meaning to read this for a long time, since five star reviews have been all over the place and I just could not wait any longer for a tale that will leave me staring at my ceiling at night. "A dead girl walks the streets." Woo, I am so scared. What did this story offer, you ask? Ultimate boredom for a teenager. Unless you are a huge fan of Japanese mythology and ghost stories, you could have large issues with this storyline.
The Girl From the Well seemed to be extremely confusing. I felt like the perspectives were constantly switching, or at least, it seemed like they were and everything was mixed up. There was an effort put for the book to feature Japanese culture, including the language, but it seemed like Google Translate was the best fit. The characters spoke English, they switched back and forth between a few words here and there, and there was so much boredom between the pages. The main idea and themes of the novel are still dissipated and I still do not know the answer.
"I am where dead children go. But not even I know where they go when I am done, whether to a higher plane or to a new life. I only know this: like the chochin of my youth, where they go, I cannot follow."
Just take a look at the "deep" phrases. This book featured a "scary" protagonist who went around with her dark locks (picture The Ring) but that is it. There were exorcisms, but nothing was descriptive. A kid could honestly read this book and they would be fine. There is nothing traumatizing or any of that.
There are many characters who are all so different and stuck in different situations that you simply do not know what they are supposed to be doing throughout the novel. Tark is the teenage guy (whose perspective the sequel is in) and he's stuck in Japan with his older cousin, Callie. And then there's the chick who watches everyone and is "where dead children go." Ugh. This novel honestly could have been so much more but it turned out to be slow, and full of nonsense. You should see the way the story is formatted. Now that is a laugh for sure.
The problem with Rin Chupeco's story is that it did not hand readers the ultimate horror experience. We picked up this book because of the pile of high ratings and promises that it is scary. In fact, I prepared myself for a similar story to Danielle Vega's The Merciless, which is a modern take on exorcisms and psychological thrillers. In this case, I do not know how to exactly classify this book and where. The only things that were enjoyable were Callie, Tark and the setting. Japan is crazily awesome, but I cannot even recall if this was taken place in a modern setting or not. It's that confusing and eerie.
The Girl From the Well was supposed to be my new favourite novel that I will recommend for ages to every YA reader. Instead, it is something that should just be classified under the category of mythology and fantasy, two subjects that do not mix too well together for me. I like them separately, but together, it is just too fake. My reading experience of this took me a great load of time because I knew I had to finish it; I have the sequel. Rin Chupeco does not take you on a vacation trip to Japan where readers will experience its culture and language. Instead, this is wholly Americanized and contemporary for me to even blink. It could have been even worse, I ensure myself.
Have you ever read a horror story that was based on mythology? What would you expect from a Japanese mythology story?