Kill the Boy Band,
by
Goldy Moldavsky
Publication:
February 23, 2016, by Point
Genre:
Young Adult Fiction, Contemporary, Mystery
Pages:
320
Format:
ARC
Source:
BEA/Publisher
Rating:
Just know from the start that it wasn't supposed to go like this. All we wanted was to get near them. That's why we got a room in the hotel where they were staying.
We were not planning to kidnap one of them. Especially not the most useless one. But we had him—his room key, his cell phone, and his secrets.
We were not planning on what happened next.
We swear.
From thrilling new talent Goldy Moldavsky comes a pitch-black, hilarious take on fandom and the badass girls who have the power to make—or break—the people we call "celebrities."
My Thoughts:
This is literally the funniest book that you will ever read. With all of the fandoms, bands and fangirls out there today, and how "Tumblr" or hipster these things have become, more hipster than wearing pink or wearing lip gloss, this is the best book for the modern age. When I grabbed a copy at BookExpo America last year, I knew that I would be in for a good, entertaining read. I was definitely correct. This is such a hilarious, though honestly real book that I could imagine seeing on the news right now. A group of fangirls running after a hot boy band in New York City? That's absolutely hilarious, and I would buy this book for every single teenage girl in the world. This is a mystery, absolutely, but from the start, it was very not-serious and everything was like a joke... until it wasn't. Goldy Moldavsky intelligently uses a boy band to create a mystery with a group of girls who each have their own adorable personality and who just form this book perfectly. I loved each of the personalities and their HUGE obsessions with this hot band based on One Direction called The Ruperts.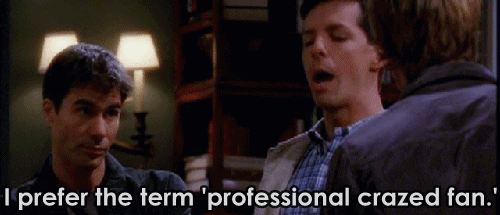 So there was this slight transition as us readers kept reading. We began reading a kind of fan-fiction like thing where we expected all characters to be merrily happy with their lives and all BFFs forever. We see that a lot on Wattpad and it could get really annoying. GUYS. AND THEN THE MURDER MYSTERY COMES TO LIFE. How? I do not know, Moldavsky just implanted it together and my life just became complete. I finished this in a sitting and I loved the plot, characters and every bit of this. I couldn't take it seriously at times, but when I did, this was simply fabulous.
Kill the Boy Band makes us think that the characters are psycho-maniacs who are so obsessed with this band. That's true. And the best thing is that I could honestly relate to this book. Would you care to listen to the bands/singers I was a crazy fan of back in the day? Let's begin! *says too cheerfully* Taylor Swift, One Direction, Katy Perry, Demi Lovato, Jonas Brothers, Miley Cyrus... Guys, it was serious. I wanted to go to all of these artists' concerts, and I frankly remember my first arch of sadness when I wasn't able to get tickets to One Direction's Up All Night tour. Ah, good times, good times. I FREAKED OUT. I loved those guys to death and I can totally relate to their situation, though don't think I would ever turn this to some murder investigation.
It just made my day, you know? There is no books like this in the world, and there will never be. We have a groovy (that word just makes me feel so old) set of teenage girls us our entertainers, quite diverse if you ask me, and a protagonist whose name we never even really discover. Sloane is a cover, just letting you know. Using something that's so in, creating a thriller-like thing out of it, with comedic moments and drama that Gossip Girl would definitely approve, everyone needs to purchase this dark story.
I guess the only romance you would be able to imagine is one between one of the girls and one of the members of the band, if they ever found/met them after staying in the same NYC hotel as them. Yeah, the chicks did find the guys, but they held them hostage (at least, one of them) and one gets murdered and stuffed into a suitcase, leaving the girls having to deal with the situation. It's utter chaos. There is no real romance. Our heroine does try to make something happen, but it's a hallucination, sadly and happily. I would barf if it did occur because come on, when in the world would a singer date a fan? FANGIRLS, PLEASE DON'T ARGUE WITH ME. You all know this is true. *giggles*
I loved the fact that this was so fast-paced. One minute we're laughing out loud, being so shocked that this book exists in the YA section of our bookstores, and the next, we're biting our nails, wondering who the murderer could be. Because obviously, it could be any of the girls in the room at the time. We are seriously stunned in the end when things come together. The girls could seriously be the end of this band, which makes us readers rethink our stalker-like actions with bands. I don't think we would want to break One Direction up, would we? (Although I'm feeling that they may be over already. Heh).
Kill the Boy Band is lovely. Absolutely memorable and such a treasured ARC in my collection. If I would have to create a movie out of a book that I have recently read, I would certainly pick this. Don't mind me, but I now feel to go out into NYC and seek my favourite bands and celebrities. BRANDON URIE, PANIC! AT THE DISCO, I WANT TO STROLL THE STREETS WITH YOU! (Not in a creepy way or anything).
*A review copy was provided by the publisher via BookExpo America in exchange for a honest review. Thank you so much!*
Have you ever read a book about bands like this? What is the best fanfiction you have read?