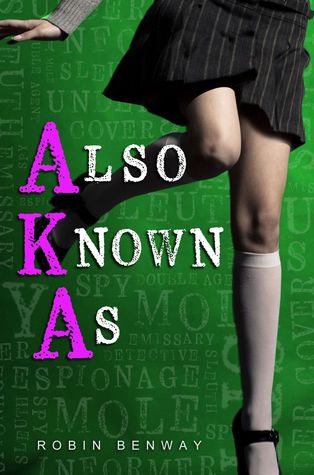 Also Known As (Also Known As #1),
by Robin Benway
Genre: Young Adult Fiction, Mystery, Chick-lit, Contemporary, Romance
Rating: 4/5 stars
Book #: 1
Publication: February 26, 2013, by Walker Books for Young Readers
Format: Hardcover Edition
Goodreads Summary:
Which is more dangerous: being an international spy... or surviving high school?
Maggie Silver has never minded her unusual life. Cracking safes for the world's premier spy organization and traveling the world with her insanely cool parents definitely beat high school and the accompanying cliques, bad lunches, and frustratingly simple locker combinations. (If it's three digits, why bother locking it at all?)
But when Maggie and her parents are sent to New York City for her first solo assignment, her world is transformed. Suddenly, she's attending a private school with hundreds of "mean girl" wannabes, trying to avoid the temptation to hack the school's elementary security system, and working to befriend the aggravatingly cute son of a potential national security threat... all while trying not to blow her cover.
From the hilarious and poignant author of Audrey, Wait! comes a fast-paced caper that proves that even the world's greatest spies don't have a mission plan for love.
"As you can tell, I've never had a boyfriend, but whatever. It's cool. After all, most girls who have boyfriends probably can't say that they helped to bring the Peruvian government, right?"
So my girl here, Maggie, is basically saying:
And guess what? It's true. Maggie Silver and her story was just crazy hilarious and the most fun (as in chick-lit and haha's) I've had with a book in a long time, and that makes the book 10 times better. So yay for that.
I really enjoyed this book. I had so much fun reading it and it made me laugh so much. I'm a very serious reader and it would have to take a lot to make me laugh, but this book certainly did. It was such a light read that is so easy to read and to make you smile.
This is about Maggie Silver- daughter of two spies and is a spy herself. For all of her life, she has travelled all across the world with her parents on missions and is part of the Collective-- a spy agency. When Maggie goes back to New York, a place where she once lived, she is thrilled, until she finds out that she will be attending a private school on a mission-- to find out more about a guy and his father so she could help her parents out. What happens when she realizes that she actually loves Jesse and makes real friends, delete the quotation marks?
I loved this book! From the beginning, I was barely bored but I had a few upset times with the book because of the idea and guy character, Jesse. Other than that, the book was absolutely great. The plot flew by quickly and everything was written together perfectly. The author's writing style is magnificent and very enjoyable when it comes to a light mystery chick-lit read. This is the type of book that you have to read with a nice cup or tea or coffee, on a rainy or sad day. It'll brighten you up and make you laugh!
The idea was kind of boring and cheesy. I've read many reviews that have stated that this idea isn't cheesy at all or isn't Nancy Drew-ish, but it is for the cheesy aspect. The book itself was predictable and a little dull in idea. Coming from a chick-lit romance, I expected a little more wow or awe in it, but I just got plain bread and butter. Simplistic and average idea. Nothing else. -_- This is one of those private school- schoolgirl romances when there are mean girls and nice girls and is coming from the perspective of a weird teenage girl with secrets inside that falls in love with the handsome popular guy... Who actually likes her back. That's basically what this was, adding the spy element into it. Nothing really special.
I absolutely liked Maggie. She was witty, funny and an unique voice for a shelled up spy-detective. You'd expect her to be very mature and selfish but she was hilarious and crazy-- the type of girl that you want to be friends with. What else can I say?
Roux and Angelo were absolutely amazing friends to Maggie. They were both kick-ass and hilarious and total awesome people. Books usually don't have good side characters, but ones like this are unique and amazing.
The next other flaw of this book was Jesse. I didn't really like him. I saw him as a fake all throughout and he showed no importance to me and I didn't really see his love for Maggie shine. He was just there and reminded me of a friend, that's all.
Maggie had a large love for Jesse, and you could tell that so many times during the book. It was an one way relationship, and that's so sad to read about. The romance was wrecked, but I loved Maggie's side of it.
In conclusion, this book was awesome. I totally recommend it to all chick-lit lovers looking for a change!