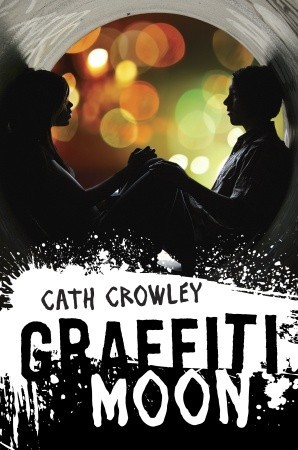 Graffiti Moon,
by Cath Crowley
Genre: Young Adult Fiction, Contemporary, Romance, Mystery
Rating: 1/5 stars
Publication: Feburary 14, 2012, by Knopf Books for Young Readers
Format: Hardcover Edition
Goodreads Summary:
Senior year is over, and Lucy has the perfect way to celebrate: tonight, she's going to find Shadow, the mysterious graffiti artist whose work appears all over the city. He's out there somewhere—spraying color, spraying birds and blue sky on the night—and Lucy knows a guy who paints like Shadow is someone she could fall for. Really fall for. Instead, Lucy's stuck at a party with Ed, the guy she's managed to avoid since the most awkward date of her life. But when Ed tells her he knows where to find Shadow, they're suddenly on an all-night search around the city. And what Lucy can't see is the one thing that's right before her eyes.
Review:
DNF @ 108 pages
I usually hate DNF-ing books. It just makes me feel so bad for not writing a full-length review that features all of the details of the book and I feel really bad for being so mean and cruel to the author. But in some cases,
like this one,
I just had to. It was impossible not to. And I'm really surprised... Because there's been so much rave and craze for this Australian-based book. But I guess I
was just one of the odd ones out.
This book takes place in a matter of 24 hours, and I guess you could say it's all Lucy's story. Lucy just finished her senior year and is out of high school. She is out on the hunt to find Shadow, the mysterious graffiti artist whose art is "found all over the city." And it's beautiful art. Lucy thinks that Shadow's someone she can fall for, just by looking at his art. (Whaat.) But instead of going out to find him on the night that she's free (at least for now) she's stuck at a party with her acquaintance Ed, who she has had some trouble with in the past. But, Ed knows where to find Shadow, and Lucy is not about to lose her opportunity to meet the guy of her dreams, right? So she goes for it.
"At the start there were moments, blinking moments, when we were lying together and it was warm and I could smell flowers on her skin and turps on my hands and I heard her voice with my nerve endings. Like how one day she'd finish year twelve and leave me behind. Like how stupid I was compared to her. I forgot because she was hanging over me, and the world was liquid and spinning and for once I was liquid and spinning with it."
For my first thought,
this book was utterly strange.
The concept was weird, the plot was alien, I just didn't see the coolness and "swag" of it. It was very strange to read about the characters being obsessed with love. Like too obsessed. I understand that this is a contemporary-romance novel and all, but it's too crazy, and not mainstream at all, but in a bad way. Lucy was too obsessed with finding Shadow; a guy she never even met. It's
too good to be true and weird.
Just, naw.
From the beginning, even after reading a chapter, I didn't like this. When reading a book, I always imagine that the book is starting at a 5/5 rating for me, and then it decreases and increases whatsoever depending on the book. This was a 1 already after the first chapter, which rarely happens because I find that I am always too nice when reading books. But this just disappointed me from the start.
I just don't like the concept. It's senseless and nothing special was happening. It was all about luck, and I don't believe that love is luck. It's true, and Lucy thinks that she can get any guy who might just not like her (or who might even have a girlfriend) with the snap of her fingers. It's just not realistic at all, and I don't believe that you can even call this 'realistic fiction' in terms of genres. Not at all.
Being bored with books is my #1 pet peeve when reading a book. It makes me so frustrated and I feel like I just can't deal with it. And that's another thing that just happened with this book. It's so SAD.
And then the characters also sucked and were totally un-relatable and I hated them and GRR don't listen to me if you liked this book because you will then get upset at me and we will cause a war here.
Lucy was just stupid, I didn't care for Ed at all and who else was there? Because I really can't seem to remember because I just don't care. Meh. What else can I say.
The only good thing (teensy good thing but it didn't keep me reading) was the writing. The book was very well-written and the writing was nicely flowed and it suited the book. But that's just about it. I would've given this a 0.5 rating if the writing also sucked. But remember,
it didn't keep me reading.
I stopped at 100 pages, that means it really must've sucked, right?
I'm truly sorry to all of the people who believe that this book is amazing and perfect. I'm so sorry. But I really didn't like this and I didn't see anything special about it. There, my anger is let out.