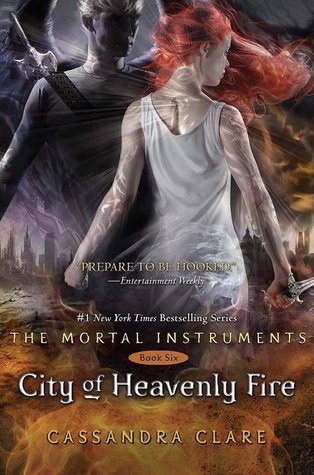 City of Heavenly Fire (The Mortal Instruments #6),
by Cassandra Clare
Genre: Young Adult Fiction, Supernatural-Paranormal, Fantasy, Romance
Rating: 5/5 stars
Book #: 6
Publication: May 27, 2014, by Margaret K. McElderry
Format: Hardcover Edition
Goodreads Summary:
In this dazzling and long-awaited conclusion to the acclaimed Mortal Instruments series, Clary and her friends fight the greatest evil they have ever faced: Clary's own brother.
Sebastian Morgenstern is on the move, systematically turning Shadowhunter against Shadowhunter. Bearing the Infernal Cup, he transforms Shadowhunters into creatures out of nightmare, tearing apart families and lovers as the ranks of his Endarkened army swell.
The embattled Shadowhunters withdraw to Idris - but not even the famed demon towers of Alicante can keep Sebastian at bay. And with the Nephilim trapped in Idris, who will guard the world against demons?
When one of the greatest betrayals the Nephilim have ever known is revealed, Clary, Jace, Isabelle, Simon, and Alec must flee - even if their journey takes them deep into the demon realms, where no Shadowhunter has set foot before, and from which no human being has ever returned...
Love will be sacrificed and lives lost in the terrible battle for the fate of the word in the thrilling final installment of the classic urban fantasy series The Mortal Instruments!
Review:
*WARNING- Proceed reading this book with caution. This might create a major amount of tears, feels, laughs, and craziness in one's mind. Beware of breakups, hookups, deaths, wondrous events and unbelievable surprises.*
After reading this book you'll feel like wanting to say:
Because Cassandra Clare has ruined you and your good intentions to people so tremendously that you'll never recover. I don't think that I'll recover from this City of Heavenly Fire syndrome ever. It broke me so much, but at the same time, it was so amazing.
If you're a bookworm, you'll understand me. Don't you hate want to cry when someone asks you, "What's your favourite book/series?" I absolutely hate it want to cry. And that's because I just have too many freakin' favourites, and I CAN'T CHOOSE ONE.
But I really have to say something, after reading this literature masterpiece. The Mortal Instruments was my most favourite series, ever, and I think it'll always be. It's the series that helped me begin to interact with other fandoms, and it helped me build up the guts to read more fantasy-based books, which I normally never read. Cassandra Clare was and still remains my favourite author, especially because her writing is absolutely stupendous and she's a total inspiration to me and many other people out there. I loved this series so much and I love the fandom. We Shadowhunters have been waiting two years for this finale, and now we just finally have gotten it and now it's gone, at least Clary and her friends are. We've all laughed, cried, danced, and fell in love with the characters, over and over again. And now it's over, and that especially breaks my heart because I really don't want it to be. But we all know that it's time.
*takes a deep breath* This review is going to be really difficult for me to write because I feel the tears coming, no joke. Okay, let's do this.
This book takes place right after City of Lost Souls, and Sebastian is basically on the move to create more evil and badness in everyone. It's unusual for Shadowhunters to fight, but Sebastian just might be capable to do that. Clary, Jace, Alec, Isabelle, Simon and Magnus are all on the fight for survival and love--and things just might happen in between, but nothing will stop them all from being together and having a friendship.
I'm seriously trying to stay calm here but here's how I'm really feeling inside:
I think that this review's going to be about my love and feelings toward this series. I'll try my best to give you thoughts. :)
I've been waiting a year and a half for this book to come out. After reading COLS, I was in love and I needed this right now. Thank goodness I was waiting patiently (we all were) and that I wasn't reminding myself every moment that COHF was this many days hours and minutes away, or else I'd seriously freak and do something to myself. I lived, right? Oh, and then I pre-ordered the book a little while back, and ran to the bookstore a few days after release day and picked this up to read soon after. I was too obsessed and finished this in a day. Very proud of myself. *winks*
"Take me home, then," she whispered, and she leaned up to brush her lips against the corner of his mouth. Or at least she meant it as a brush, a butterfly touch of lips on lips, but he leaned town toward her, and his movement changed the angle swiftly; she pressed up against him harder than she'd meant to, her lips sliding to center against his. She felt him breathe out in surprise against her mouth, and then they were kissing, really kissing, exquisitely slow and hot and intense."
Ahh. *dies inside*
From the first page in, I was addicted. Reading Cassandra Clare's books is like a drug-- you'll never be bored and you're instantly in love with her words and beautiful quotes. Why? I just don't know, her writing is magic. I don't even have to talk about the plot of this because we all know Clare's writing style-- fast paced and crazy at the same time. One minute everything is calm and sweet, the next everyone's fighting. You'll be left wanting more, especially since the characters of Cassie's next series/trilogy were widely introduced. I loved Emma, Julian, Ty, Mark, Livvy and the rest of the peeps from The Dark Artifices. What a great introduction into their thoughts, and I seriously now cannot wait for more from Emma's POV. I loved her instantly and she'll be the new Tessa, total kick-ass and wonderful.
There were so many moments in this book when I was left surprised. I thought I knew what was going to happen but then we're left totally wrong and sometimes saddened, but Cassie Clare always makes up for our sadness and makes something amazing happen.
Comparing this to the first book is unbelievable. Everything, I mean everything has gotten better and smoother-- from the idea, to the characters, to the plot twists, to Cassie's suspense and writing. This series started off so weak compared to this, even though the first book was just as good, if you know what I mean. I'm so proud of Cassie and so thankful for her for writing an amazing series.
OMG, who cannot forget the scene with Tessa and Jem? AHHHHH. I loved it! It was great for Clary to learn a little history lesson from two past Shadowhunters, and two of my favourites, actually.
So many wild things happened in this book. I'd list them here on this blog, but I want to keep this a spoiler free review, so check out my Goodreads review if you'd like to red the spoilers.
Clary has improved so much. I've grown to love her and see her as one of my favourite heroines. She has learnt to love, how to act and how to fight and I just love her as much as Tessa now. This girl has surprised me so much in this book, despite my hate for her in the beginning of this series. I don't care what other people say, Clary's my girl.
And then we have JACE. I have loved Jace and has been on his team since the beginning, and I love the huge jump in his and Clary's relationship. So many scandalous things occurred in this book, (hehe) and it was so beautiful and sweet. And the ending with them was just adorable as well, I wouldn't have asked for their relationship to be any other way. It's just fate and I love how Clary wouldn't change her life for him ever, even with a lot of trouble in between.
I hated Isabelle in the beginning of the series. Believe it or not, she once got on my nerves a lot and I couldn't stand her, but in this book, she ended up being my favourite character. I love her to death and she's the type of girl you'd want as a best friend-- to talk to and gossip with and fight with as well because she's my kick-ass rebel girl.
I'm very proud of Magnus and Alec. That's all I can say. I LOVE MY BOYS! (Malec Shipper F&A)
I've saved a very special someone for the end, because I've grown to love him so much, just like all of the other characters. But in this book, he stood out for me and ended up my absolute favourite. Simon Lewis. This book revolved around him in a way and the ending had to do with him. He was so special and although I love him, I don't want to see him with Clary and that is why I'm on Team Jace. I cannot choose between them both, but all I got to say is that Simon is amazing, and you'll see why after reading this book, especially if you never really liked him before, as I did.
Yes you have, my love.
And now comes the hardest part for me to write about, the ending and the romance. The romance was just so amazingly beautiful. If that doesn't sound deep and happy and amazing enough, then I don't know what does. The romance left me speechless, and every single couple had something about them that just stands out from other fictional couples. Sizzy, Clace and Malec all are so freakin' beautiful. It makes me cry every time when I think about each couple, but Sizzy is the real one that just stands out from them all. This book has brightened their relationship, and the characters really learnt to show their love for each other every time.
THE ENDING WAS TOO BEAUTIFUL. I wasn't really crying because of the sadness, (only once) but because of the happiness. It's so beautiful and this was the best ending of a book, EVER. Now this book definitely deserves a huge applause for that, and for just being so fucking amazing. What else can I say? Ugh, words won't ever describe my love for this book and this whole series. Now, if you haven't ever picked up the first book, I'm not saying, I'M FORCING YOU TO GO PICK IT UP NOW. How's that? *winks*
Thank you so much, Cassandra Clare, for writing this beautiful series.