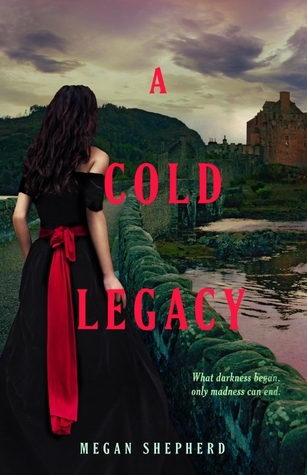 A Cold Legacy (The Madman's Daughter #3),
by
Megan Shepherd
Publication:
January 27, 2015, by Balzer and Bray
Genre:
Young Adult Fiction, Fantasy, Historical
Pages:
400
Format:
Hardcover
Source:
Borrowed
Rating:
After killing the men who tried to steal her father's research, Juliet—along with Montgomery, Lucy, Balthazar, and a deathly ill Edward—has escaped to a remote estate on the Scottish moors. Owned by the enigmatic Elizabeth von Stein, the mansion is full of mysteries and unexplained oddities: dead bodies in the basement, secret passages, and fortune-tellers who seem to know Juliet's secrets. Though it appears to be a safe haven, Juliet fears new dangers may be present within the manor's own walls.
Then Juliet uncovers the truth about the manor's long history of scientific experimentation—and her own intended role in it—forcing her to determine where the line falls between right and wrong, life and death, magic and science, and promises and secrets. And she must decide if she'll follow her father's dark footsteps or her mother's tragic ones, or whether she'll make her own.
With inspiration from Mary Shelley's Frankenstein, this breathless conclusion to the Madman's Daughter trilogy is about the things we'll sacrifice to save those we love—even our own humanity.
My Thoughts:
2015 is the year of sequels. It is the year of saying farewell to the series and trilogies that you have grown to love, devour, and realize that you have given a specific genre a taste. It is also the year of the final novel for a series that is a little bit of historical fiction, a little bit of romance and a little bit of science fiction, all poured together, topped with a dash of whipped cream, which in this case, is the wonderful characters that have a big place in my heart. This series is my favourite in the world, and every book in it has topped my shelves and made me cry, shake of fear, and beg for more.
A Cold Legacy means everything to me. From 2013, when this series began, to the moment when I last flipped the page of this book, Juliet and her story have stuck with me, and are still stuck onto my heart at the moment. Megan Shepherd, as always, has stunned me and the rest of the bookish population I'm sure, and I am obsessing over this ending and finale.
Let's just say that you have read the previous two books in this lovely trilogy but have not yet picked this one up. I am literally begging you to get your butt off your chair or couch or whatever and GET YOURSELF TO THE STORE OR SOME OTHER PLACE TO GET THIS BOOK. You need it. It needs you and to be loved. It is crying at the warehouse or bookstore. The ending will shock you, and all of the questions that you once had that seemed confusing to the whole theme of the story will be answered, actually. YOU HEAR ME? QUESTIONS WILL BE ANSWERED!
I feel like a legit fangirl freak over here. I am adoring this novel, I found everything that I ever wanted in this finale, and everything that I ever theorized makes complete sense. My guesses were and were not correct, depending on what I was thinking about, and the plot and romance was so whirled up with action that I am literally shaking right now thinking about it. But the most important thing for those who have yet not read this is... what is the precious finale of this trilogy really about?
Montgomery and Juliet are together. There's no doubt about it. And now that them and their kickass crew of friends have reached safety, they begin to discover the truth behind everything—behind who they really are, behind their family's secrets (this one is a bombshell) and behind who they really are.
Can we just go over the last fifty pages again? I was shocked and Ms. Shepherd throws everything in our face in the last little bit where I literally wanted to slam my face in a tree for not realizing some things. Remember those details that were given and were kind of unclear about back in the other two books? They come back in this one and give you a straight-up hell-no answer. And there is a slight chance of some minor tears and frustration coming from your end. Just trying to let you know, heh.
Montgomery and Juliet are gorgeous. I have never been such a big fan of their relationship because even after everything with Edward, I still liked him. But now? Their makeout scenes are descriptive but not overly, as are the rest of the book's descriptions. It's so gory, but perfect for its science-fiction Frankenstein style. It is rare for me to enjoy every single book by an author, but I am thankful that Meg Shepherd keeps pleasing me. THE ROMANCE, THE FEELS, THE ACTION. If one scene seems a little "normal," (let's use that word in this case) wait for the next page. Something big will happen and you'll get jump scared.
This book is evil, but beautiful. It could seriously scare you and make you so frustrated with savagery that you would want to pull your hair out. And then there is also the lightweight, easy side of the writing, that is lyrical but makes so much sense. The romance is fluffy, but to the historical extent, and I loved every page of the story, minus a bit that didn't fluff it up like the other books did. You need this series in your life. It fulfills everything, every expectation and beyond.
Do you enjoy retellings? Are you okay with gore, lots of it? Letting everyone know that this is a highly, highly recommended gothic series for everyone to taste a bit of!