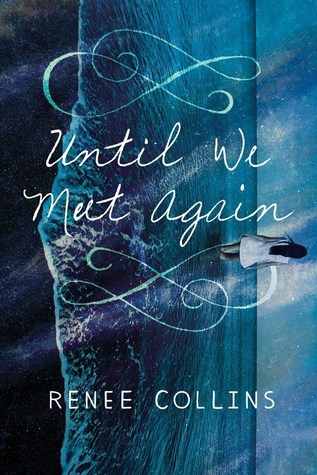 Until We Meet Again,
by
Renee Collins
Publication:
November 3, 2015, by Sourcebooks Fire
Genre:
Young Adult Fiction, Historical, Mystery
Pages:
336
Format:
ARC
Source:
Publisher
Rating:
½
Cassandra craves drama and adventure, so the last thing she wants is to spend her summer marooned with her mother and stepfather in a snooty Massachusetts shore town. But when a dreamy stranger shows up on their private beach claiming it's his own—and that the year is 1925—she is swept into a mystery a hundred years in the making.
As she searches for answers in the present, Cassandra discovers a truth that puts their growing love—and Lawrence's life—into jeopardy. Desperate to save him, Cassandra must find a way to change history…or risk losing Lawrence forever.
My Thoughts:
Until We Meet Again is a time-traveling, racing tale that all could fall in love with from the first moment when they spot the gorgeous cover. Renee Collins is a great author and this spooky story could definitely land on the favourite you-all-must-buy Goodreads shelves for ages. Until we meet again, fellow beautiful book, was the last thought I had when I shut the light pages of the novel. Want romance? Want a mysterious story that is not your ole average "help me I'm in another world" kind of traveling story with a time machine. This has nothing to do with science-fiction whatsoever and I really, really want everyone to take a peek at this story, even if it wasn't the best thing in the world.
The plot of the book is wild... or at least, it tried to be. I felt the effort put into the story to make it as interesting as other tales where characters go back in time, like Ransom Riggs' Miss Peregrine's Home for Peculiar Children trilogy. Romance does not seem to work with this kind of story a hundred percent. Fantasy? Absolutely. I am all in for powers and paranormal, weird aspects like Riggs added in his story, except a little different for obvious reasons. I became often bored because the story wasn't moving anywhere. Cassandra continued to argue with her feelings and with who she really loved.
It's not believable in any sense. What person would fall in love with a guy from the past and know that they have no chance with them? Now that I've put that thought into your head, you might be thinking it too. The truth is, Cassandra doesn't know, and I don't understand how she could have not seen it coming when the signs were there. I don't prefer a character to be dumb or stupid when the answers are right in front of them for the story to condense longer. Ugh.
Collins made Cassandra's life turn upside down. She fell in love when it was least expected and wanted, and the plot and concepts turned upside down because of it. Cassandra was a weak character who didn't have much going in her mind when she really was supposed to—she was the main character, after all. Her relationship with Lawrence was cute and all, but something large was missing.
Lawrence and Brandon were utterly lovely. THEY WERE ON TWO SIDES, EVIL AND GOOD AND I DIDN'T KNOW WHO TO PICK. Honestly in this case? I would've loved to pick the bad boy now. Maybe to create some chemistry with me, since it didn't work out too well between any of them and Cassandra.
Until We Meet Again could go either way for people. It's interesting, yes, and totally racing and new compared to anything else we have read for ages. Sourcebooks Fire has published a novel that deserves the biggest amount of buzz possible because it wasn't bad at all—it was pretty good. (Brandon's mine, girls.)
*A review copy was provided by the publisher in exchange for an honest review. Thank you so much!*
Do you like time traveling books that are ALL based on romance with no ordinary, traditional concepts used? What's your favourite time-traveling story?