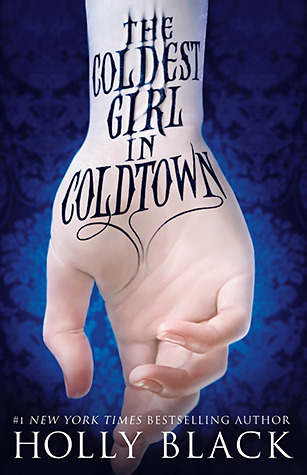 The Coldest Girl in Coldtown,
by
Holly Black
Publication:
September 3, 2013, by Little Brown Books
Genre:
Young Adult Fiction, Paranormal, Fantasy, Gothic
Pages:
419
Format:
Paperback
Source:
Borrowed
Rating:
Tana lives in a world where walled cities called Coldtowns exist. In them, quarantined monsters and humans mingle in a decadently bloody mix of predator and prey. The only problem is, once you pass through Coldtown's gates, you can never leave.
One morning, after a perfectly ordinary party, Tana wakes up surrounded by corpses. The only other survivors of this massacre are her exasperatingly endearing ex-boyfriend, infected and on the edge, and a mysterious boy burdened with a terrible secret. Shaken and determined, Tana enters a race against the clock to save the three of them the only way she knows how: by going straight to the wicked, opulent heart of Coldtown itself.
The Coldest Girl in Coldtown is a wholly original story of rage and revenge, of guilt and horror, and of love and loathing from bestselling and acclaimed author Holly Black.
My Thoughts:
Holly Black strikes again in my bookshelves, my friends. This time, she nicely handed readers a fantasy novel that is not like the rest. This time, it was about vampires, kicking ass and a world setting that is totally absurd but believable. I honestly spent the whole 419 pages wondering if there are people like Tana in this world and if a Coldtown really exists. I'm sure it does, because Black has told us through her writing that anything is possible and anything can happen. I cannot see why wouldn't this be possible. The Coldest Girl in Coldtown is a novel that everyone should pick up, despite its paranormal promising plot—vampires.
I have never been a fan of vampires, that concept and theme has been said and done a load of too many times. There are either vampire hunters, or a girl or boy being a vampire and falling in love with the other, but the fact that they are so different tears them apart. Holly Black, as always, adds her own cool flair to the story where I became shocked and terrified of what was yet to come. The vampires in this book were not meant to be scary, at all. This was a typical action novel with a love triangle (of course) and the style that readers have loved because Holly Black just makes it her own.
As the summary states, the book is wholly original. Tana, our protagonist, wakes up in a party in a bathtub and finds everyone dead, except for her ex boyfriend and this weird dude who just comes out of nowhere. She finds that there's been an outbreak of vampires, and everyone is infected. Basically, they're trying to save themselves because they all know that they could be next, and that sort of thing. Their world is surrounded by Coldtowns where these creatures live, and they feel like they're next.
"You drove him off again. Sleep, Tana. I will guard you from Death, for I have no fear of him. We have been adversaries for so long that we are closer than friends."
This book was pretty great. The plot and everything formed together in the style that I enjoy and never get bored of, and I just couldn't stop obsessing over the fact that Tana was such an unstoppable character. As always, Holly Black stuns readers the most with her brilliant ideas that plot together to form something enjoyable. This was a powerful read, but nothing so rememberable that I will freak out about over in the next few years, you know? I would prefer to freak out over a sisterhood or something like that.
Don't read this for the romance. You'll just find yourself extremely disappointed with what the characters felt for each other. We have a grinch (the ex), a vampire and a mysterious girl. They all seemed to be complete opposites of each other and totally, totally disappointing. But this is NOT what we read books for.
The Coldest Girl in Coldtown is delightful—it is everything a fantasy reader would expect and want in a gothic tale. I extremely recommend it to all, although it was not my favourite. It seemed okay and monotone, and I had issues with the characters and romance. If you're fine with being not able to relate to the characters/protagonist, then you could definitely turn out okay with it.
Do you like gothic tales? Are you a fan of Holly Black?