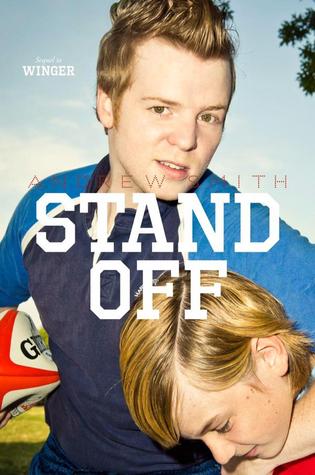 Stand-Off (Winger #2),
by
Andrew Smith
Publication:
September 8, 2015, by Simon and Schuster BFYR
Genre:
Young Adult Fiction, Contemporary
Pages:
448
Format:
ARC
Source:
Publisher
Rating:
½
It's his last year at Pine Mountain, and Ryan Dean should be focused on his future, but instead, he's haunted by his past. His rugby coach expects him to fill the roles once played by his lost friend, Joey, as the rugby team's stand-off and new captain. And somehow he's stuck rooming with twelve-year-old freshman Sam Abernathy, a cooking whiz with extreme claustrophobia and a serious crush on Annie Altman—aka Ryan Dean's girlfriend, for now, anyway.
Equally distressing, Ryan Dean's doodles and drawings don't offer the relief they used to. He's convinced N.A.T.E. (the Next Accidental Terrible Experience) is lurking around every corner—and then he runs into Joey's younger brother Nico, who makes Ryan Dean feel paranoid that he's avoiding him. Will Ryan Dean ever regain his sanity?
From the author of the National Book Award–nominated 100 Sideways Miles, which Kirkus Reviews called "a wickedly witty and offbeat novel," Stand-Off is filled with hand-drawn infographics and illustrations and delivers the same spot-on teen voice and relatable narrative that legions of readers connected with in Winger.
My Thoughts:
Stand-Off was supposed to be a racing sequel that is, or at least was supposed to be even better than the first book. It is exactly written in the same style as Winger, though less fun and less funnier than I expected. This book seemed more pointless than the first, though there were advantages, like always. It is an important book that is seriously needed to boost up this series, as we could expect. We need this sequel, more of an advancement to Ryan Dean's character and his wild adventures at Pine Mountain. I feel like Andrew Smith just knew, because most readers couldn't go on without a sequel in their lives.
This was a book of continuation. A great literary character, Ryan Dean, is now gradually moving into his senior year where his future is not on his mind yet... of course. This is another tale where he goes crazy with his feelings but becomes more mature than we see him in the first book. He deals with loss, but in a very unrealistic way and method I guess.
"Pine Mountain had become very "supervised" following my friend Joey's death the year before. So after we lifted weights together (God! I was now officially such a loser—lifting weights with the Abernathy!), Sam Abernathy and I went into the locker room. (219)
He thinks he is such a big shot right now. Ryan Dean went from a mega-loser in the first book to a guy who thinks he knows everything about the world in the sequel. The transition is pretty spectacular, but kind of annoying and unbelievable at the same time. I was surprised with how Ryan Dean had changed, though this book is more about readers knowing what is yet to come and how his world will change in an instant. This is a transition book, and while it is really needed for the rest of the book series to come to life and be believable for readers, it was not the best thing in the world.
This about Ryan Dean's relationship with Annie, in a nutshell. The feelings and relationship is there, but because they are still so young and everything, the whole relationship and story is unsure and weird. I do not really like their chemistry, because it always seems to be physical, and instead of finding out things about each other, Ryan Dean just thinks about making out with Annie... not my kind of thing. At least it is interesting to see what it is like to be in the mind of an immature teenager!
Stand-Off could be classified as one of those 2015 books that everyone has been waiting and aching for, for centuries now. For me, it still was entertaining and pretty great, but not everything I could have asked for. I would have liked more character development, a bigger chance to get to know Annie, by maybe having the book be in her perspective for a change, and to actually get to know the atmosphere around Ryan Dean better. It is better than most sequels, but not something that will leave me thinking for the rest of the night, you know? Just do not get upset at me for that spoiler above, heh.
*A review copy was provided by the publisher in exchange for an honest review. Thank you so much!*
Have you read anything by Andrew Smith in the past? Do you like MAJOR character development in books?