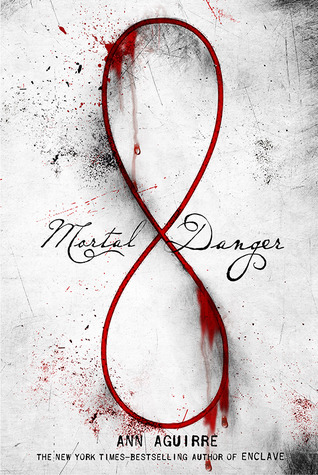 Mortal Danger (Immortal Game #1),
by
Ann Aguirre
Publication:
August 5, 2014, by Feiwel and Friends
Genre:
Young Adult Fiction, Fantasy, Paranormal
Pages:
384
Format:
Hardcover
Source:
Borrowed
Rating:
Revenge is a dish best served cold.
Edie Kramer has a score to settle with the beautiful people at Blackbriar Academy. Their cruelty drove her to the brink of despair, and four months ago, she couldn't imagine being strong enough to face her senior year. But thanks to a Faustian compact with the enigmatic Kian, she has the power to make the bullies pay. She's not supposed to think about Kian once the deal is done, but devastating pain burns behind his unearthly beauty, and he's impossible to forget.
In one short summer, her entire life changes, and she sweeps through Blackbriar, prepped to take the beautiful people down from the inside. A whisper here, a look there, and suddenly... bad things are happening. It's a heady rush, seeing her tormentors get what they deserve, but things that seem too good to be true usually are, and soon, the pranks and payback turns from delicious to deadly. Edie is alone in a world teeming with secrets and fiends lurking in the shadows. In this murky morass of devil's bargains, she isn't sure who—or what--she can trust. Not even her own mind...
My Thoughts:
Ann Aguirre's books are a girl's best friend. Mortal Danger has been on my must-get TBR list for ages, and after reading her newest, The Queen of Bright and Shiny Things, I found that it was so relatable to me and that I needed more from Aguirre as soon as possible. This time around, the story was much more dark and eerie, but eerie in the sense that is totally satisfying. The concept of the Immortal Game trilogy is utterly brilliant, and I'm pretty sure you'll enjoy this so much if you already liked Scott Westerfeld's Uglies. This novel is just as racing as her others, and I am totally in love with what was handed to me, in a way.
Mortal Danger is pretty great. I did not expect to have the concept go this deep, and it was surprising in that extra special way that will make you scream and be captivated to everything else that this author has written. The only other book that I read by Aguirre was chick-lit, girly and bubblegum pink fun. This? This was something else, and not everyone will enjoy it. It was nice and all, but there is nothing memorable about the story, just letting you know.
Beauty does not matter. At least, that's what I've been taught about all my life and continue to believe that as I walk around modern society. But this book basically tells humanity the opposite. Beauty is the way to popularity, to attention. Aguirre does not feature anything throughout this novel about good human characteristics and personality traits, like intelligence. The main character, Edie, is bound to become beautiful and to her, that's the way that she'll stop getting teased and bullied at her extra top-notch boarding school called Blackbriar, where most of the story takes place. There are paranormal aspects with apocalyptic-like mystery serving around Edie and her forbidden relationship with Kian, the guy who offered this new life to her.
This is a confusing story. It seemed like Aguirre just tumbled everything on top of readers and we spent the time reading trying to climb out and throw the blocks away. It was slow-paced, confusing, and not my favourite story at all. The concept was nice, but it would have been much nicer if the author took a simpler, basic stand onto Edie's story. I expected this to be a new addition to my shelves of favourites, but it did not take that toll at all. The plot was mismatched, like a gross pair of mismatched socks that did not go together with the characters and all. Edie had an attitude that was always unsure, even when her identity changed and was supposed to act different in this new dimension thing.
Paranormal? Ugh. Paranormal and dystopians are so 2012, and I dislike both, but I would have preferred Aguirre to take this on a more science-fiction spice. This is urban fantasy, but I literally expected a vampire or werewolf to show up in the story out of nowhere. It was 80% possible for the way the things turned out to be. I rolled my eyes, expected more, and wanted more, actually. I forgot about half of the story and it's only been a week since I last picked it up. It's sad.
Edie and Kian. That is the KIND OF COUPLE I needed. For a book like this, we want mysteriousness mixed with sexiness at the same time. Their chemistry and reason for being together was memorable and perfect. An Oscar winning couple, to be honest.
Mortal Danger is entertaining, and one of the traits about it that could surely catch your attention is the themes. Beauty, and the concepts that many of us currently believe in, in modern society are thoroughly explained through an urban fantasy story that is very, very nice. I would not read the sequel, but Aguirre's novels are surely on my radar and I enjoy her writing greatly. Kian = new book boyfriend though, just letting you know.
Do you ever feel that some authors could only pull off a specific genre and then when they try another... it doesn't go well?