How to Be Bad,
by
Lauren Myracle
,
Sarah Mlynowski
,
E. Lockhart
Publication:
April 28, 2015, by HarperTeen
Genre:
Young Adult Fiction, Contemporary, Romance
Pages:
352
Format:
Paperback
Source:
Purchased
Rating:
Three bestselling authors--E. Lockhart, Sarah Mlynowski, and Lauren Myracle--bring you on the road trip of a lifetime in this dynamic novel packed with fun, friendship, and feminism.
Jesse, Vicks, and Mel each has her own reason for wanting to get away from their nowheresville Florida town. Add in a hot (and harmless) hitchhiker, an impending hurricane, and a close encounter of the gator kind, and the result is one sizzling road trip where the journey is far more important than the destination. Now in a fresh new package, How to Be Bad will take even more readers along for the ride.
My Thoughts:
This is just the most genius bundle of authors all together. E. Lockhart, Lauren Myracle and Sarah Mlynowski are all contemporary favourite authors of mine who just did it. I expected amazingness, but this honestly blew me away. Being published again after years with a brand-new modernized cover that seems to fit the mood that the book presents absolutely, this was fabulous. We have a road trip tale that fits the mood for any time of the year, whether it is the dead middle of winter (in my case) or if you're on the beach. These fabulous ladies talk about the Waffle House, Disney World and the smallest police station on the planet. What more can a girl ask for? (Romance is also included, in case you were wondering).
How to Be Bad did not necessarily teach me how to be bad, you know? Parents, please do not be discouraged with giving this book to your teenage daughter. These girls are rebels but so amazing that you could not help but fall in love with each of their distinct personalities. This is a carefree, feministic novel about the power of girls and how we do not need a man to be labelled as free or caring. These girls drift away from the norm, from being girls in a small town in Florida, to girls driving around with a different meaning than they originally expected.
Three girls. A road trip that seems kind of forbidden. Romance comes along the way and amazing things happen. In three abrupt sentences, I could describe the plot of this book very quickly but it actually has more in it than we expect. Jesse, Vicks and Mel do not know much about each other (mostly) and they all work together at their local Waffle House. When Vicks misses her boyfriend too much and decides to all head to Miami, they head for a trip of a lifetime.
"Beer is not my friend. Beer made me not a friend to my friends. Beer made me not my own friend." (157)
(That quote is hilarious). THE PLOT OF THIS BOOK. PEOPLE—I READ THIS IN ONE EAGER SITTING. I could not put it down, my feels were exploding all over the place and I just wanted so many things to additionally come from this novel. It was practically perfect. You never know what amazing novel will come to you until you read it. Agh. Now, let's round off the main chicks into three paragraphs because I just love them all.
Jesse: Jesse is that girl who is ready to come out of her shell. She is extremely religious, and us readers see that throughout the novel. Whenever she does something, she decides that she has to look at her decisions from a religious perspective. She is the one who initially decided to make the road trip thing happen. She takes her mom's car, and makes everything happen. I didn't like her character too too much compared to Mel especially, but her story is touching.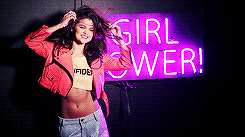 Vicks: The absolute badass of the group. She has reasons for what she does and even though I cannot imagine myself as her (no guts, people) it's interesting to look up to her.
Mel: I love her. She's innocent and just has that right attitude to make readers intrigued to every page/word of the book. She made my experience of the book ten times more fantastic.
"There's this thing the rain does in Florida. It trickles for a few minutes, and then the sky goes suddenly black and before you know it, you're standing in a waterfall. It's not even cold out; the water can be warm." (167)
How to Be Bad was that book that I became so obsessed with after. I need a sequel, a million sequels that will warm my heart. Myracle, Lockhart and Mlynowski all jumbled something that I cannot get over. This was exhilarating, and every single moment is the perfect image of a contemporary novel. I would give this an Oscar or book award. TEENAGE GIRLS, RUN FOR THIS. WHO RUNS THE WORLD? GIRLS.
Do you enjoy collaborations of amazing authors? Have you read anything by these fabulous ladies?