The Unquiet,
by
Mikaela Everett
Publication:
September 22, 2015, by Greenwillow Books
Genre:
Young Adult Fiction, Dystopian
Pages:
464
Format:
Hardcover
Source:
Borrowed
Rating:
½
For most of her life, Lirael has been training to kill—and replace—a duplicate version of herself on a parallel Earth. She is the perfect sleeper-soldier. But she's beginning to suspect she is not a good person.
The two Earths are identical in almost every way. Two copies of every city, every building, even every person. But the people from the second Earth know something their duplicates do not—two versions of the same thing cannot exist. They—and their whole planet—are slowly disappearing. Lira has been trained mercilessly since childhood to learn everything she can about her duplicate, to be a ruthless sleeper-assassin who kills that other Lirael and steps seamlessly into her life.
An intricate, literary stand-alone from an astonishing new voice, The Unquiet takes us deep inside the psyche of a strong teenage heroine struggling with what she has been raised to be and who she really is. Fans of eerily futuristic and beautifully crafted stories such as Never Let Me Go, Orphan Black, and Fringe will find themselves haunted by this unsettling debut.
My Thoughts:
The Unquiet has a mediocre, plain cover that does not seem to captivate readers as much as the book actually did. I was extremely captivated with it from the first moment I set my eyes and scanned the summary. Two identical, alternative worlds—Earths. Carbon copies of the same person—leaving readers wondering if they are exactly alike—by lifestyle, looks and so on. There is many things that I wondered before I picked this one up. At the same time, I did not want some roboty, technical dystopian story that is about saving the world. Minus the robots, this is what this was kind of about, but in the end, the realization hit me: What else could this book possibly be about other than a group of teenagers trying to get back home?
This is not The Wizard of Oz. Mikaela Everett does not create a protagonist who resembles Dorothy, who has encountered a traumatic experience leaving her torn away from the things she loves. She is not encountering friends on the way and evil. Those were lies. This could be compared to something in that sense, but I found so much more depth in this story than a simple fairytale that I fell in love with when I was a kid. This is not a fairytale to fool readers. This is a deep, well-worth-the-while read that will cause people to create theories, to think about parallel universes, destiny, fate, and the decisions that we constantly make. Every time I click a key on the keyboard, I have just made a new decision. Count the amount of characters in this review, those are ____ decisions that I have made. Interesting to think about, no? (I am actually pretty proud of that theory, to be honest. Courtesy to me, my friends!)
Mikaela Everett features that alternate universe idea that I have been mentioning for the past two paragraphs. Lirael, our "Dorothy" in this case, has been training for all of her life. Ever since she has been placed onto this alternate Earth, she has wanted to come back to her actual home. She is orphaned, living in a little cottage in the middle of nowhere, and just wants to kill her duplicate self so she could be reunited with the ones she loves and once knew. Two copies of the same things cannot exist. It/They disappear from one Earth, the other stays on the other. It is the way the "magical" rules work in Everett's mindset here. I adore it.
"Love is what they have. The people of this Earth. Not us. Look how weak it has made them." (41)
The beginning of this whole fiasco was elegant. No seriously, the plot of this began so well and was consistent for a majority of the first portion of the story. I got to know Lirael's story very quickly with just the right amount of detail that I would like from a character. I imagined the house/cottage that she and the others lived in so vividly—the imagery descriptions were on point. I made predictions and theories from the first chapter, honestly. Everything went so well until the middle where I became bored.
Pacing is extremely important for me when I am enjoying a story. It has to make sense. The ultimate goal for the characters of this book was to get to the other Earth, and that occurred in the midway point of the novel, when I highly believe that it could have occurred in the last bit. Lirael's wishes come true, and then readers are dumped into a mould of slow-paced writing, boring family scenes and nothing. Much. Happening. It's slower than molasses spreading from a spoon to a bowl. Or from the jar to a spoon. You get my simile use, right?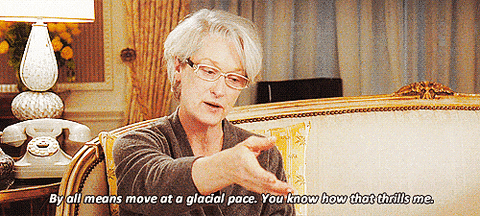 Thankfully, I connected with Lirael. I liked her attitude—it was positive and she never wanted to take anyone's bad comments and take those seriously. She kicked butt, and I just felt that ultimate reader-character connection that always makes me tingle. After getting to know the other characters, I cannot imagine the book set in anyone else's perspective. She was that perfect cookie-cutter example of a protagonist for a dystopian novel.
The Unquiet was different than every single dystopian YA novel I have ever laid my eyes upon. Its concept is more science-fictiony than futuristic, which made the experience even better. Coming from a genre that is lately a hit or miss for me, I had low expectations, but it turned out to be a rather pleasant story that I definitely recommend. It is even greater when you think about it later (after reading) and discover what the title really means. DEEP PEOPLE. DEPTH.
What is the most unique dystopian novel you have read? Do you like the genre itself?