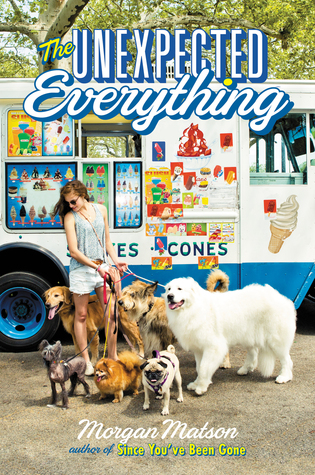 The Unexpected Everything,
by
Morgan Matson
Publication:
May 16, 2016, by Simon and Schuster
Genre:
Young Adult Fiction, Contemporary, Romance
Format:
Hardcover
Andie had it all planned out.




When you are a politician's daughter who's pretty much raised yourself, you learn everything can be planned or spun, or both. Especially your future.




Important internship? Check.




Amazing friends? Check.




Guys? Check (as long as we're talking no more than three weeks)




But that was before the scandal. Before having to be in the same house with her dad. Before walking an insane number of dogs. That was before Clark and those few months that might change her whole life.




Because here's the thing - if everything's planned out, you can never find the unexpected.




And where's the fun in that?
MORGAN MATSON IS MY FAVOURITE CONTEMPORARY AUTHOR ASIDE FROM JOHN GREEN AND I don't know why I'm typing in caps. JOKES I JUST CAN'T WAIT FOR THIS! When Morgan announced her new novel and released this cover, I was ready to die. THE DOGS ARE ADORABLE, THE COVER IS HIPSTER AND BEAUTIFUL. Then I headed onto Goodreads, added it, and cried because I realized that it's out in May. I'VE WAITED ENOUGH FOR MORE FROM YOU, YOU BEAUTIFUL AUTHOR SLASH PERSON. I want this, I'd sell my soul and all of my books for this. Jokes, about the book thing. We'll see and make a deal.
What would YOU sell your soul for this week?