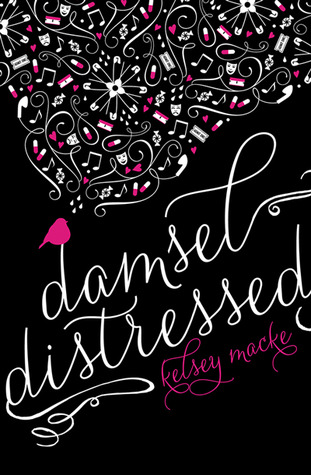 Damsel Distressed,
by
Kelsey Macke
Publication:
October 14, 2014, by Spencer Hill Contemporary
Genre:
Young Adult Fiction, Contemporary, Romance
Pages:
321
Format:
Paperback
Source:
Borrowed
Rating:
½
Imogen Keegen has never had a happily ever after–in fact, she doesn't think they are possible. Ever since her mother's death seven years ago, Imogen has pulled herself in and out of therapy, struggled with an "emotionally disturbed" special ed. label, and loathed her perma-plus-sized status.




When Imogen's new stepsister, the evil and gorgeous Ella Cinder, moves in down the hall, Imogen begins losing grip on the pieces she's been trying to hold together. The only things that gave her solace–the theatre, cheese fries, and her best friend, Grant–aren't enough to save her from her pain this time.




While Imogen is enjoying her moment in the spotlight after the high school musical, the journal pages containing her darkest thoughts get put on display. Now, Imogen must resign herself to be crushed under the ever-increasing weight of her pain, or finally accept the starring role in her own life story.




And maybe even find herself a happily ever after.
My Thoughts:
Do you enjoy one of those coming-of-age YA books? What about those with heart-warming protagonists who change so much in their contemporary journey? Well then, guess what? Damsel Distressed is the perfect read for you, although it wasn't one of those. To me, it lacked in the non-cheesy factor.
Kelsey Macke delivers a great novel in the end, if that's what you're trying to ask me. The message is clear, big, and bright, and it can seriously teach some teenagers a lesson or two. Plus, who doesn't want to read a fairy-tale retelling, especially one of Cinderella? And guess who's Cinderella? Yes, the poor protagonist, by the end, although it doesn't really look like it at first. I'm a little shocked with that one. *sarcasm*
"Grant is my gravity. He doesn't force anything, but he is a force. Something I never even notice until I realize I haven't drifted away. He loves me and has shown me that love over and over."
Imogen is stressed and depressed, as she feels that her whole life has collapsed in front of her eyes. After her mother died, she entered a state of depression as well as an eating disorder with binge eating when she feels sad. The only person she feels who is actually there for her is her best friend, Grant, who she deeply loves. Now she has a new stepsister named Ella and everything is going horribly. Written through her journey of heading into therapy and her high school life, Imogen's character is seriously someone to remember for all readers.
This is all about real life, in the end. You know how they say that everything happens for a reason? From the start, Imogen firmly believed that her getting a stepsister would be the best thing that has happened to her in a while, and at least, before she actually met her. Things don't always go as planned, people. And through it all, the real-life factor of the novel turned out to be the best thing that this book actually had.
It's truly deep and meaningful, after all.
And actually? Other than the fact that Imogen's character seemed too rough and that her story always seems to be overused in dramatic contemporaries in YA fiction, Macke turned out to be a great writer.
The way she kept the story moving was wonderful
and it's the kind of book that'll make you want to keep reading until it's over so you can discover what'll happen in the end, since we're all looking for uniqueness in writing after all. The concept hadn't 'spoken' to me as I would've liked but hey, the cover and writing was truly adorable.
"A little bit of sadness? Check. A little bit of fear? Check. A little bit of anxiety? Check. And something new. A little bit of joy? Check."
HOLY I FORGOT TO MENTION THE ROMANCE. So I'm a sucker for best-friend romances and this was the most perfect friendship has begun. No instant love or any of that occurred because they've been friends for ages and it turned out to be magical between 'Cinderella and Charming.' I ship it, totally.
This was a fairly enjoyable read, but yet again, it's not for everyone. You need to enjoy the clichés that are often used in literature and be able to stand them for a full-length novel. Look forward for a nice contemporary romance that deals with mental illnesses and all of that fun concepts that people love to read about or hear about on the news. Also, LOOK FORWARD FOR THE MUSIC AND JOURNAL ENTRIES. That was all hipster, to tell you the truth. *winks*
What do you think of bookish emotional journeys? What books have some nice ones?