Love Match (The Academy #2), by Monica Seles
Publication: February 25, 2014, by Bloomsbury USA Childrens
Genre: Young Adult Fiction, Contemporary, Romance
Pages: 224
Format: Paperback
Source: Purchased
Rating:
Getting into The Academy is the easy part. Staying there takes more than just talent. After being betrayed by her rival and her boyfriend, Maya knows she needs to shrug off the drama and focus on her game. And after a strong showing in the semi-finals at a tennis competition, Maya seems pretty focused. Until that competition brings a new round of gossip, a modeling gig, and renewed feelings for . . . her ex?




And Maya's not the only one with drama. Cleo just won her first big golf tournament, but the blogs are bashing her alternative style. Renee is smitten with the school's newest soccer star, Diego. And the Reed brothers are being pitted against each other by their father, their love for Maya, and the press.
My Thoughts:
I guess that this is the perfect chick-lit, full-of-endless-drama for the past twelve-year-old me. I know it would have been. Don't get me wrong, this was a good book, it's just not everything I was looking for. After reading, Love Match seemed to be a book that I just read because A. I had to and B. It was for pleasure and I read the first book in The Academy series. Seles is an okay author who would've done better if she focused on more sports, less publicity and drama for the characters in the school.
This is like the most cliché sequel you can possibly think about. So from what I can remember from reading the first book a few years ago after it was released, it ended with something that broke the hearts of little girls, which I promise I won't spoil. It's kind of a book that you'll spend wishing to be mended and to be perfect by the end. You want that closed ending from the duo logy (which I'm pretty sure this is). I hated the way it ended and it didn't actually satisfy me as that perfect contemporary romance. It was all catty and bratty in a way. *sighs*
"So many sense memories filled her from their brief relationship, it was like they were transported back in time. They weren't in the press box of a football stadium. They were on the couch in his place, the first time they'd kissed." (145)
You see that cheesy romance stuff? Don't we all want depth and real love? This seems like a Bachelor romance that'll end in a few months, max. I always love relationships in books where I imagine the characters in love forever, you know?
It's a book that you just want to scream "meh" at. Maya's character was okay and still the same as I expected her to be. At least, she had a cute posse of friends who were always by her side.
Monica Seles has granted readers something that's no, not brilliantly written or unique in its own way. It's something that very few people will see perfection in, but it wasn't horrible for me to put it down or anything like that. It's more like one of those books you'll start before bed and finish before your eyes begin to sag. That's just my view on it.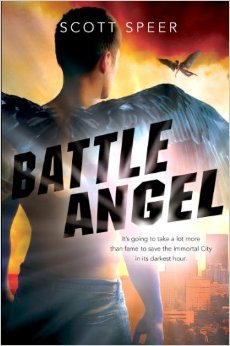 Publication: August 28, 2014, by Razorbill
Genre: Young Adult Fiction, Paranormal, Romance, Angels
Pages: 314
Format: Paperback
Source: Borrowed
Rating:
/DNF
With Maddy torn between two loves, Guardian Jackson and heroic pilot Tom, and Angels and humans on the brink of an epic war, the Immortal City is more vulnerable than ever. And when demons descend upon Angel City with the intent to destroy, the humans don't stand a fighting chance without the Angels on their side.




Will Jacks find the strength and forgiveness to enter the fray and fight the demons as a stronger-than-ever Battle Angel? Or has the damage been so great that the Guardians will set off for the next place, abandoning Angel City in its darkest hour?




It all comes down to love-wrecked half-Angel Maddy and the strength of her bond with Jackson in this game-changing, thrice-as-sultry series finale that blends beautiful themes of redemption and renewal with heart-pounding action scenes and jaw-dropping twists.
My Thoughts:
DNF @ 100 pages
Hell no. I just can't read this book. It's most likely because my taste in books have changed and I'm so against paranormal-romances. There are only the few books that feature angels which I'm able to read, but I won't take anything that doesn't look very appeasing to me. Battle Angel was horrible.
I just can't take books that deal with those cheesy stories of the apocalypse and our "kick-butt" main character fighting the stupid demons that are coming out of the sewers. This is just a continuation of the trilogy that seriously isn't needed, by the way. I just kept getting bored and it's not that kind of read for me. And here I am, being the black sheep again where everyone is enjoying it excluding me. But I don't care, because I knew that I wouldn't enjoy it anyways. I actually was just curious to see how the series would end, because I liked it in the start, way back then.
Brace yourself for: awkward moments, slow pacing, boring stuff, unexplainable careless deaths for the characters, a not-so kick-ass main character, and a stuck-up angel who thinks he's so hot. It's a worse repetition of the first two novels bonded together. Definitely not for me. I want to seriously forget about it, hah.
I can't even bear to write this review because I feel like throwing my library copy of this out of the window. It's a boring, weird book that's just not for me. At the moment, I don't even care what the ending was. I'll just find some spoiler review and read about it, but I'm already pretty sure that it's super predictable, just like I expected it to be. Go for this at your own risk, but I bet that it won't be for everyone.
JOKES.
Do you find yourself getting second-book syndrome quite often? What series has given you that?