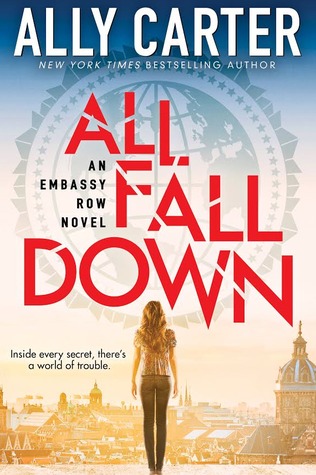 All Fall Down (Embassy Row #1),
by
Ally Carter
Publication:
January 20, 2015, by Scholastic Press
Genre:
Young Adult Fiction, Contemporary, Mystery
Pages:
320
Format:
Hardcover
Source:
Borrowed
Rating:
A new series of global proportions -- from master of intrigue, NEW YORK TIMES bestselling author Ally Carter.




Grace Blakely is absolutely certain of three things:




1. She is not crazy.

2. Her mother was murdered.

3. Someday she is going to find the killer and make him pay.




As certain as Grace is about these facts, nobody else believes her -- so there's no one she can completely trust. Not her grandfather, a powerful ambassador. Not her new friends, who all live on Embassy Row. Not Alexei, the Russian boy next door, who is keeping his eye on Grace for reasons she neither likes nor understands.




Everybody wants Grace to put on a pretty dress and a pretty smile, blocking out all her unpretty thoughts. But they can't control Grace -- no more than Grace can control what she knows or what she needs to do. Her past has come back to hunt her . . . and if she doesn't stop it, Grace isn't the only one who will get hurt. Because on Embassy Row, the countries of the world stand like dominoes, and one wrong move can make them all fall down.
My Thoughts:
Ally Carter's novels have been in my life since the start of my bookish obsession. I adored the start of her Gallagher Girls series, but then never ended up finishing it after getting bored in the fourth book. Meh. All Fall Down is a read that everyone seems to be chatting about and the buzz is real. How could I not want to be part of this hype?
I expected a spy book. It was part-mystery (ish), part-contemporary with a girl who has gone through so many traumas and catastrophes in her life that she's completely depressed. Her mother's death hits her so hard, as it definitely would, and she can't let go of the fact that she's gone. The Embassy Row is in power and she's part of it. It's not like she fights crime and kicks butt as we all expected from Ally Carter's other novels from the past. This is more of a novel about finding yourself and what life has to give to you—what's your role. That kind of thing. It's definitely nothing close to being a favourite for me, that's for sure.
"I stand there for a long time, looking at the empty alley, and thinking about that little girl who was certain she had seen her mother come this way. Not for the first time I have to wonder where my mother went and why I couldn't follow."
So, I wouldn't pick this book up if it wasn't for the hype. But then again, there are so many Ally Carter fans out there who can't stop wishing for another Gallagher Girls book, so I guess that kind of played into this? And now I discovered that it's going to be a series and I definitely threw my hands in the air and pushed the futuristic book out of my hands. No way am I going to read that or anything by this author again. It's just not for me. Maybe it's for you, spy lover extraordinaire. I'm just not a big fan of itsy-bity teeny weeny teenagers trying to be cool and rule the world like the FBI. Nah, not for my liking.
The prime advantage and positive point which Carter handed me, specifically me as a reader, was Grace's character. I did like her, and maybe it's because of her and the fact that this isn't a long read are the reasons why I never ended up putting it down. Grace is cool, badass and always is right when she states something. She knows what she's doing and how to go with the flow at the worst times. She did have a traumatic memory of that past, but that didn't stop her from fighting for her mom and showing all the losers in the Embassy Row who is right. Young Adult Fiction needs more characters like her, that's for sure.
I was exhausted when I finished reading, and possibly scarred for life. I still have the scar on my brain, y'know. It was plain boring and just out of interest for me. But the cool concept was THE EMBASSY ROW, you know the streets of embassies of different countries? Grace compares the Row to be like a domino effect and walking into different countries, which is super interesting. I do like the way that was written but it didn't play a huge effect onto the book except for the fact that it was the setting. Grace met tons and tons of people of different cultures, (which added lots of diversity of course) and it all played a role into how strong she became by the end. AND THEN WE HAVE NOAH, WHO IS A BABE.
What if some hot guy came up to you and told you he's your best friend? I'd love that.
And then they become friends right away (which is unique in a novel) and I grin like a maniac. Thankfully, no one was watching me while I was reading or I'd be classified as a fool. But sadly that wasn't the romance which Carter had readied up for readers. It was supposed to be between Grace and Alexei, which I found strange. I mean, Alexei was so stalker-ish and I DIDN'T like his character, which kind of toughened things up. I wonder if something will increase in the following sequel, which won't be coming onto my TBR list, that's for sure. Their relationship did have some pluses, which I didn't catch to share.
Meh. Things didn't go as well as I hoped, but I guess that reading this book is all about what you're usually into. I'm not a fan of those different-contemporary worlds where something that's impossible is possible fit into modern society. No, this surely wasn't dystopian fiction, but it wasn't as contemporary as you'd expect it to be because of the evolution of technology shown. Carter's awesome at world-building, but sometimes it just doesn't fit into the book and doesn't go. It's like trying to solve a puzzle when you're missing a piece—that's my experience of reading this book. All Fall Down has a hideous character, a love interest that's supposed to go the other way around, an awesome protagonist and a trihard-unique plot when it sounds the same like her past works. That's all.
What is a genre that no matter how hard you try to enjoy just doesn't work out for you? That used to be high fantasy for me, (which I adore now) but government-spy stuff is mine now.