Hello, Goodbye, and Everything in Between,
by
Jennifer E. Smith
Publication:
September 1, 2015, by Poppy
Genre:
Young Adult Fiction, Contemporary, Romance
Pages:
256
Format:
ARC
Source:
BEA/Publisher
Rating:
On the night before they leave for college, Clare and Aidan only have one thing left to do: figure out whether they should stay together or break up. Over the course of twelve hours, they'll retrace the steps of their relationship, trying to find something in their past that might help them decide what their future should be. The night will lead them to friends and family, familiar landmarks and unexpected places, hard truths and surprising revelations. But as the clock winds down and morning approaches, so does their inevitable goodbye. The question is, will it be goodbye for now or goodbye forever?




This new must-read novel from Jennifer E. Smith, author of The Statistical Probability of Love at First Sight, explores the difficult choices that must be made when life and love lead in different directions.
My Thoughts:
Hello, Goodbye, and Everything In Between is the novel that has been creeping in your dreams. It's one of those gorgeous things that we've all been waiting for. One of those novels that takes place in one night. One of those that will leave you thinking about it for eternity. Get what I'm saying? Want what I'm talking about? Then please, please let Jennifer E. Smith's books fall into your hands. Those grabby hands (of course) needs this book. I loved this!

So lately, I ironically began thinking about college and university, thinking about which one I'd like to attend in the future or what I would like to major/minor in. Ironically, this book came into my life at the perfect moment. I'm so glad to have shared gorgeous moments with this book, which left me thinking about life and philosophy and education, all of those things that we can never find the right answer/solution to. It's about being in love, and figuring out when is it time to let go. This is definitely one of Smith's best works yet. But her plots continuously are fabulous, so who really cares?
"It's true that the world is full of signs. They just mean different things to different people. To Clare, this looks like the exception. To Aidan, it looks like the rule." (102)
Smith hands readers two protagonists whose viewpoint both aren't given, but we do get to know them very well in the matter of one night where this novel takes place. Aidan and Clare have been together for a long time. They have just graduated high school and are both setting off to university in different locations, thousands of miles away from each other to do the things they love. But as they spend their last night in Chicago together, they think about what their relationship will really turn into and if love is worth keeping when you know it's kind of impossible. They take turns heading to different locations in their city that have made their relationship special and real, leaving readers wondering about what'll occur in their own lives.
This premise is brilliant. It's utterly unique, special and touching. I normally am not a fan of these 'cheesy' novels that are all about letting go (or not), but this is the perfect example of one which had impressed me fully. I picked it up at BEA, knowing that it's something that I would seriously adore with all of the emotions that makes a reader adore a novel. And I truly adored it, most of all actually. I now feel to grab a glass of champagne and enjoy the wonders of life in Barcelona with this book, which kind of doesn't make sense but hey, it's all about the book and where it makes me feel comfort.
This is the comfort love story you need in your life. Authors tend to throw readers into a pool of emotions, about death and loss, but this focuses on the positive aspects. We have two foil characters who are completely in love but who want to focus on the future when they should really enjoy the present moments that matter the most. Aidan and Clare are two highly intelligent characters who are wiser than their age. You know how we usually read about these dumb teenagers who can't make good decisions and end up looking like fools? Aidan and Clare are the complete opposites of that. It's all about focusing on a bright, beautiful new chapter in their lives. And I'm not trying to act cliché, either.
"I hate the idea of waking up in a dorm room a few days from now and knowing that you're all the way on the other side of the country, but not knowing anything else. I don't want to wonder what you're doing, or what you're eating, or who you're meeting... I can't stand the thought of not having any idea what's going on in your life. It's just too awful." (115)
So this isn't something that you're going to learn from. It can be classified as two characters' love story and about the aftermath. I liked that, but I wish that something more happened. It was freaking awesome, though. I love Jennifer's writing and as others have also mentioned, her writing truly reminds me of Sarah Dessen's plots and cutesy stories, though Jennifer has her own sass always added. I'll read anything by Jennifer, seriously. And her covers? Those are seriously and absolutely gorgeous. ALL AUTHORS NEED THEIR BOOKS TO HAVE THE SAME LOOK, PEOPLE.
Hello, Goodbye, and Everything In Between is a book that's not really a book, actually. It's a life journey taken place in the matter of hours, but it feels like so much more than that. It focuses on a healthy, teenage romance that's all in the minds of two almost-adults with some much more common sense and wisdom in them than many others. Aidan and Clare will be your new ship, with both sides of the story continuing to impress and be right. You just won't know whose side to stay on, or what kind of love to believe in, because Jennifer E. Smith always wants her characters to have a right place in readers' hearts and minds.
*A review copy was provided by the publisher via BookExpo America in exchange for an honest review. Thank you so much!*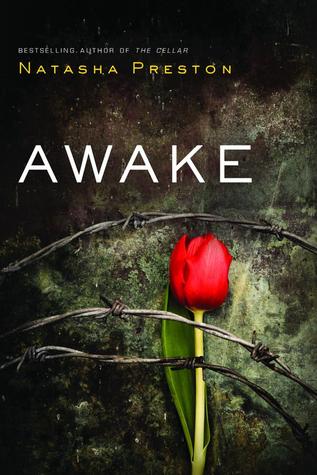 Publication: August 4, 2015, by Sourcebooks Fire
Genre: Young Adult Fiction, Contemporary, Romance, Cults, Thriller
Pages: 352
Format: ARC
Source: BEA/Publisher
Rating:
½
Scarlett doesn't remember anything before the age of five. Her parents say it's from the trauma of seeing her house burn down, and she accepts the life they've created for her without question—until a car accident causes Scarlett to start remembering pieces of an unfamiliar past.




When a new guy moves into town, Scarlett feels an instant spark. But Noah knows the truth of Scarlett's past, and he's determined to shield her from it...because Scarlett grew up in a cult called Eternal Light, controlled by her biological parents.




And they want her back.
My Thoughts:
Awake is one of those books that would leave you hesitant before reading. At least, I know I was hesitant to read it. When I first spotted it, I was originally captivated by the stellar cover, which is so simple but now suits the premise and events of the novel greatly. There are many negative reviews to it, and as I see why, my opinion surely doesn't skip to the lower ones. It was a good book, after all.
This novel is a first for me. A first for a cult book. I've always been (not creepily) interested in the premise and concept of cults and people's religion in that case, and no YA author has touched upon it that I know of. Natasha Preston's book focuses on one called Eternal Light, and the whole story behind it is creepily eerie. It all starts with a sacrifice that went wrong, which moves onto a boy thrillingly falling in love with a girl who he's not supposed to. It's really messed up, weird but awesome at the same time. It's one of those books that you'll continuously have to have patience for so that it can turn brilliant, as it did in the end. I nearly bit my fingernails until they bled while reading.
"People called themselves free when they were governed and bound by so many laws. They worked forty plus hours a week, and most still struggled, gave up a portion of their money, and followed what society expected. That was the furthest thing from being free, but they still went on fooling themselves. They believed they had a voice, but they didn't use it past voting for someone they knew was lying to them anyway. It made absolutely no sense. Democracy. Freedom. Bullshit." (66)
I just had to add in an except of that strange but wonderfully true quote that Preston added in Noah's perspective on the novel. As you can see from there, Preston is a fabulous writer. Her words capture and take readers into a fictional world that no, they wouldn't want to be part of due to thrill and adrenaline and crime matters, but into one that they can stand by and watch, hearing their hearts jump out of their chests. This is one cool read, that's for sure.
I so don't want to be Scarlett, the main character, in this book. She's stuck in a family with tons of secrets. The thing is, she has zero memory of her past before she was four years old. She longs to discover the truth behind it all, but no one tells her anything. When a new guy, Noah, comes to her school, they begin to date soon after and their relationship builds from there, but he also has a secret that forbids him to fall in love with her: she's going to be a sacrifice for the cult that she was born into as well as the one Noah is in.
Spooky. That's the perfect word to describe this book, as well as "full of insta-love." It seriously was. After three chapters, Noah and Scarlett were already making out and totally in love, as Scarlett described it. This sure wasn't the perfect time to add an instant love relationship when this is a pretty lengthy novel. *rolls eyes* WHY, SCARLETT AND NOAH? You guys were so adorable, but I couldn't stand thinking about how there was the need for so much development in your relationship. *cries* There goes a lost star for the lack of nice, creditable romance. Ugh.
Preston is a fantastic writer. Her words left me breathless between chapters and pages, and I honestly couldn't stop reading for a huge chunk of the book, excluding the slow middle. By the time the pace picked up, it was almost the end of the book and I wondered what would the author even add into the plot to make it extra worthy and fabulous, y'know? I just was a little confused with the whole memory thing and why it had to be at four years old. I don't remember much of when I was a baby, so that kind of left me with my jaw wide open.
"Was eternal life worth sacrificing this girl for? Even if we waited another four years, gave her one more cycle before performing the sacrifice, it still wasn't enough time for her to properly live this life." (119)
With a crew of supporting, interesting characters, I guess that you can call this book a true success compared to what other reviews note. Scarlett and Noah both are super pleasing characters (and Noah takes onto the hot role for me *snickers*) but together, eh, not so much.
This book sure did have a bunch of moods that kind of left me thinking about the true and inner genre. Hmmph.
Awake surely could've turned into that perfect novel for me. It initially was a highly anticipated 2015 read for me, and I'm glad that I've made the decision to read it now because it was pretty great. Boring at times with a not-so-hot romance, Preston did manage to grab my attention and leave me wanting more of writing in my hands in the coming future. But most of all, this will be noted on your diverse-genre list, not because of actual diversity, but because of the unbelievable premise and plot that she created. I'm seriously in love with a lot of this, and it'll be dying to keep you awake at night.
*A review copy was provided by the publisher via BookExpo America in exchange for an honest review. Thank you so much!*
What is your definition of a realistic romance in fiction? Do these books sound good to you?