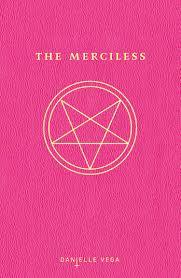 The Merciless,
by
Danielle Vega
Publication:
June 12, 2014, by Razorbill
Genre:
Young Adult Fiction, Horror, Contemporary, Thriller
Pages:
279
Format:
Hardcover
Source:
Purchased
Rating:
Brooklyn Stevens sits in a pool of her own blood, tied up and gagged. No one outside of these dank basement walls knows she's here. No one can hear her scream.

Sofia Flores knows she shouldn't have gotten involved. When she befriended Riley, Grace, and Alexis on her first day at school, she admired them, with their perfect hair and their good-girl ways. They said they wanted to save Brooklyn. They wanted to help her. Sofia didn't realize they believed Brooklyn was possessed.

Now, Riley and the girls are performing an exorcism on Brooklyn—but their idea of an exorcism is closer to torture than salvation. All Sofia wants is to get out of this house. But there is no way out. Sofia can't go against the other girls . . . unless she wants to be next. . . .

In this chilling debut, Danielle Vega delivers blood-curdling suspense and terror on every page. By the shockingly twisted end, readers will be faced with the most haunting question of all: Is there evil in all of us?
My Thoughts:
Guts? Gore? A horror story? Excuse me for those rhetorical questions, but those questions actually explain something that I'm totally in love with—but not in a creepy way of course. Danielle Vega's 2014 debut is something that's been sitting on my shelves for ages. AGES, I'M TELLING YOU. And never have I ever expected it to be SO good. It blew me away, literally. I'm flying in the wind, ready to grab a copy of any future works by Vega, because she's the next Stephen King, YA form.
So I've never read a book that's about satanism and a view on religion that way. Exorcism? Never have read about it, only have seen it in those disgusting horror films. When I first read the summary a long time ago, I wondered how crazy this book would be, because I've never read anything like it. Let me just tell you beforehand that you'll need to brace yourself for cliffhanging chapters (and pages, even), a fucking crazy ending that left me sitting there with my jaw open, gore, gore, and gore. I'm not sure if you're anticipating a description of someone's skin being eaten, but it's all worth it, close to nausea or not. *snickers*
"We can face the demon together. Your strength will be my strength." (Hardcover, page 110)
Da fuq? Facing demons? This isn't exactly what you may suspect. Sure, there's some fantasy weird stuff mentioned because of the pentagram and all of that, but it's not magical or anything like that. Picture four pretty girls going mad and trying to ruin a "weirdo's" life by splashing her with holy water, saying prayers that have been printed off the internet and throwing salt at her. And of course, pulling fingernails out and putting a house on fire. But that's just the start of it, to be honest. And you don't want to go anywhere near the hell-like storyline that Vega has written about. I don't know how she came up with this idea, but I LOVE IT.
What I just mentioned above about the story is exactly what it is. Sofia is new to her Mississippi town, and she automatically befriends the three most popular girls in her school: Riley, Alexis and Grace. They're all Christian and just about the most pure and perfect you can imagine. But they keep mentioning how this girl who has tattoos and seems punk, Brooklyn, is weird. They claim that she killed one of their teachers and skinned a cat. WHAT?! is what you're probably asking. Yeah. And then the three want to perform an exorcism on Brooklyn to get the bad spirit out of her and cleanse her. Here's what happens.
Not going to tell you, sorry! I sincerely apologize, but what happened that night in Riley's house is completely eerie and strange. I can't even bring myself to remember those events or I'll pee my pants... again. (Just kidding!) I actually read this at nighttime and completely lost my mind. But then I didn't finish it so I picked it up the next morning and finished it in another sitting. I died. I couldn't put it down. I didn't eat because I felt like puking because of the gore. That sign kind of tells you that the author did an amazing job scaring her readers and leaving them breathless, speechless and unable to read anything else without expecting it to be like this.
Although this story was pretty messed up, it was in a definite good way. It's a divergent read to be, and something unknown. In its pretty little pink jacket cover and that pentagram, you obviously can't even expect it to be something so horrendous and messed up as it was. And then you open the book and see, "FOR MATURE AUDIENCES ONLY" and your whole life flashes before your eyes. I've never seen something like that written in a book, just saying. That's one of the freaky warning signs.
"The evil is inside me. I feel it. I scratch harder to tear it out of my body, drawing blood. In my head, I hear my grandmother's raspy voice. Diablo, diablo..." (Hardcover, page 279)
Everything was freaking amazing. Vega's writing seems so simplistic and sincere, yet haunting. It's like this book was written to cause MY FEELS to explode and leave me like one of them. I adore the suspense created in the end, the number of questions still haunting my head, and the fact that this is a standalone. We never need some kind of actual conclusion in these kinds of stories. Scratch that, in this story, because this book is just one of a kind and its own. I'll never read something like this ever again, I feel it. And I bet that I'll also end up rereading this again one day when I just want to be freaked out. But then I'll spend the night by my window, making sure that no one enters my house. *bites lip of fear*
Sofia, our protagonist, seems to be a goody-two-shoes. She takes care of her grandmother who suffered a stroke, she's a good girl to her mother, she doesn't cause trouble at school or breaks curfew. But when she meets those girls, she feels like rebelling for some reason. I guess it's the vibe. She gets an eyebrow ring and the sensation of evil kind of hits her. She's super cool and memorable, the pure definition of badass. And she falls in love, too, which is super cute. (At least, it was a major crush THAT WE NEVER GET TO HEAR ABOUT AFTERWARDS.) It's so interesting to read about the way her independence helps her in this situation and what she does in the end to save herself and her friends. (Tries to.)
This may seem like a book that's totally out of your league. But its concept was something that captivated me and I needed to read it immediately. Of course, I waited more than a year to read it, but that's not the point here. To some, it's a messed up read that scarred them for life, but for me, it's just brilliant. If there's gore and gross descriptions, it truly shows the author's intelligence with words and how they can make a reader go mad with their story. Girl power plus exorcisms equals something that may not work out in the end, but it's a definite gazillion star read for me.
Are there some other gory YA reads? I've never heard of any except this.