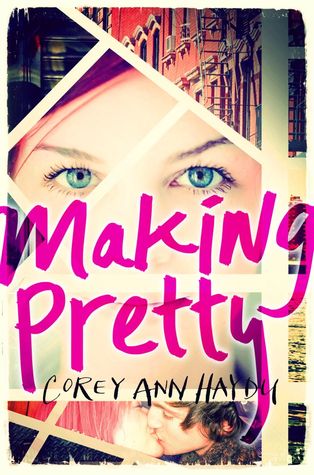 Making Pretty,
by
Corey Ann Haydu
Publication:
May 12, 2015, by Katherine Tegen Books
Genre:
Young Adult Fiction, Contemporary, Romance
Pages:
368
Format:
Hardcover
Source:
Borrowed
Rating:
Montana and her sister, Arizona, are named after the mountainous states their mother left them for. But Montana is a New York City girl through and through, and as the city heats up, she's stepping into the most intense summer of her life.




With Arizona wrapped up in her college world and their father distracted by yet another divorce, Montana's been immersing herself in an intoxicating new friendship with a girl from her acting class. Karissa is bold, imperfectly beautiful, and unafraid of being vulnerable. She's everything Montana would like to become. But the friendship with Karissa is driving a wedge between Montana and her sister, and the more of her own secrets Karissa reveals, the more Montana has to wonder if Karissa's someone she can really trust.




In the midst of her uncertainty, Montana finds a heady distraction in Bernardo. He's serious and spontaneous, and he looks at Montana in the way she wants to be seen. For the first time, Montana understands how you can become both lost and found in somebody else. But when that love becomes everything, where does it leave the rest of her imperfect life?
My Thoughts:
Corey Ann Haydu is one of those authors whose books I really want to enjoy. They seem like the perfect kind of books that'll impress me: contemporary romances that have some darker concept within them. In this case, as well as her previous, Life by Committee, there was so much potential for me to enjoy them. Everything seemed perfect, at first. But as I look back onto these novels, they were dull and not as deep as I wish them to be. I have 2 more of her novels to read and they're both on my TBR list, though I'm now hesitant, as the second time surely wasn't the charm.
Making Pretty was a pretty book, but I feel more meh and bored with it than others have. I surely won't even dream of giving this a perfect star rating, but whatever. It deals with all of the cutesy stuff—sisterhood, first love, rebellion of being a teenager, all of those things that are supposed to matter or happen in life. You'll find that the characters have had a horrible life with endless amounts of 'stepmothers' and weird stuff going on with their family, and they're—Arizona and Montana—are those characters whose side you'd like to stay on.
"I noticed he was reading the same book as me. The Great Gatsby. I figured his school was probably doing a unit on it too. Then it was the Stephen King novel I was chilling out with. Then Catcher in the Rye. Then The Hunger Games. Then Valley of the Dolls. After Valley of the Dolls we started nodding at each other. Then waving."
That's kind of weird but cute at the same time. Anyways, let's just get to the summary because you don't even have a clue what this book is about if this is the first time you've seen it or heard of it. Making Pretty features Montana and Arizona, two sisters who were named after the states that their mother left them for. They now live with their plastic surgeon father who gets married and divorces women lots of times. Now Montana has enough of her boring, strange life and she falls in love with a guy named Bernardo, who respects her pink hair and wickedness.
I guess that the title does make sense for what the book was actually about. I liked Montana's attitude towards her father's job and everything and how she doesn't want to get sucked into the obsession of redoing yourself. She had self-confidence, even when she was depressed and felt like the relationship with her college-based older sister was dissipating. She was a little annoying here and there and I couldn't agree with every single decision she made, but she wasn't frustrating as some protagonists/characters are (cough, Arizona, cough). Haydu doesn't create the best bunch of characters in the end.
So if you actually read the official synopsis found on the jacket cover of the novel, you'll probably predict that a lot of the book is focused on secrets, lies and the sisters' fading relationship. It's not. I found that the romance was the biggest part as well as Montana finding out who she is. Yes, it's one of those cheesy stories. I wasn't too fond of it in the end, either.
The author's writing seems to drag a lot. It's overly exaggerated at some points and I just want to bang my head against a desk to keep me awake. While reading, I found myself fading in and out of the fictional world of New York City, and while I adored the setting, something was missing from the depth of the story.
"

I take note in my head: Bernardo is a boy who doesn't depend on smiles. Bernardo is boy who swears and loves in Spanish."
Making Pretty will go horribly for some and fantastic for others. It all depends on what you really enjoy in a romantic relationship. You'll most definitely find Montana and Bernardo's to be cute and everything, but it's not as realistic as I hoped. I guess it all features a girl turning pretty in her own way—an 'eh' way.
What do you think of the genre of contemporary-romance? All I know is that not every author can do it well, that's for sure.