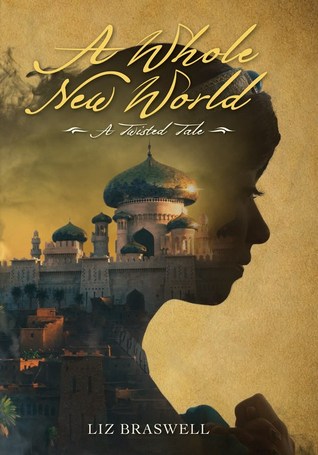 A Whole New World (Twisted Tales #1),
by
Liz Braswell
Publication:
September 1, 2015, by Disney Press
Genre:
Young Adult Fiction, Fantasy, Romance, Retelling
Pages:
384
Format:
ARC
Source:
BEA
Rating:
Welcome to a new YA series that reimagines classic Disney stories in surprising new ways. Each book asks the question: What if one key moment from a familiar Disney film was changed? This dark and daring version of Aladdin twists the original story with the question: What if Jafar was the first one to summon the Genie?




When Jafar steals the Genie's lamp, he uses his first two wishes to become sultan and the most powerful sorcerer in the world. Agrabah lives in fear, waiting for his third and final wish.To stop the power-mad ruler, Aladdin and the deposed Princess Jasmine must unite the people of Agrabah in rebellion. But soon their fight for freedom threatens to tear the kingdom apart in a costly civil war.




What happens next? A Street Rat becomes a leader. A princess becomes a revolutionary. And readers will never look at the story of Aladdin in the same way again.
My Thoughts:
Disney is honestly the best franchise in the entire world. Everything about the movies and the theme parks just makes me smile like a little girl, and even adults love the stories that make it up. Aladdin has always been one of my favourite stories of them all, and it carries the best characters: Genie, Jasmine, Abu, even Jafar. The world setting is extraordinary, and I love that Liz Braswell has twisted the original tale with her own retelling that readers will adore, especially as we move on closer to the release date. You'll all be obsessed, I promise.
What if an evil villain won it all? What if the whole tale was completely changed to
make evil things happen?
What if... What if... those are the possibilities that people keep in their minds after watching a great fairytale film. Evidently, the original ones are made for kids originally and they can't just let Jafar ruin it all and get it all because yet again, Aladdin wouldn't be the hero of the story. Aladdin and Jasmine (the best power couple ever) still are main characters and they actually have to fight for freedom and for the people of Agrabah, who are in jeopardy when Jafar finds the magical lamp first. This isn't too similar to the original story as some have noted. Instead, it's its own glorious differentiated plot.
"Whatever happens next—whether we save the city or it falls into a pit in the earth and is lost forever—I would never, ever change a moment of our time together. You are the best—the only good thing that has happened in my life." (ARC, page 256)
The romance, the action, the social status and politics... everything had its own importance that played throughout the whole story and to be honest, I wouldn't change a thing to make it different. Braswell throws readers into a magical world that's very different from our own, but it's not a simplistic world to create. It's like we're stuck on our own personal magic carpet, going back and forth until the resolution is present.
We all want to go for a ride.
The plot is basically what you can think of: a twisted tale. What's the worst possible turnaround of the original story? The villain getting the lamp and wishing to be king and rule Agrabah—Jafar. With tweaks and hints of what we once knew, Braswell must've had tons of research needed to get the things right and to know what she was writing about. We obviously cannot have a whole new storyline where the characters' personalities and attributes are messed around with, Aladdin needs to be a Street Rat and Jasmine needs to be royal in her turquoise adorable outfit. Abu was there, too. All of the facts that needed to stay as facts were complete and present.
What honestly made everything wonderful was the new characters. There were a bunch, too, and I guess you can say that they all helped Jasmine and Aladdin solve the issue that Jafar created. At first, these bunch of new roles seemed a little too far off from the story and I disliked them, but boy was I wrong. It's great to be introduced to another female character who could relate to Jasmine and help her out with her newly-improved social status—a thief. Because hey, who can deny that she wasn't one with the whole apple incident? Readers grow to understand her situation and life. But where does her one mistake of running away from home lead her to? Hell. Her dad dies and well... Agrabah turns to the worst possible situation of its standing. The gorgeous Arabian city we once knew about has violence and poorness occurring. Of course our two heroes want to help!
"He didn't call us traitors or revolutionaries or insurrectionists. He said, 'Death is my friend in the war for Agrabah.' He thinks it's a fair fight. He thinks we're at war. As equals." (ARC, page 235)
Would I have changed my experience with the actual story? That's a sure "no." Readers are able to tell that Braswell is an experienced author who writes retellings. She actually has written The Nine Lives of Chloe King, which a humungous set of paranormal novels that I read back a few years ago, and really enjoyed it. I actually never recognized her name until I searched Braswell up in Goodreads, and my expectations just blew over the top. I expected this awesomeness, coming from my past experience of enjoying her previous work. She's such a talented writer who makes it so easy to feel like you've indulged in her writing from page one. At least, that's what it felt like for me.
We are so fortunate to have a great group of characters as well. Aladdin was the person who brightened up the story (and who I had tons of sympathy for) where I almost died of pity. The thing is, these Disney characters are so happy with their lives, even if they live in poverty or have to beg and steal things, like Aladdin was raised with. It makes a happily ever after even more likely to produce because you know that from the great achievements that they make, they'll have to be even happier by the end of their story. Jasmine was kick-butt and the life-changer person. Although her personality seemed to be off from the original (she was kind of mad all of the time), the relationships that she created with others is significant to the whole story.
THE ROMANCE? THE LOVE? THE ATTRACTION? Yeah, the story would've been horrible without it. I can't even imagine this moving story without Jasdin. (Ship name alert!) It's insta-love, I'm warning you, but for some reason it works in this book, although it doesn't click every time. How are you not supposed to fall in love when it's meant to be? If you are so against insta-romance, then I recommend leaving right now because you're not allowed here. Jokes. I'm kidding, heh. But really, I just want to cry when people choose not to read a book because the characters have a nice relationship. It's a fast-paced story, what are Aladdin and Jasmine supposed to do when they meet each other? Smirk and leave? No, the initial meeting is a crazily awesome moment that brings the whole story together. Okay? Okay.
What about the ending? Well that made me cry and feel like an idiot because I thought that it'd be some kind of suspense. Thank goodness the Genie did... you know. *doesn't spoil* But overall, I NEED THE NEXT BOOK IN THE SERIES. DISNEY PRESS, YOU GUYS RULE AND YOU NEED TO HAND IT TO ME RIGHT NOW. Please please please let it be The Little Mermaid or Beauty and the Beast and I'll hug you guys for the rest of eternity. I'll even walk from my house all the way to New York if I could get it. I guess from these few statements, you can tell I'm some obsessed Disney fangirl. It's life, and Aladdin and Jasmine created a well-known story into something twisted, but one that does end with a happy ending. If you don't like those, then you don't like Disney.
*A review copy was provided by the publisher via BookExpo America in exchange for an honest review. Thank you so so much!*
What's your favourite Disney movie/story? Please please please tell me that you're going to pick this pretty up!