Somebody Up There Hates You,
by Hollis Seamon
Genre: Young Adult Fiction, Contemporary, Romance, Death
Rating: 0.5/5 stars
Publication: September 3, 2013, by Algonquin Young Readers
Format: Hardcover Edition (borrowed)
Goodreads Summary:
Chemo, radiation, a zillion surgeries, watching my mom age twenty years in twenty months: if that's part of the Big Dude's plan, then it's pretty obvious, isn't it? Somebody Up There Hates You.
SUTHY has landed me here in this hospice, where we—that's me and Sylvie—are the only people under 30 in the whole place, sweartogod. But I'm not dead yet. I still need to keep things interesting. Sylvie, too. I mean, we're kids, hospice-hostages or not. We freak out visitors; I get my uncle to sneak me out for one insane Halloween night. Stuff like that. And Sylvie wants to make things even more interesting. That girl's got big plans.
Only Sylvie's father is so nuclear-blasted by what's happened to his little girl, he glows orange, I swear. That's one scary man, and he's not real fond of me. So we got a major family feud going on, right here in hospice. DO NOT CROSS line running down the middle of the hall, me on one side, her on the other. It's crazy.
In the middle of all of this, really, there's just me and Sylvie, a guy and a girl. And we want to live, in our way, by our own rules, in whatever time we've got. We will pack in some living before we go, trust me.
DNF @ 80 pages.
This was probably one of the worst books I've ever read. No doubt about it.
I hated it. "The new The Fault in Our Stars?" Haha, yeah right. This is a childish book with no sense of anything that makes you want to bawl because it was so bad. That's what the book really was fully.
I saw this book as fantasy, especially because of the writing. I understand that it wasn't, but the writing was so bad that it made everything seem like a joke and a dream. This was about Richie and Sylvie, who are both dying of cancer. (Wow! There's a TFIOS comparison!) They're basically just living their lives until they die, and that's it.
... ... ... ... ... ... ... ... ... ... ... ... ... ... ... That's how I was left from beginning to end.
I didn't see any point in this book. The writing was hideous, the characters were horrible, and the plot was all over the place. I'd seriously give this book a 0 star rating if I could. It's perhaps the worst book I've ever read.
I don't feel like giving a rant here, so I'm going to do a tiny recap, and then end this with a huge blow to a horn.
I disliked this at page 15. The writing was slow and messed up, and everything was slow-paced and scattered. I think that this book and its premise just wasn't for me. I felt like everything was disorganized and messed up. The idea of death was so wanted and looked forward for!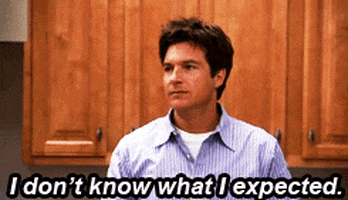 Richie and Sylvie were so... bland. I didn't like them from the start, and if I kept on going, I guess my hate for them would increase even more.
Overall, I don't recommend this book at all. #SorryNotSorry