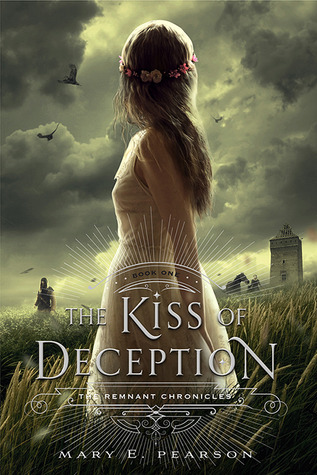 The Kiss of Deception (The Remnant Chronicles #1),
by Mary E. Pearson
Genre: Young Adult Fiction, Romance, Fantasy, Historical-Fiction, Adventure
Rating: 5/5 stars
Publication: July 8, 2014, by Henry Holt
Format: Hardcover Edition (borrowed, but WILL BUY ASAP)
Goodreads Summary:
A princess must find her place in a reborn world.
She flees on her wedding day.
She steals ancient documents from the Chancellor's secret collection.
She is pursued by bounty hunters sent by her own father.
She is Princess Lia, seventeen, First Daughter of the House of Morrighan.
The Kingdom of Morrighan is steeped in tradition and the stories of a bygone world, but some traditions Lia can't abide. Like having to marry someone she's never met to secure a political alliance.
Fed up and ready for a new life, Lia flees to a distant village on the morning of her wedding. She settles in among the common folk, intrigued when two mysterious and handsome strangers arrive—and unaware that one is the jilted prince and the other an assassin sent to kill her. Deceptions swirl and Lia finds herself on the brink of unlocking perilous secrets—secrets that may unravel her world—even as she feels herself falling in love.
"We screamed, we yelled with all the power of our lungs, knowing the wind, hills, and distance plucked our nervous freedom from any ears that might listen. We screamed with giddy abandon and a primal need to believe in our flight. if we didn't believe, fear would overtake us. I already felt it nipping at my back as I pushed harder."
Mary E. Pearson is one of my favourite authors, period. I ADORED THE KISS OF DECEPTION in ways that you're unable to understand.
Beautiful book...
I adored this book to death. It's probably my favourite book that was published this year, right next to Dissonance, by Erica O'Rourke. Pearson is the newest Stephen King, or any super popular and amazing author to qualify her as.
I originally had this at a 4.5 star rating, but now when I think about it, it definitely deserves a 5. I got that excited feeling in my stomach when thinking about that beautiful reading experience that it gave me, and so much more.
This is about Princess Lia, who's the First Daughter of Morrighan. She is about to get married, to a man that she's never met before. She unexpectedly flees from the royal lifestyle she's known forever with her mother's assistant, Pauline, and they end up in a small village where they begin to take a large responsibility of handling an inn and making new friends. There are two mysterious people there that Lia doesn't know about--and that's the prince that was off to marry her and an assassin that's off to kill her.
One of the reasons why this book was amazing is because Pearson kept us guessing. The chapters were split into three points-of-view--Lia's, the assassin's, and the prince's. We don't know who these people are, and we don't find out until the wee-end of the novel. I had my guesses, and I ended up completely darn-wrong.
The idea of this book was gorgeous. I love these medieval-dystopia-historical types, and coming from the protagonist of a princess-now-rebel? I'm absolutely hooked. This is absolutely fantasy, but it's not like we hear about faeries flying and goblins dancing. This is something believable and intriguing.
"Terravin is not paradise, Lia. Of course Terravin had its own problems. I didn't need Gwyneth to tell me it wasn't perfect. But in Civica, the air itself was tight, waiting to catch you, beat you down, always laced with the scent of watching and warning. Here in Terravin, the air was just air, and whatever it held, it held. It didn't take anyone hostage, and this showed on the townfolk's faces. They were quicker to smile, wave, call you into a shop for a taste, to share a laugh or a bit of news. The town was filled with ease."
I was drawn into this splendid world immediately. The world-development was mythical and stunning and let me with no questions asked, and this is the first novel in a series. The plot was amazingly defined and developed with thousands of plot-twists that left me scurrying for more. I was hooked, and unable to do anything else until I finished the 486 pages.
Lia was the perfect heroine that I've been looking for in a YA novel. She was a princess, yes, but she wasn't selfish or rude or inconsiderate. She was relatable, and a real jewel. You don't normally find characters like her in books, and when you do, they're a real treasure. Her POV was my absolute favourite.
The assassin and the prince were kick-ass, too. When Pearson revealed the magic and wonders behind who was who, I was shocked. You never saw it coming. :') The action on what happened afterword when Lia found out about the assassin just laid the book into a beautiful ending and is getting its readers to snap for more.
If I had a million dollars, I'd spend it to have the sequel for this book. (Okay, maybe. Instead, what about a time machine?)
Gorgeous and petrifying with excitement and feels, The Kiss of Deception will take the top spot in your bookshelf.