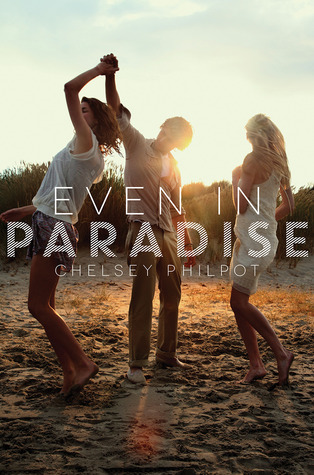 Even in Paradise,
by
Chelsey Philpot
Publication:
October 14, 2014, by HarperCollins
Genre:
Young Adult Fiction, Contemporary, Romance
Pages:
360
Format:
Hardcover
Source:
Gifted
Rating:
When Julia Buchanan enrolls at St. Anne's at the beginning of junior year, Charlotte Ryder already knows all about the former senator's daughter. Most people do... or think they do.




Charlotte certainly never expects she'll be Julia's friend. But almost immediately, she is drawn into the larger than-life-new girl's world—a world of midnight rendezvous, dazzling parties, palatial vacation homes, and fizzy champagne cocktails. And then Charlotte meets, and begins falling for, Julia's handsome older brother, Sebastian.




But behind her self-assured smiles and toasts to the future, Charlotte soon realizes that Julia is still suffering from a tragedy. A tragedy that the Buchanan family has kept hidden... until now.
My Thoughts:
Chelsey Philpot's wicked Even in Paradise literally rocked my world. It's one of those books that are perfect for the summer—it screams summer, practically, and I can't get it out of my mind. It's every girl's dream to have a summer fling like Charlotte Ryder and her best friend's brother, Sebastian, had, and I can tell you that you'll be able to relate to the teenage protagonist more than ever. I am solemnly and truthfully in love with this story, and I need so much more from it now. Brace yourself for endless amounts of tears and heart-hitting moments that will make you hit home and want to cuddle in your sheets and cry to a pillow. I'm not giving these examples because that's what may have happened to me—no. It's just more than one of those contemporary romances that are unlike anything else. This book makes everything right.
Here are SEVEN (but there are more) reasons why you'll love this story: Charlotte's character, her and Julia's reckless friendship, the romance between Charlotte and Sebastian, the writing, everything, the ending and the cover. But of course, we'll get more to that in the rest of this review, but I'm going to try to convince you to get this book as soon as you can. IT NEEDS ALL OF THE HYPE. I want to see an ABC Family film based on this that's totally not different from the book. All of the details must stay the same, and I vow that I'll sign up as the casting director for the film. IT NEEDS TO HAPPEN.
"It's only in hindsight that we can point, as easily as finding a town on a map, to the moments that shaped us—the moments when choices between yeses and noes determined the people we became." (163)
What is this stellar story about, you say? Friendship, loss and first love. Chelsey Philpot mixes everything in together to create excellence and beautiful literature. The themes are so easy-going but tough to deal with at the same time. It screams boarding school and living with your whole future ahead of you. Charlotte is going to become your new best friend, as she deals with new adventures, including finding a best friend and guy who are perfect for her and match her. But then again, she has to deal with both and they're so similar in many ways that everything mixes together and could really create catastrophe if things get too far. I'd call this a true example of life. Notice it.
You know how some contemporary novels are totally unrealistic and everything seems to be too fake for us to deal with? THIS IS NOT IT. The writing is real, cheery but heartbreaking all at the same time. The plot was perfect, having readers intake the little moments that are focused on and making the whole story pop out. I can't stop smiling when I see the cover of this book because it's all perfect.
"Fear and love. Love and fear. One and the same." (95)
BRACE YOURSELF FOR A ROMANCE THAT'S LIKE NONE OTHER. You'll ship Sebastian and Charlotte together from the moment when they spot each other in the airport and they drive through hills and hills of beauty and romance. It's been a real while since I read about such a heartbreaking, intense relationship that falls between the brother of a girl's best friend and the protagonist. It's something that falls every once in a while, and I'm one of those readers who is ready to be there to catch the pieces and put them back together in my head.
If this was actually written in 2015, it definitely would've been part of my top favourite books of the year. Sadly, it isn't, but it's still one of my all-time favourites. Even in Paradise was utter paradise, minus the sad parts where I was literally bawling in the back seat of my car while I was on a road trip this summer. I love you, amazing author and beautiful story. I hope I'll find something like this one day, because nothing can compare to it at all. That's how much it belongs in my heart. *sheds a tiny tear*
What is a novel that has meant a lot to you? Are every one of your favourite novels a five star total rating?