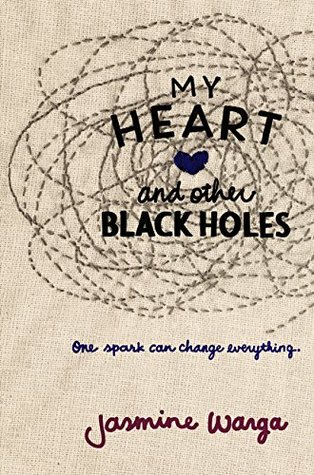 My Heart and Other Black Holes,
by
Jasmine Warga
Publication:
February 10, 2015, by Balzer and Bray
Genre:
Young Adult Fiction, Contemporary, Romance
Pages:
302
Format:
Hardcover
Source:
Borrowed
Rating:
Sixteen-year-old physics nerd Aysel is obsessed with plotting her own death. With a mother who can barely look at her without wincing, classmates who whisper behind her back, and a father whose violent crime rocked her small town, Aysel is ready to turn her potential energy into nothingness.




There's only one problem: she's not sure she has the courage to do it alone. But once she discovers a website with a section called Suicide Partners, Aysel's convinced she's found her solution: a teen boy with the username FrozenRobot (aka Roman) who's haunted by a family tragedy is looking for a partner.




Even though Aysel and Roman have nothing in common, they slowly start to fill in each other's broken lives. But as their suicide pact becomes more concrete, Aysel begins to question whether she really wants to go through with it. Ultimately, she must choose between wanting to die or trying to convince Roman to live so they can discover the potential of their energy together. Except that Roman may not be so easy to convince.
My Thoughts:
My Heart and Other Black Holes seriously shattered my heart. I still feel the aches and the bits and pieces being scattered around me because this book was utterly fabulous. Just in time for International Mental Health Awareness Day, I read this with high hopes of being impressed and finding a new favourite... and that's just about what happened in this case as well. It's going to be so difficult to explain what Jasmine Warga's writing made me feel, but I'm pretty sure I'm going to give it a go. YOU NEED THIS BOOK IN YOUR LIVES, EVERYBODY.
I had legit tears streaming out of my eyes and I didn't even know that it was happening. This is one sad, deep concept that only a select few authors could manage to rock, and I agree that this was a perfect example of it. Both main characters (Aysel and Roman) dealt with suicidal thoughts and depression throughout the novel, and it's hard for a reader to see such miserable thoughts being put into perspective by two teenagers who still have a life ahead of them. They're desperate to forget about everything, but it's one perfect love story with the way things turn out. It kind of goes in the opposite direction, in a way.
The characters are normal people, in every way. Before getting depressed, or at least, in their spare time when things got rough, they focused on other things: Roman and discovering the great things he wants to see before his time on the world ends, and Aysel focusing on physics and science, the only thing she loved before she met Roman. Aside from those other things, they were two puzzle pieces who were complicated, yes, but that is the point of humans. We are complicated beings, and those two complicated characters fit each other and saved each other in a way that's so broad to be understood. Now that's a book with a deeper meaning than most.
'One spark can change everything...' is absolutely the truth for Aysel in this situation. She knew she wanted to die, she went and found someone who did as well because hey, she thought a companion would be better, but she grew attracted to Roman and things changed. One person can save a life, just like the song by The Fray noted. Their attraction and relationship was beautiful, because it certainly wasn't any kind of instant romance and only acquaintances at first, but things turned out to be magical.
It's truly rare to find a book like this on the shelves. It hit so many people just as hard as it hit me, and I totally understand that. The writing is slow-paced, but in one of those great ways as if you're watching honey fall from a spoon into a cup. It's satisfying and beautiful.
My Heart and Other Black Holes actually created a black hole into my heart of sorrow and sadness, because I promise and warn you that the ending is a killer. No, that is NOT a pun. (Okay, it kind of is, but who said I told you?) The romance, the writing, everything about Aysel and Roman's story is satisfying but heartbreaking, depending on which perspective you look at everything at. Marvellous.
Do you shed some tears in every single sad novel you read?