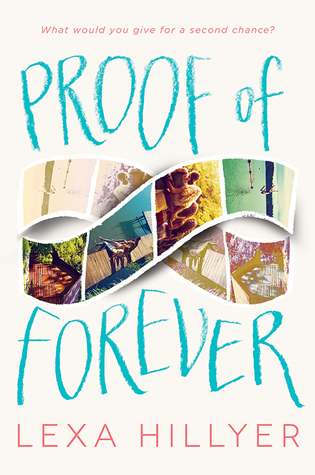 Proof of Forever,
by
Lexa Hillyer
Publication:
June 2, 2015, by HarperCollins
Genre:
Young Adult Fiction, Contemporary, Romance
Pages:
352
Format:
Hardcover
Source:
BEA/Publisher
Rating:
½
Before: It was the perfect summer of first kisses, skinny-dipping, and bonfires by the lake. Joy, Tali, Luce, and Zoe knew their final summer at Camp Okahatchee would come to an end, but they swore they'd stay friends.




After: Now, two years later, their bond has faded along with those memories.




Then: That is, until the fateful flash of a photo booth camera transports the four of them back in time, to the summer they were fifteen—the summer everything changed.




Now: The girls must recreate the past in order to return to the present. As they live through their second-chance summer, the mystery behind their lost friendship unravels, and a dark secret threatens to tear the girls apart all over again.




Always: Summers end. But this one will change them forever.
My Thoughts:
Summer has sadly ended, but books that are about its concepts and the things that all teenage girls long for: camp, friendship and romance, are always at heart. Lexa Hillyer's Proof of Forever was a fantabulous example of a book that you'll always have on your mind for years and years to come when someone asks you about a great summer read for a recommendation. Although it had its flaws and wasn't the best book out there, I still wildly enjoyed it and say that for the cover and the writing's sake, everyone should give it a try, even if you're not a lover of contemporary. From the moment when the cover was released, I felt like it was calling out for me, making sure that I'll be picking it up eventually.
So back when I was a tween, I fell in love with books about summers and second chances. That's what this book is—plus some time-traveling and fantasy. What people have been telling you ain't no joke, the girls actually travel back in the past to when they were campers and basically were having the time of their lives. Oh, how I wish I could've went to camp with my friends who I'm close to today. Anyways, without sounding like an old person, this brings back memories that might've not been in your experiences. If you enjoy second chance summers and friendship, then you need to vow that you'll read this book.
Proof of Forever features four young girls, and four distinct personalities. We have Joy, Tali, Luce and Zoe, and they all have their own secrets, including the one that's actually stuck in all of their minds: they miss the bond they once had. After the summer they were fifteen, things changed completely. Bonds were broken, their hearts were broken, and they changed completely as well. When a reunion night comes along and all four of them attend, they get whacked back into time, back to that summer, where they have the chance to do it all again and realize the importance of friendship and all of it.
"There's got to be a way to undo this mistake. It can't be that hard. She can still fix this. Luciana Cruz can fix anything." (67)
Lexa Hillyer's writing is completely poetic and lyrical. You won't find yourself reading another book like this for ages. But, there's always a but. I found myself getting bored. It was like it wasn't so much focused on friendship, but instead on revenge and trying to get back at things that happened in the past in an unhealthy way. I don't know, but it may be just me, but there's also the fact that I couldn't relate or connect to the characters in any way.
ZOE AND LUCE. You know how we tend to find our favourite character out of some squad or friendship group? I couldn't relate to the other girls, but Luce and Zoe had something special about them, or it might've just been that they were ordinary and normal. The other two seemed like they'd been too much worked on for their past story. I mean, they all had their own past history, but it wasn't too stressed upon when looking at these two. They were really intelligent, in a way.
"In this moment, she does believe in forever. The Joy who didn't believe just moments before is a stranger to her now. She's floating. She's all rhythm and touch and heat. She curls into him, feeling sweat or possibly tears on her face, or a light mist fro the waterfall spraying off the rocks." (195)
Like I mentioned before, the writing is beautiful and descriptive, but truly lacking something, a little something like heart and the ability to relate.
Whatever floats your boat, my friends. Proof of Forever is gorgeous, especially from the outside look, but it lacks the kind of depth and coming-of-age that I expected and enjoy in contemporary novels. The relationships and romance isn't anything to brag about, either. Would I read work by Hillyer in the future? Definitely, but most likely onto the poetic side of things. *smiles*
*A finished copy was provided by the publisher in exchange for an honest review via BookExpo America. Thank you so much!*
Do you believe in second chances in friendships? DON'T YOU ADORE THE COVER OF THIS NOVEL? What's your favourite "friendship" novel?